Spring 2020 Faculty Publications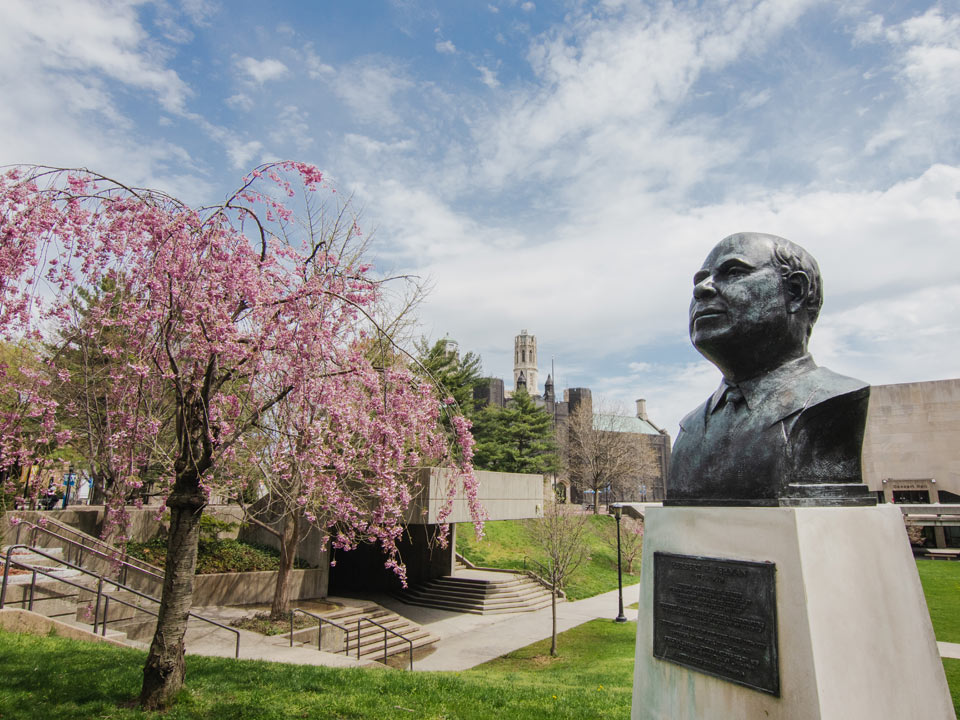 Lehman College, Stuart Chen-Hayes, 10 Questions
It was a spring semester like no other for students, staff, and faculty at educational institutions across the globe. For those at Lehman College, the term required an agile pivot to new teaching, learning, and working methods as college operations went online. In the midst of these disruptions, our faculty have remained active across all areas of their professional lives. The following publications this semester—31 books, chapters, and articles covering 15 disciplines—demonstrate their ongoing commitment to world-class research, teaching, and scholarship, and include direct responses to the COVID-19 pandemic.


Art

Associate Professor Melissa Brown participated in the group show "All of them Witches" at the Jeffrey Deitch Gallery in Los Angeles.
Assistant Professor Jonathan Ehrenberg participated in "Wasteland," a group show at the SoHo museum and exhibition space Drawing Center. He also participated in additional group shows at galleries in New York City, Beacon, N.Y., Houston, and online. His work "Wormhole" was featured on "ZAZ Corner," a digital gallery that highlights art on a video billboard in Times Square.


Biological Sciences

Professor Edward Kennelly co-authored the cover article "Structural diversity, bioactivities, and biosynthesis of natural diterpenoid alkaloids" in Natural Product Reports and "Ethnopharmacology of Hypericum species in China: A comprehensive review on ethnobotany, phytochemistry and pharmacology" in the Journal of Ethnopharmacology.
Associate Professor Stephen Redenti co-authored "Analysis of Adult Neural Retina Extracellular Vesicle Release, RNA Transport and Proteomic Cargo," in Investigative Ophthalmology & Visual Science with colleagues Martin Muntzel and Moira Sauane and several Lehman graduate students.
School of Education
Five faculty members from across the School of Education—Jennifer Collett, Nancy Dubetz, Harriet Fayne, Ann Marie Marshall, and Anne Rothstein—collaborated on the chapter "Signature practices in an urban residency program: How are these practices evident in the graduates' classrooms?" in the edited volume "Linking Teacher Preparation Program Design and Implementation to Outcomes for Teachers and Students"(Information Age Publishing).


Counseling, Leadership, Literacy and Special Education/Library
Assistant Professor Jennifer Van Allen and Assistant Professor Stacy Katz, open resources librarian-STEM liaison, co-authored "Teaching with OER during pandemics and beyond," published in the Journal for Multicultural Education, June 15, 2020.


Earth, Environmental, and Geographic Science
Professor Juliana Maantay co-authored "The Paradox of Urban Greening: Does it Harm the Very People Who Need it the Most?," published in The International Journal of the Constructed Environment, vol. 10, no. 4.


English
Assistant Professor Melissa Castillo Planas authored "A Mexican State of Mind: New York City and the New Borderlands of Culture" (Rutgers University Press).


Health Sciences
Associate professor Brad Schoenfeld co-authored "Selection of Resistance Exercises for Older Individuals: The Forgotten Variable" in Sports Medicine; "Effects of plyometric vs. resistance training on skeletal muscle hypertrophy: A review" in Journal of Sport and Health Science; and "Lean, fast and strong: Determinants of functional performance in the elderly" in Clinical Biomechanics.


History
Associate Professor of History Robyn Spencer co-authored "The Fire This Time," published in The Boston Review on June 8, 2020.


Journalism and Media Studies
Assistant Professor Eileen Markey authored an op-ed, "Crucified, as usual: The coronavirus hits working-class New York hardest, of course" in the April 19, 2020 issue of the New York Daily News.


Languages and Literatures
Distinguished Professor Laird W. Bergard co-authored "Agrarian Puerto Rico: Reconsidering Rural Economy and Society, 1899-1940" (Cambridge University Press).
Professor Tomás Ó hÍde authored a textbook, "Colloquial Irish 2" (Routledge).

Library
Assistant Professor and Open Resources Librarian-STEM Liaison Stacy Katz authored two articles: "Leveraging library expertise in support of institutional goals: A case study of an Open Educational Resources initiative" in the New Review of Academic Librarianship, volume 25, nos. 2-4; and "Applying transformative learning theory to open education" in the Journal of Transformative Learning, vol. 6, no. 2.


Music
Professor Penny Prince authored two articles: "Professional Notes: Social Justice Matters" in Music Educators Journal, volume 106, no. 3; and "Vignettes on the Path to Social Justice Awareness: A Professor/Musician's Responsibility" in Visions of Research in Music Education, vol. 35, no. 1.


Philosophy
Adjunct Assistant Professor Carlo Alvaro authored "Raw Veganism: The Philosophy of the Human Diet" (Routledge).

Associate Professor Michael Buckley and Assistant Professor Collin O'Neil co-authored "The Practice of Pharmaceutics and the Obligation to Expand Access to Investigational Drugs" in The Journal of Medicine and Philosophy: A Forum for Bioethics and Philosophy of Medicine, vol. 45, no. 2, April 2020.

Assistant Professors Marcello Di Bello and Collin O'Neil co-authored "Profile Evidence, Fairness, and the Risks of Mistaken Convictions" in Ethics, vol. 130, no. 2, January 2020.

Professor Julie Maybee authored the chapter "Homelessness, Disability and Oppression," in "The Ethics of Homelessness: Philosophical Perspectives." (Brill Rodopi).

Professor Naomi Zack authored the chapter "Homelessness, Philosophy, and Public Policy" in "The Ethics of Homelessness: Philosophical Perspectives." (Brill Rodopi).


Physics & Astronomy
Professor Luis Anchordoqui co-authored five articles: "Performance and science reach of the Probe of Extreme Multimessenger Astrophysics for ultrahigh-energy particles'' in Physical Review D, vol. 101, January 2020; "Toward a robust inference method for the likelihood of low-luminosity gamma-ray bursts to be progenitors of ultrahigh-energy cosmic rays correlating with starburst galaxies" in The Journal of High Energy Astrophysics, vol. 25; "Feasibility of superwinds-generated ultrahigh-energy cosmic rays upon the light of large-scale modeling of starbursts," on arXiv.org; "Cosmic-ray anisotropies in right ascension measured by the Pierre Auger Observatory, in Astrophysical Journal, vol. 891 no. 2; "A Three Year Sample of Almost 1600 Elves Recorded Above South America by the Pierre Auger Cosmic‐Ray Observatory" in Earth and Space Science; and "H0 tension and the String Swampland" in Physical Review D, vol. 101, April 2020.

Distinguished Professor Eugene Chudnovsky and Professor Luis Anchordoqui co-authored "A physicist view of the airborne infection" on arXiv.org, March 2020.

Professor Chudnovsky and Professor Dmitri Garanin co-authored three articles: "Thermal creation of skyrmions in ferromagnetic films with perpendicular magnetic anisotropy and Dzyaloshinskii-Moriya interaction" in the Journal of Magnetism and Magnetic Materials, vol. 493; "Breathing mode of a skyrmion on a lattice" in Physical Review B 101 (2020); and "Lattice Model of Mitigated Epidemic," on medRxiv, June 17, 2020.

Chudnovsky also authored two op-ed pieces in the Washington Examiner: "Iran's Revolutionary Guard tortures female scholars behind prison walls," January 10, 2020; and "China's free-speech crackdown increases likelihood of deadly coronavirus pandemic," February 11, 2020.

Professor Chris Gerry co-authored "Phase effects in coherently stimulated down-conversion with a quantized pump field" in Physical Review A, vol. 101.

Professor Daniel Kabat co-authored "Bulk reconstruction for spinor fields in AdS/CFT" in the Journal of High Energy Physics, vol. 2020.


Political Science
Professor Elhum Haghighat authored "The Iranian Diaspora: Its Formation and Transformation" in Diaspora: A Journal of Transnational Studies, vol. 20, issue 3.
Assistant Professor Joseph Mohorčich authored "Energy Intensity and Human Mobility after the Anthropocene" in the journal Sustainability, no. 12(6).

Psychology/Social Work
Assistant Professor Mia Budescu and Assistant Professor Amanda Sisselman-Borgia co-authored "An Experimental Approach to Assessing the Attitudes of Social Service and Healthcare Employees toward the Homeless," published in the Journal of Social Service Research, April 2, 2020.


Speech-Language-Hearing
Professor Leslie Grubler authored "Classroom to Clinic Initiatives: Hands-On Experiential Learning in an Environment Ripe for Mentorship," in The Communicator, vol. 50, no. 2.