Lehman College's New Design Culture Series Announced
Thursday, October 1, 2020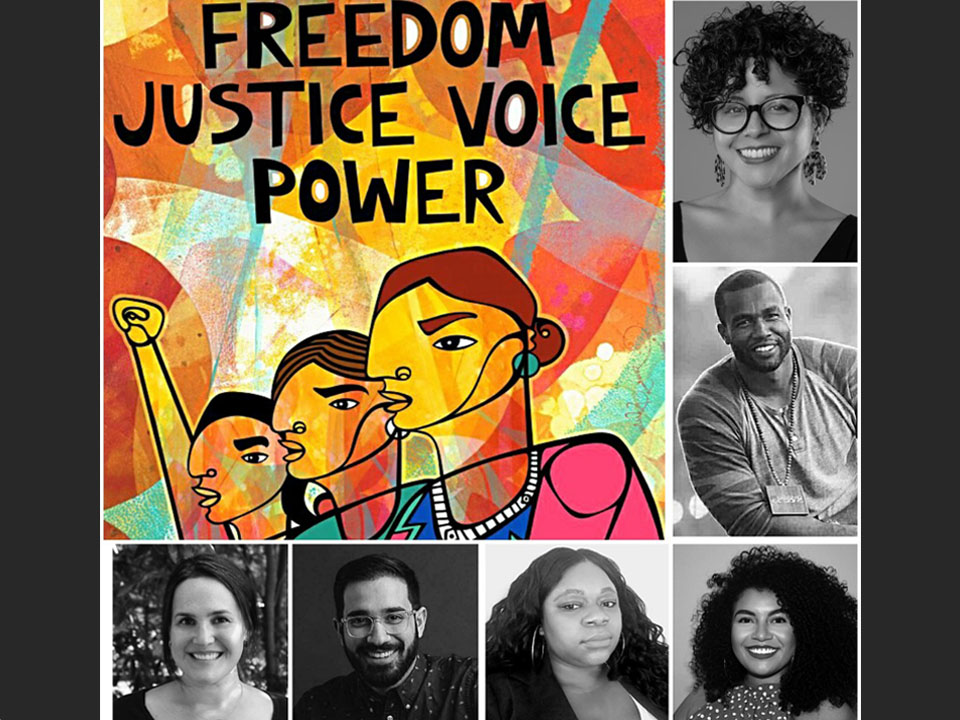 Oakland artist/activist Favianna Rodriguez, top right along with her social justice poster Freedom. Justice. Voice. Power., is one of six designers slated for the new Turnbull Speaker Series.
The Lehman College Art Gallery and Art Department are launching a visiting lecture series via Zoom, featuring some of the design industry's most significant and diverse voices, with a renewed focus on how design can impact social change.
Open to the public, the new Sara Little Turnbull Visiting Designer Speaker Series is a seven-part program to take place every Tuesday at 1 p.m. from Oct. 6 to Nov. 17. Each 60-minute discussion will also highlight how a designer entered a daunting field with determination to shape the contours of our society.
The series is committed to helping students explore "what are the demands being placed on design to help meet today's problems? How will the next generation of designers change the world in which we live?" said David Schwittek, assistant professor of graphic design and digital media at Lehman and grant coordinator for the Foundation's design initiative.
"Within these talks, designers will engage on different themes of what diversity and inclusion really means in the field today, and how design can address issues of equity, while exploring themes of race and ethnicity, gender, LGBTQI+, the differently-abled, age, economic equity, migration, and how the public's voice impacts and shapes public design," said Schwittek who will also moderate the discussions.
The series, organized with assistance from Bartholomew Bland, executive director of the Art Gallery, culminates with a November 17 panel discussion chaired by Laura Silva, a Colombian-born designer who specializes in diversity and inclusion in User Experience who will also lead the series opening lecture Oct. 6.
"I am from Colombia, an Afro-Colombian," said Silva, the vice president for accessibility technology UX design lead at Bank of America. "Being an immigrant; being a black woman…I want to show the students that if you happen to be a different nationality, race or gender you can still achieve what you want. The world has a place for you and you belong in it."
"I am (one of the) only Afro Latina(s) at Bank of America and a testament that you can belong. You can build your own table."
That same sentiment resonates with artist and designer Rodriguez's desire to share with Lehman's students.
"I am somebody who has faced a lot of barriers that are due to systemic racism and gender inequality. It has really been my creativity that has allowed me to succeed. I have experienced the impacts of a system that was designed to crush me and found the tools of art that really gave me my super powers," Rodriguez said.
The Turnbull's $50,000 gift, for which Lehman will reapply for three additional years, is an inaugural grant to Lehman by the Foundation; which continues the legacy of Sara Little Turnbull by supporting historically-underrepresented youth and women in design education, design practice and leadership.
A native New Yorker and a graduate of Parsons School of Design, Sara Little Turnbull (1917–2015) was one of America's first female industrial designers.
A trailblazing product designer, design innovator and educator, she thrived in the post-World World II design industry advising corporate clients that included 3M, Motorola, Neiman Marcus, Macy's, Procter & Gamble, General Mills, Corning, Coca-Cola, Revlon, and the Ford Motor Company. Launched in 2018, the Sara Little Turnbull Foundation promotes public awareness of design at the intersection of business, culture, and education.
The 2020 series schedule:
October 6 – Laura Silva, VP for Accessibility Technology UX Design Lead at Bank of America
Latinx Design and Issues of Migration
Introduced by Daniel Lemons, President, Lehman College


October 13 – Ehsan Noursalehi, Senior Product Designer at Samsara
Differing Abilities and Universal Design
Introduced by Peter O. Nwosu, Provost, Lehman College


October 20 – Favianna Rodriguez, Artist and Designer
Gender and Sexual Identity in the World of Design
Introduced by James Mahon, Dean of the School of Arts and Humanities, Lehman College.


October 27 – ClayVon Lowe, Co-Chair, International Design Society of America
Race and Ethnicity in Contemporary Design
Introduced by Michelle Augustine, Director, Office of Prestigious Awards, Lehman College


(Due to Election Day, this talk will be offered on a Thursday)
November 5 – Kayla G. Coleman, Deputy Director, Percent for Art Program
NYC Department of Cultural Affairs
The Public Voice in Public Design
Introduced by Bartholomew Bland, Executive Director, Lehman College Art Gallery


November 10 – Sara Jensen Carr, Assistant Professor of Architecture, Urbanism, and Landscape, Northeastern University
Designing for Disaster
Introduced by Terry Towery, Associate Professor and Chair,
Department of Art, Lehman College


November 17 – Culminating Speakers Panel
Laura Silva, VP for Accessibility Technology UX Design Lead at Bank of America
(Panel Chair)


Register here in advance for this webinar, After registering, you will receive a confirmation email containing information about joining the program.