Lehman College Welcomes New Faculty Members to Campus
Thursday, September 26, 2019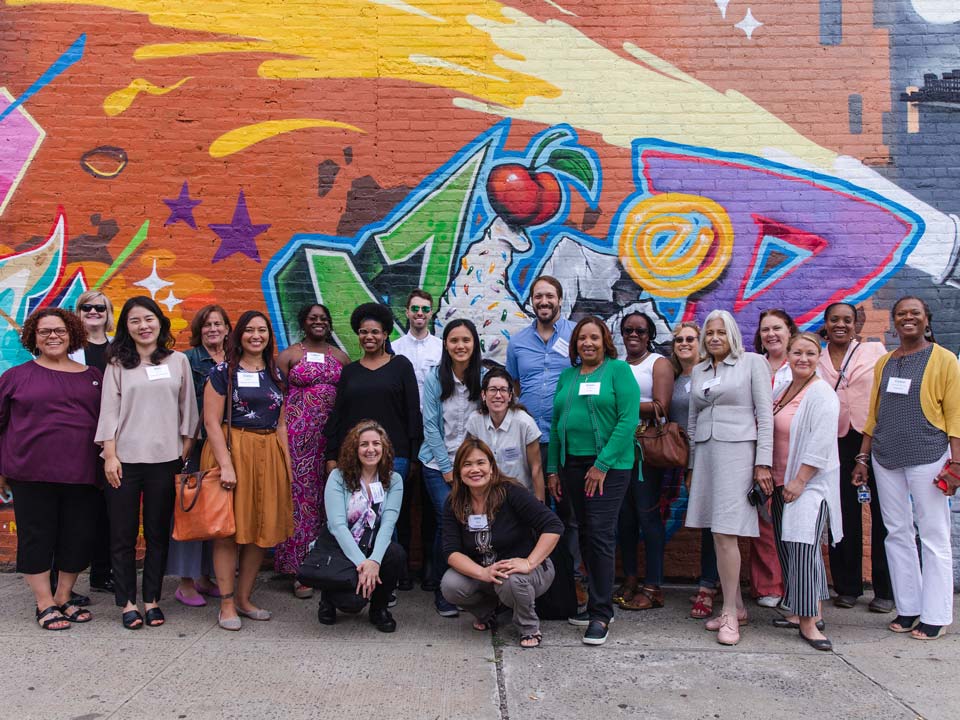 Photo of New Faculty Members
The Lehman community recently welcomed its newest cohort of faculty members with an all-day orientation featuring workshops and information sessions covering all things Lehman.
The day of activities began with greetings from Peter Nwosu, provost and senior vice president for Academic Affairs and Student Success, who emphasized Lehman's guiding values, including 90x30—the initiative designed to double the number of high-quality degrees and certificates earned by students from 45,000 to 90,000 by 2030.
"You have made the right decision by coming to an institution guided by an extraordinary vision," Nwosu said.
The orientation provided an opportunity for faculty to meet college administrators, learn about the Lehman student body, and survey the college's many resources designed to enhance teaching and learning.
The new cohort includes faculty from as nearby as Queens and as far away as the Pacific Northwest.
Professor Naomi Zack, an esteemed and prolific scholar of race, identity, and feminist theory, joins Lehman's Department of Philosophy from the University of Oregon. Zack said she was attracted to Lehman precisely because of its diverse student body, and the college's role in educating the next generation of engaged citizens, researchers, and leaders.
LaRose Parris, assistant professor of Africana studies, is excited about developing new curriculum in conjunction with the Department of Africana Studies.

"I am also looking forward to being an active participant in the 90 x30 initiative," she said.
The group concluded the day with a bus tour of the Bronx,followed by an informal wine and cheese reception that brought the new faculty together with deans, department chairs, and administrators.
"New faculty are given a lot of critical information in a short period of time. It's a long day, and it can be overwhelming," said Alison Abreu, faculty development specialist in the Office of the Provost, which organized the event. "So we want to provide some fun, too. Student demographic data, computer systems, and university policies are important, but so are getting to know their colleagues, and learning about the Bronx community. The new faculty orientation kicks off a yearlong schedule of activities, including workshops and mentoring.
The Fall 2019 cohort of Lehman faculty includes:
• Emilie Adams, instructor, Health Sciences
• Emann Allebban, assistant professor, Philosophy (spring 2020)
• Rima Brusi, distinguished lecturer, Anthropology
• Carol Bues, lecturer, Nursing
• Ning Chen, professor, Economics and Business
• Celia Cruz, lecturer, Mathematics
• Monica Duncan, assistant professor, Multimedia, Theater, and Dance
• Evelyn Duran, assistant professor, Languages and Literatures
• Crystal George-Moses, lecturer, Social Work
• Shelia Hankin, assistant professor, Nursing
• Catherine Healy-Sharaugh, clinical professor, Nursing
• Nari Kim, assistant professor, Economics and Business
• Martha Lerski, assistant professor, Library
• Chen-Yun Lin, assistant professor, Mathematics
• Eileen Markey, assistant professor, Journalism and Media Studies
• Joseph Mohorcich, assistant professor, Political Science (2019 spring)
• Francisco Montaño, assistant professor, Languages and Literatures
• Columba de la Parra Simental, assistant professor, Chemistry
• LaRose Parris, associate professor, Africana Studies
• Michele Washington, lecturer, Early Childhood and Childhood Education
• Marisa White, lecturer, Journalism and Media Studies
• Naomi Zack, professor, Philosophy