Latinx Writers Featured at Lehman for National Poetry Month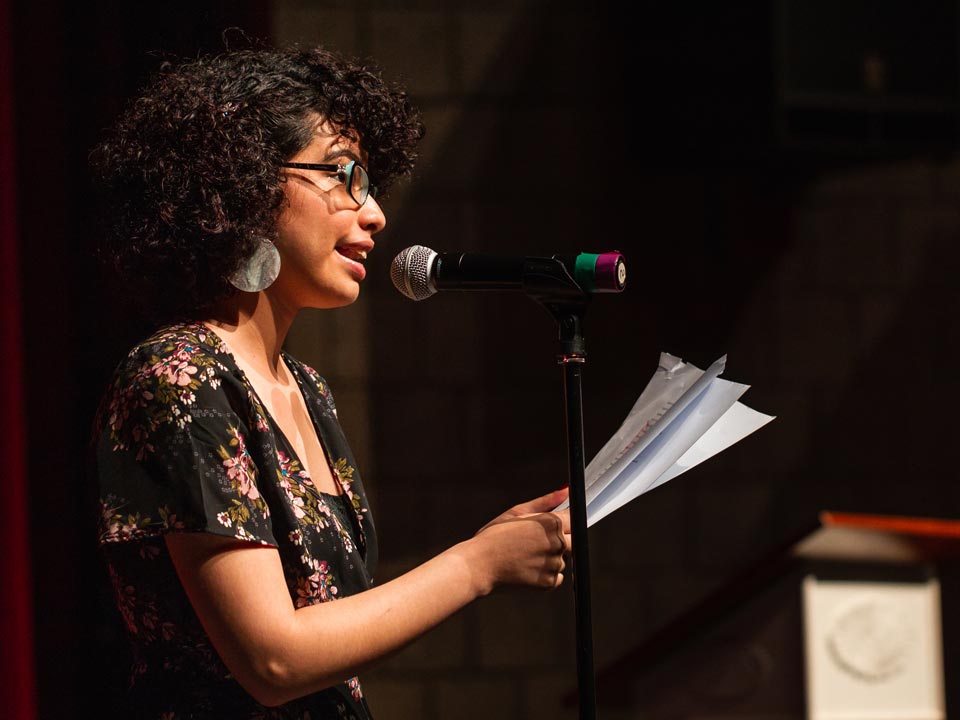 Latinx Writers Featured at Lehman for National Poetry Month
"This is how you explain how you feel—with broken words and hard truths," said Rebecca Perez, holding a microphone onstage while the audience, mostly Lehman students, listened closely and snapped their fingers in appreciation.

Perez was one of three Lehman undergraduates who recited an original work at a Bronx poetry showcase called "Slam Series II" on April 11 in the Lovinger Theatre celebrating National Poetry Month. The students also introduced Alejandro Heredia, Noel Quiñones, and Michelle Soto, all poets from Project X, a Bronx based, Latinx-focused organization now in its third year, which conducts workshops, community events, and poetry slams.

Melissa Castillo Planas, a Lehman English professor, poet, and editor of "¡Manteca! An Anthology of Afro-Latin@ Poets," moderated the poetry showcase, which was co-sponsored by Lehman's The City & Humanities program and Department of English. In her introduction, Castillo Planas noted that the event was appropriately representational of the student body at Lehman, a Hispanic Serving Institution, with over 50 percent of students self-identifying as Latinx.

"Latinx Literature is American Literature…and what these poets remind us is that America is multiethnic, multicultural, multilingual, and always has been," said Castillo Planas. "They remind us that we have the power to shape what we want our literature to look like, sound like, and read like."

Quiñones, a co-founder of Project X, and three other poets from the group first visited Lehman last December. Castillo Planas said that event helped whet a growing interest in creative writing among her students and she readily extended another invite to the group to help celebrate National Poetry Month on campus.

"Slam Series II" proved that experiencing poetry out loud in a community setting is quite different than reading a poem on the page. All of the poets at the event worked to connect with the audience by filling their recitations with vivid emotions and pointed inflections, even employing different voices for other personas in their poems.

A good measure of how Project X is pumping new life into poetry and spoken word literature is the popularity of the group's poets on several YouTube channels like Button Poetry and Write About Now. That's how Lily Hooks and Alondra Vasquez, the two other students chosen to recite and introduce poets at the event, first heard about Project X.

As for reciting one of her original poems in public for the first time, Vasquez said, "It was both crazy and exciting."