Lehman College selected as an "exemplar institution" in recently published EDUCAUSE 2018 NMC (New Media Consortium) Horizon Report for Lehman 360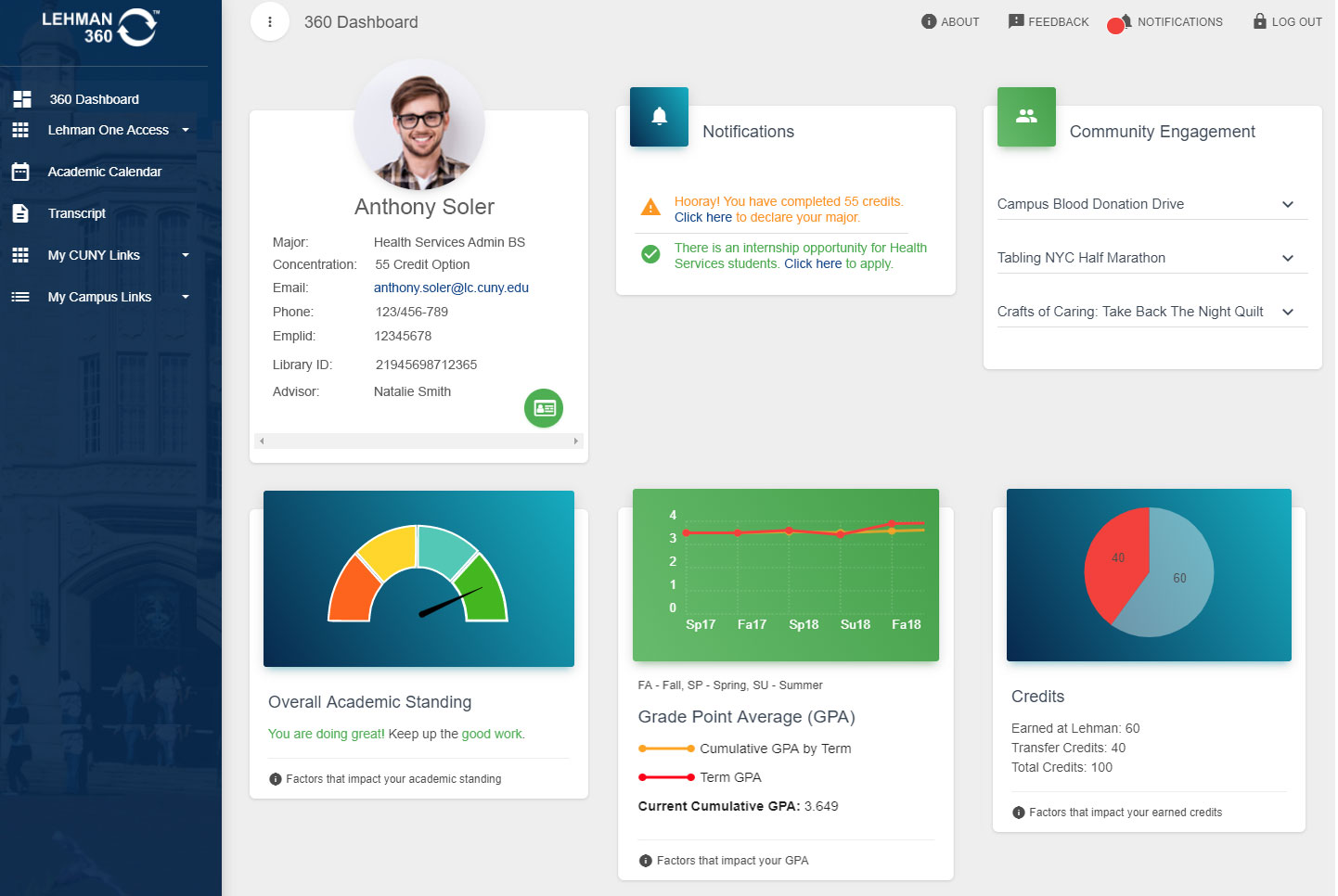 Screenshot of Lehman 360 Student Dashboard
Lehman 360 was selected from more than 100 national and international submissions. The Horizon Report is a research effort that seeks to identify emerging technologies that will have an impact on teaching, learning, and creative expression within higher education.
"Lehman College is delighted to be represented in the 2018 EDUCAUSE NMC Horizon Report as an exemplar," said Ronald Bergmann, Lehman's vice president for information technology and chief information officer. "The Horizon Report is a go-to resource that explores future trends in higher education. The Lehman 360 platform is the product of our talented IT team working in collaboration with students, faculty and staff to achieve President Cruz's vision for data that is contextual, personalized, and relevant. This highly visual and easy-to use platform is evolving each semester to include digital ID cards, early alerts, and data on the student evaluation of teaching and learning, among other innovations."
The platform was introduced in 2017, and keeps students, faculty and staff updated with the personalized information they need, including notifications, GPA, academic standing, and financial aid. It has allowed for crowd-sourced innovation, enabling better partnerships to meet student, faculty, and administrative needs. Lehman 360 delivers data from multiple systems, including CUNYfirst into a single resource for "everything Lehman."
The digital platform was designed by the college's IT team and led by Bergmann, Edi Ruiz, the assistant vice president for information technology, and Deira Pereyra, the director of IT application services. The platform was created internally, largely because commercial products did not meet the college's requirements for a contemporary platform.
In recognition of their innovative work, the faculty and staff who made Lehman 360 a reality, won CUNY's IT Award for Excellence in Collaboration at the 2017 CUNY IT Conference. In January, the digital platform was featured by the Center for Digital Education in their online magazine.
Lehman 360 will also be showcased as part of a forthcoming EDUCAUSE Transforming Higher Ed blog. EDUCAUSE is a nonprofit association whose mission is to advance higher education through the use of information technology.