Performing Arts Center Will Undergo a $15.4 million Renovation
Tuesday, December 5, 2017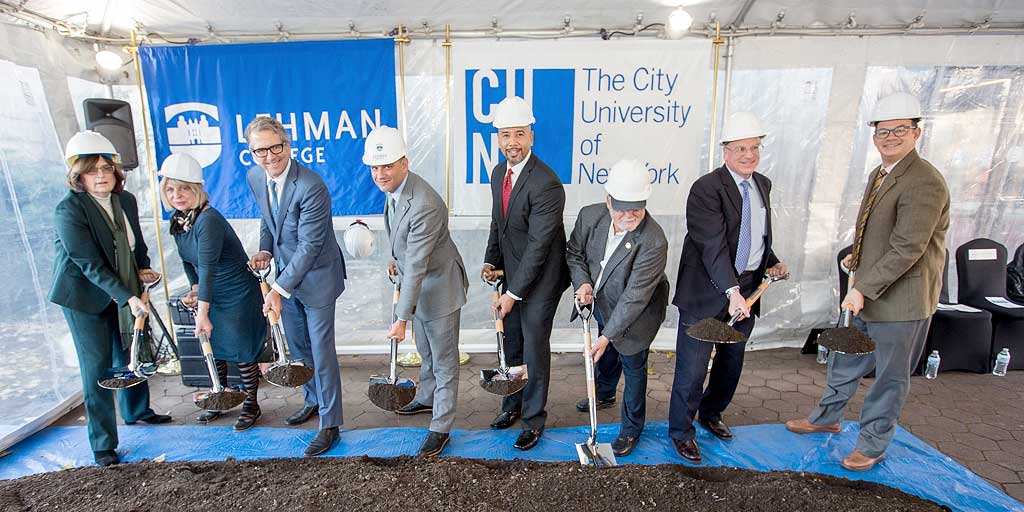 Performing Arts Center Will Undergo a $15.4 million Renovation
(From left to right): Vice Chancellor for Facilities Planning, Construction and Management Judith Bergtraum; Executive Director of the Lehman Center for the Performing Arts Eva Bornstein; CUNY Chancellor James B. Milliken; Lehman President José Luis Cruz; Bronx Borough President Rubén Díaz, Jr.; Assemblyman José Rivera; Assemblyman Jeffrey Dinowitz; and City Council Member Andrew Cohen.
Lehman President José Luis Cruz, CUNY Chancellor James B. Milliken, and Bronx Borough President Rubén Díaz Jr., participated in a groundbreaking ceremony last week to kick off a new $15.4 million renovation of the Lehman Center for the Performing Arts.
They were joined by education officials and local elected officials, to celebrate the addition of nearly 5,600-square-feet of space that will include an expanded and stunning glass box office. The renovation, which is estimated to take 18 months, will insure that the Center will be able to modernize its facilities to create a truly state-of-the-art performance space for the 21st century.
"For years, this space has served as a venue for some of the world's best known performing artists," said Cruz. "I am thrilled that one of the borough's greatest treasures will undergo this important makeover and thank all who have provided funding for this project."
The renovation for the premier concert hall in the Bronx will also include new administrative offices and restroom facilities on the first and mezzanine floors, and an elevator. Separate heating and cooling systems will be added so that the main concert hall can be maintained at energy saving temperatures when not in use. The project will modify the existing lobby and interior to comply with Americans with Disability Act (ADA) standards. The Center—sometimes referred to as "the Lincoln Center of the Bronx"—seats 2,310 people in the concert hall and is the largest of its kind in the borough.
Performances and events will continue throughout the project and work will scheduled when the space is not in use.
"A performing arts center is a gathering place for a community, so we want to make it as pleasant and memorable for our audiences as possible," said Eva Bornstein, the Center's executive director. "We want to enhance their experience while attending our concerts."
Funding for the project was provided by the Office of the Governor, New York State Legislature, Bronx delegation of the New York City Council, and the Office of the Bronx Borough President.
For a full schedule of events of the Lehman Center for Performing Arts please visit their website.