Lehman College Celebrates Outstanding Faculty and Staff
Tuesday, November 21, 2017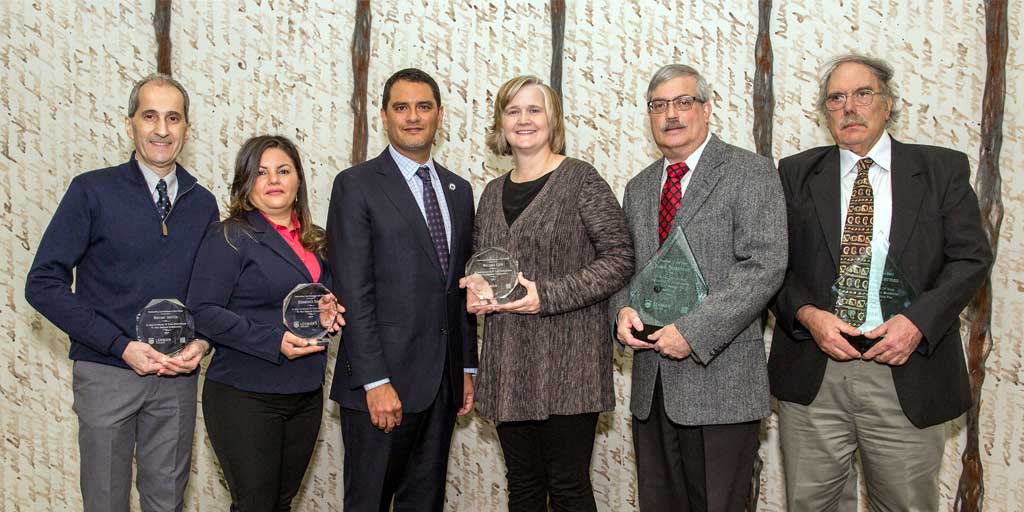 Lehman College Celebrates Outstanding Faculty and Staff
Choosing among more than 2,000 employees, Lehman College honored two professors and three staff members for their contributions to the College at a special awards luncheon held last week in the Art Gallery.
Dr. Duane Tananbaum, a professor in Lehman's Department of History and author of the recently published Herbert H. Lehman: A Political Biography, was named Teacher of the Year; and Dr. Martin Gitterman, professor emeritus and former chair of the Department of Speech and Theatre, was named Adjunct of the Year. Also, Lehman's Department of Human Resources gave the Outstanding Contribution to the College Award to Elizabeth Duran, a custodial assistant with the College's buildings and grounds crew; Manuel Garcia, the site manager at Lehman's satellite campus, CUNY on the Concourse; and Melissa Kirk, chief of staff to the provost.
"Lehman College has a wealth of dedicated and talented faculty, staff members, and administrators, all of whom contribute to the success of this institution on a daily basis," said President José Luis Cruz, who awarded the honors at the luncheon. "It is my great pleasure to acknowledge this special group of five individuals for their efforts in achieving the College's mission in service of our students."
The Lehman College 2017 award recipients are:
Professor Duane Tananbaum: A member of the Lehman College faculty since 1986, he teaches survey, upper-level, and graduate courses in U.S. history. Tananbaum helped found the College's Writing Across the Curriculum program, served as chair of the history department, and has held leadership positions in the College Senate and the Lehman chapter of the Professional Staff Congress, the union of the College's faculty and staff.
Professor Martin Gitterman: During his 32-year tenure at Lehman, he served as chair of the Department of Speech and Theatre from 1994 to 2000 and executive officer of the Ph.D. program in the Department of Speech-Language-Hearing Sciences at the CUNY Graduate Center from 2003 to 2009. Gitterman was named professor emeritus in 2010.
Elizabeth Duran: A custodial assistant, she was nominated for service "beyond the call of duty" and because, as one professor who nominated Duran wrote, she makes the College feel "more like home under her concerned, observant presence."
Manuel Garcia: The site manager for CUNY on the Concourse was cited for overseeing the installation of the College's Virtual Reality Training Academy and Development Lab, which opened in May, as well as for his "creativity, attention to detail, technical knowledge, and perfectionism," as one colleague wrote.
Melissa Kirk: As chief of staff to the provost, she is in charge of tracking and facilitating administrative goals from the College's five schools, in addition to working closely with Student Affairs, Business and Finance, the Registrar, and the Office of the President.
"Too often, much of the great work here at Lehman College is accomplished by individuals behind the scenes and noticed mostly just by their fellow professionals," said Human Resources Director Eric Washington. "Today's event gives us the opportunity to put some deserving colleagues into the limelight for our recognition and appreciation."