Lehman 360—A Platform For Everything Lehman
Monday, December 11, 2017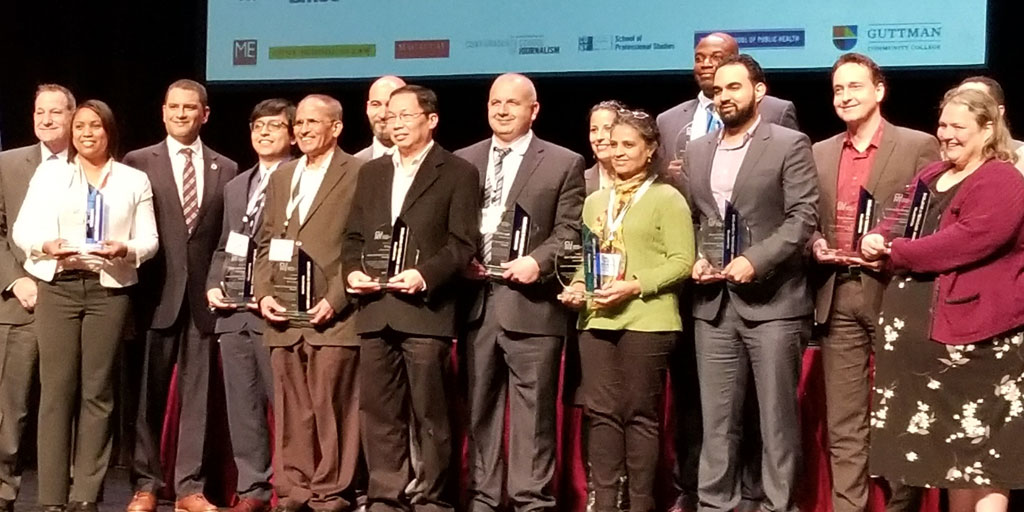 Lehman 360—A Platform For Everything Lehman
Lehman College has launched Lehman 360, an online platform that places students at the heart of the school's digital ecosystem—while giving students, faculty, and administrators the important information they need to work faster, smoother, and more efficiently.
In recognition of their innovative work, the faculty and staff who made Lehman 360 a reality, recently won CUNY's IT Collaboration Award at this year's CUNY IT Conference.
The new digital platform will keep students, faculty, and staff up-to-date with the personalized information they need—such as GPA, academic standing, course schedule, and financial aid, etc—and all in one, user-friendly place. Lehman 360 delivers data from multiple systems, such as CUNYfirst and Blackboard, into a single location and, is conveniently accessible on mobile devices. Lehman 360 became available to the student body in October; the faculty features became available last week.
"Lehman 360 provides information tailored to every single student," said Deira Pereyra, the director of IT application services, who has been helping to develop the platform since last May. "It's a collection of tools delivering data to students and has a social media look and feel," she said.
Eventually, Lehman 360 will send targeted notifications to students. "We'll be able to notify a computer science major with a 3.0 GPA about available scholarships," she said. "It will be very personalized and granular."
It will also help students manage their academic careers. For example, students who have nearly 60 credits, but who have yet to select a major, will receive an notification or "nudge" with a link to the school's iDeclare page—an electronic tool that allows students to declare or change majors. Another component of Lehman 360 for faculty and advisors will allow them to message an entire class and access class wait lists.
"Our goal is that Lehman 360 become an essential platform for our entire campus," said Edi Ruiz, assistant vice president for information technology. "It's been designed to grow and meet the personalized needs of our students, faculty, and staff, allowing them to find all relevant Lehman information in one place."
To access Lehman 360 from your phone, download the Lehman College mobile app from the App Store or on Google Play. To access Lehman 360 from a desktop, go to Lehman.edu and find Lehman 360 under the "Login" at the top of the page. To log in, use your Lehman account, which is the same firstname.lastname and password used for wireless access.