Third Way Lauds Lehman For Promoting Economic Mobility
Wednesday, August 30, 2023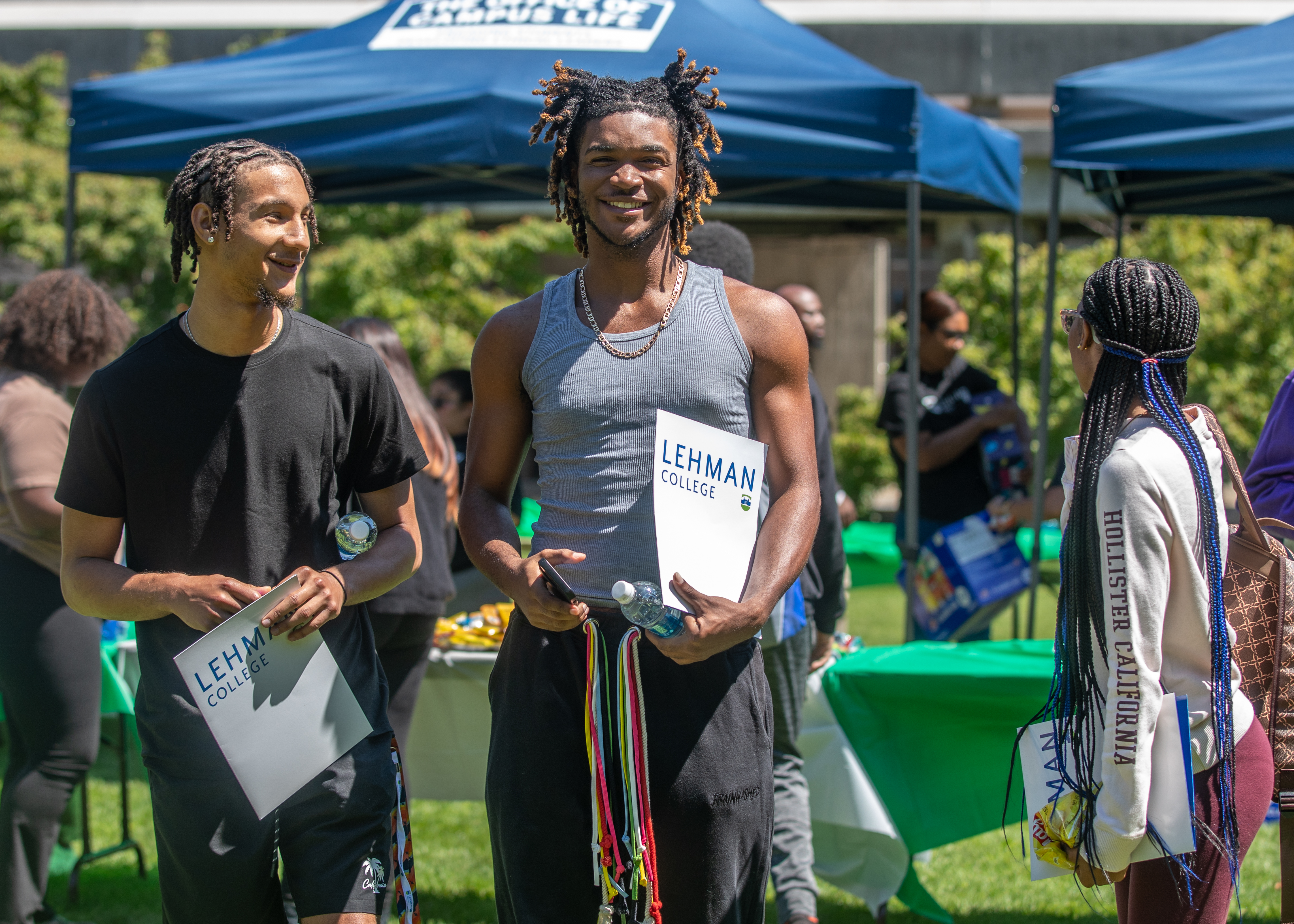 Two new members of the Lehman community at the student orientation on August 23.
Lehman College was ranked 14th best college in the country for fostering economic mobility by a policy-focused think tank based in Washington, D.C.
The organization's Economic Mobility Index (EMI) focuses on the return on financial investment for low-income college students who get better paying jobs as a result of their college education. More than 1,400 public and private institutions were evaluated.
"I am gratified that Third Way recognizes all the hard work our professors and administrators dedicate to Lehman students. We equip them with the knowledge, tools, and experience they need to flourish— but it's their drive and determination that leads to success both in school and after they graduate," said Lehman president Fernando Delgado.
Third Way's EMI calls attention to institutions whose students are primarily from communities with high financial need, and which are succeeding in their mission to promote economic mobility on a large scale.
While a small percentage of lower-income students at an elite private college may be propelled into higher wage brackets, that says little about their return on investment or the college's capacity to serve the broader needs of low-income students.
Lehman enrolls over 14,000 undergraduate and graduate students, the majority of whom are first-generation students from economically insecure communities. Over half come from households at or below poverty level.
Including Lehman, 11 CUNY colleges ranked in the top 20 percent of the EMI. Over one third of this group are Hispanic-Serving Institutions, which typically draw students from lower-income communities, and have developed a range of strategies to promote academic achievement, college completion, and career readiness.
Since 2017, when the first study of higher education's impact on intergenerational economic mobility was published, the number of organizations across public and private sectors using metrics like the EMI in their rankings has steadily increased. In that time, Lehman has consistently been to the top of those lists for its ability to move students into the middle class. The American Council on Education, the National Bureau of Economic Research, and as well as Washington Monthly and U.S. News & World Report, have all ranked Lehman highly on economic mobility and student debt indexes.