Lehman Professor Natasha Nurse-Clarke Named 2023 American Academy of Nursing Fellow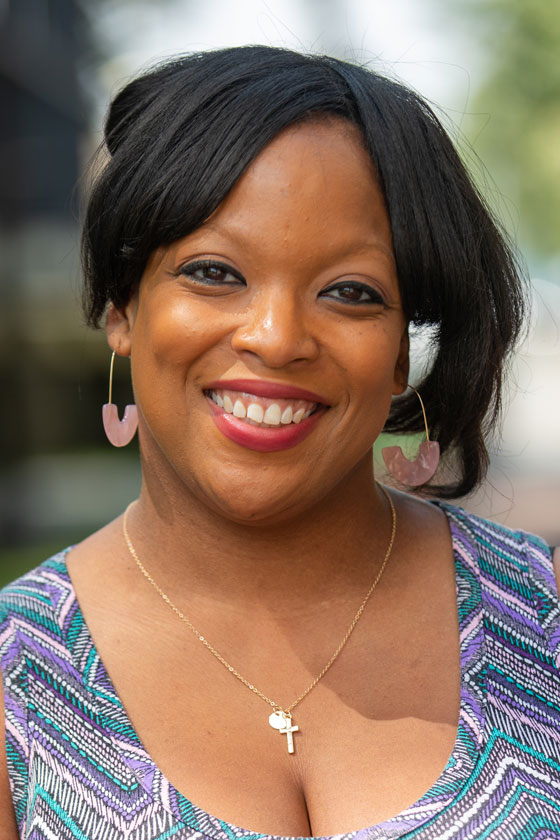 The American Academy of Nursing, one of the nursing profession's most prestigious honors societies, recently named Lehman Associate Professor Natasha Nurse-Clark to its 2023 cohort of Fellows.
"I am truly honored and humbled to be inducted," said Nurse-Clarke. "It is an incredible privilege to join this illustrious group of nursing professionals, and I look forward to contributing my knowledge and experience to improve health policies globally."
Nurse-Clarke is a registered nurse with a background in neonatal nursing, grief counseling, and nursing education. She is also a three-time CUNY alumna, having earned her bachelor's degree from Hunter College, an advanced certificate from Brooklyn College, and her Ph.D. from the CUNY Graduate Center. She was appointed to Lehman's full-time nursing faculty in 2018.
"Dr. Nurse-Clarke's contributions to knowledge in the nursing field, her high-impact teaching, and her innovative scholarly work aimed at eliminating health disparities, demonstrate her commitment to advancing nursing education and public health," said Elgloria Harrison, Dean of the School of Health Sciences, Human Services, and Nursing. "We are very proud of her accomplishments and thrilled that she will join an elite group of fellows in the American Academy of Nursing."
Induction into the Fellowship is more than a recognition of accomplishment. Fellows contribute their collective expertise to the Academy and engage with national and global health leaders to develop effective public health policy.
They are accomplished leaders in policy, research, practice, administration, and academia, recognized for their work to advance equitable solutions to complex health care challenges. This year's cohort of 250 Fellows represent 40 states, the District of Columbia, and 13 countries.
Nurse-Clarke's research interests include perinatal bereavement support and adolescent health and advocacy. Her scholarship, highly regarded in the field, has won her multiple grants and invitations to present at numerous conferences and speaking engagements.
She has become a leader in online pedagogy and was a vital resource for faculty across the College during the pandemic when all instruction was moved online. She also mentors other faculty.
"As a Fellow, I am committed to furthering the mission of the Academy by advancing practice through synthesis and dissemination of nursing knowledge," said Nurse-Clarke. "I plan on doing this through engaging in educational and scholarly activities with fellow members that highlight innovative practices, advocating for change in areas such as healthcare reform, legislation, access disparities or clinical care delivery models, and leading initiatives focused on increasing access to quality care worldwide. I am grateful to be trusted with this responsibility."
Nurse-Clarke and the 2023 inductees will be recognized for their substantial, sustained, and significant contributions to health and health care at the Academy's annual Health Policy Conference, taking place on October 5-7, 2023, in Washington, D.C.