Living and Learning in Different Worlds: Q&A with Alumnus Jose De Los Santos
Monday, December 12, 2022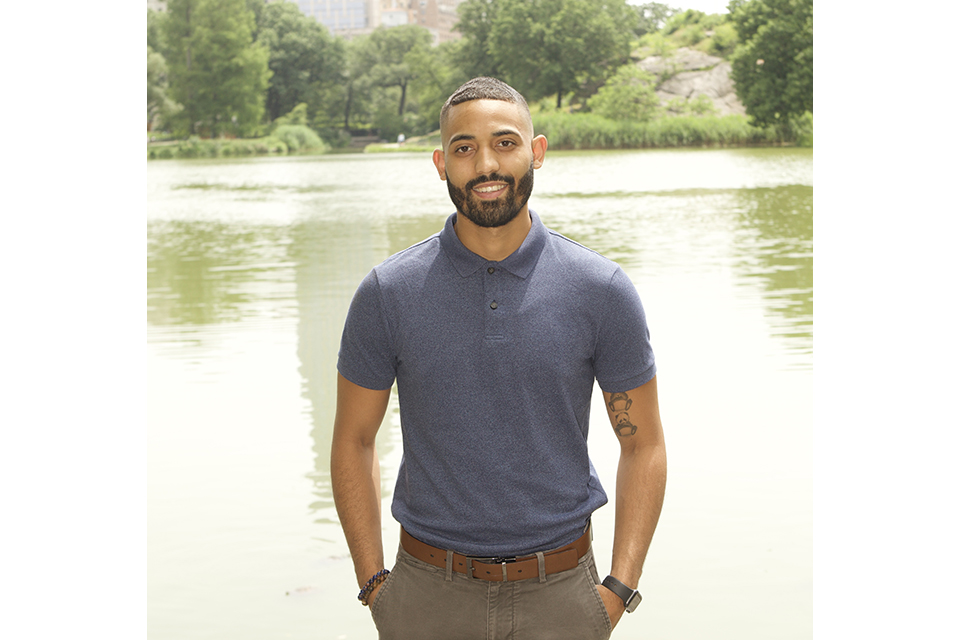 Bronx native Jose De Los Santos, '20, didn't plan to attend college until a summer internship motivated him to explore new horizons. After earning an Associate degree from Hostos Community College, he joined the National Guard and enrolled at Lehman full time, where he majored in sociology. Not long after graduating, he was deployed to Egypt, where he currently serves in a peacekeeping operation. Active duty in a foreign country didn't hinder De Los Santos from his next double venture: starting his own business—and working toward an advanced degree in conflict resolution, which he is currently pursuing at California University of Pennsylvania. He spoke to us from Egypt, just a few months before he returns stateside in early 2023. The interview has been edited for clarity and brevity.
You majored in Sociology. What drew you to that field?
I initially started with psychology and it was very interesting, but I also joined the National Guard at the same time, and that conflicted with my timeline to graduation. Sociology was in the same realm of interest for me and the program's flexibility allowed to graduate on my timeline.
When I was a psychology major, it was really about the individual and the mind of the individual, and how that individual may be perceived out in the world. When I switched over to sociology, the approach was different. It was how the world influences the individual.That resonated with a little more because I could relate it to my environment—whether I was back in my neighborhood or in school, or in my job. Each environment kind of influenced me to present a different version of myself, and I found that very interesting.
As a student, what motivated you to join the National Guard?
Because I wasn't really sure that I would continue my education after high school, I had considered joining the army as an active duty soldier. I was just naturally drawn to the challenge, and wanted to be able to say that 'I did this. I served my country. I had this experience.'
I didn't want to give [college] up completely, because I was enjoying my studies. The National Guard presented an opportunity to join the military and have that experience while also focusing on my educational goals.
You're now in a master's program in conflict resolution. How did you discover your interest in this kind of work?
During my senior year in high school I got into a summer internship where the intention was to give young people the skills to be ready for the real world, like the ability to articulate themselves properly, problem-solving skills, and conflict resolution skills. These are important tools to have, especially in a professional setting—to be able to articulate yourself, identify issues, and resolve those issues in a productive way.
Through that I learned about mediation and restorative justice practices, and really fell in love with the ideology behind it: having a conversation, getting to know a person, and not just solving a problem, but healing a person and a situation. After that I began to train other people on how to mediate conflicts. I've worked with organizations that do trainings at libraries, schools, and places like Columbia University since 2012, and now I'm launching my own mediation and training business.
During the height of the pandemic your unit was called up to offer emergency support. How did you manage your deployment while maintaining a full-time course schedule?
I could have stopped out of school to focus on these other responsibilities, but when I put a date on something, I like to meet that goal by that date. I had plans for my education to be completed by a certain time, so I was motivated to stay in school. It did prove to be difficult, but luckily, I had professors that understood my situation and supported my ambition. My sergeants and my commanding officers also understood my ambition, and they were able to work with me. So, I wasn't just trying to struggle along. I really did have a team of support both at Lehman and with my unit.
How have you navigated the very different roles of student, mediator, and soldier? Do you see any overlap?
The Army has given me a constant drive to be competent. I learned in basic training that you can never be too prepared for any situation, and that requires a certain level of commitment. As a professional soldier who's also a student, I know that even if I don't get an A on an essay, I will put in every available hour to write the best essay possible.
Being a student as well has leaked into who I am as a soldier, an employee, a son, a husband, a brother, a peer. Understanding how an environment can influence an individual or how an individual can transform to match a certain environment has strengthened my conflict resolution experience where I'm trying to understand a person, and what challenges they may be facing, which is why they may not be able to express themselves or why they may be behaving a certain way.
In the military we have certain expectations of soldiers and how to conduct yourself. My education has helped me, as a soldier, support my peers whenever I see the need, to motivate them or lend an ear. It has enabled me to pick up on cues that many people do not always recognize.
How have you juggled the responsibilities of active duty and full-time study?
The people in my program have been very supportive. It's all asynchronous, so that allows me the flexibility to time-manage properly. I'm still with the same unit that I served in during the pandemic, so they understand my ambitions. I'm able to manage my time, as long as I keep a routine and plan ahead.
Egypt is a long way from the Bronx. What have you been doing?
We're a peacekeeping operation. I organize ground transport between different locations in [Mt. Sinai], but because the commander of this post is a Colombian and I'm fluent in Spanish, I am essentially a liaison between the U.S. and the Colombian armies.
I'm loving the experience. I visited some of the holy sites in Israel and the pyramids, and I'm having conversations and getting to know people from New Zealand, Australia, Colombia, Canada—all different places.
It sounds like you really appreciate opportunities to encounter new ideas, perspectives, and people. How does Lehman figure into that?
I didn't find the drive to go further with my education until I came to Lehman. Being a first-generation student college student, I never imagined that I would attend a four-year school and have a real 'college' experience on a beautiful campus. It has its own ambience, its own spirit. What motivated me was that it offered me a different world.