Lehman Builds Community Connections with Conversations at 50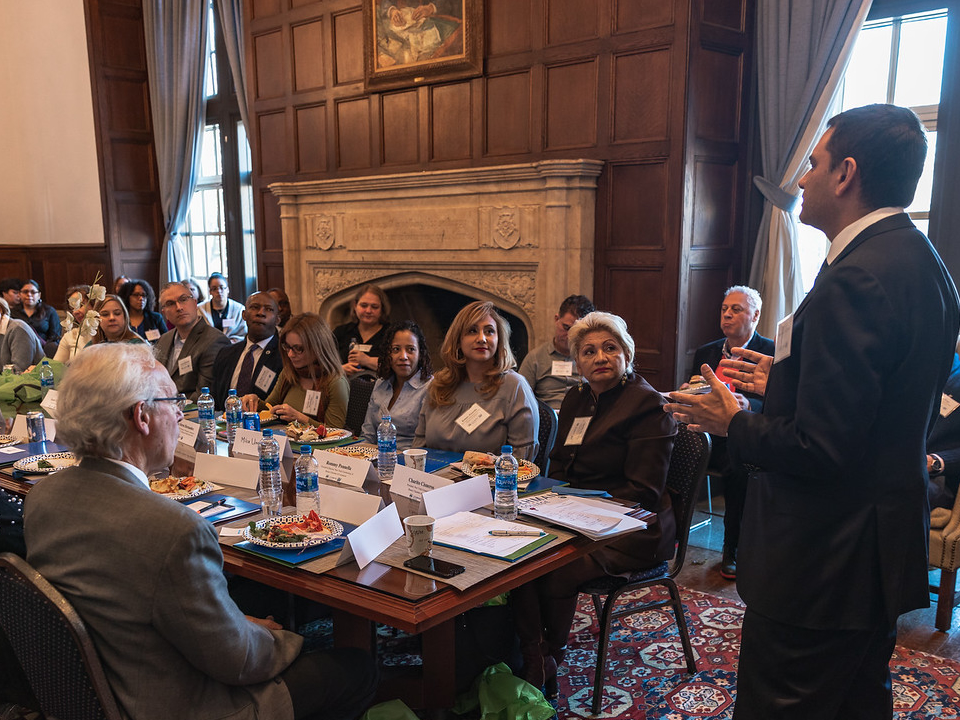 Lehman Builds Community Connections with Conversations at 50
Lehman College inaugurated a special series of events called Conversations at 50 this semester with the aim of highlighting the accomplishments of the college's five different schools while forging closer connections with alumni and community partners.

Planned as part of the college's 50th anniversary commemoration, the Conversations at 50 gatherings have also produced a useful compilation of new ideas, possible collaborations, and program proposals, along with better ways in which the college can best serve Bronx residents in the years ahead.

"As we're charting Lehman College's next fifty years as an intellectual, cultural, and economic hub in the Bronx, it made perfect sense to engage key stakeholders, including alumni," said Tara Tomlinson, director of Advancement Initiatives. "Hearing from both internal and external audiences pertaining to the college's value and what it can offer students in the future will help ensure our students are well-prepared and can take advantage of all kinds of opportunities."

Conversations at 50 kicked off with the School of Continuing and Professional Studies on January 30 in the President's Conference Room in the Music Building.

About 15 different organizations were represented at the first event, including the Bronx Chamber of Commerce, Montefiore Medical Center, and 100 Hispanic Women National, a nonprofit advocacy group. Among the ideas generated in the breakout session: training for healthcare coordinators, a pest control management program, and ways to expand businesses through virtual reality.

"Our conversation produced a lot of encouraging ideas about what we could do, and what we are doing well already," said SCPS Dean Jane MacKillop. "It also strengthened the link between the college and the community, while also bringing together people who don't ordinarily interact with each other."

Lehman's other schools followed with their own Conversations at 50 events, all with the same format: welcoming remarks from President Jose Luis Cruz, and then an overview of the school's growth during Lehman's half-century provided by the dean. The dean also addressed how each school continues to evolve and meet students' needs in an era of rapidly changing technology. After the remarks, participants brainstormed in small groups before sharing their ideas with the entire gathering.

The School of Arts and Humanities hosted their Conversations at 50 on March 19, with Dean James Mahon showcasing different dancers, artists, and writers during an impressive demonstration of the college's cultural value to the Bronx. Participants also heard about how the school emphasizes the importance of critical thinking and communications skills for all graduates, which readies them for their careers.

On April 15, Interim Dean Pamela Mills of the School of Natural and Social Science presided over the largest of the gatherings so far, which included executives from T. Rowe Price, Google, Bloomberg, IBM, and Bank of America. A question was posed by some of the corporate participants during this Conversation regarding whether Lehman would consider opening a School of Business to offer a wider range of course offerings and graduate programs in business disciplines for students.

The Conversations at 50 with the School of Health Sciences, Human Services and Nursing was held on April 17 with representatives from the Office of the New York City Comptroller, Albert Einstein College of Medicine, and BronxWorks, a community-based organization. Interim Dean Elin Waring noted that Lehman's exercise science majors are learning to train the next generation of physical education teacher and shared the news that Lehman expects to break ground on its new, state-of-the-art Nursing Education, Research and Practice Center this fall.

"These are just the first of many conversations Lehman is going to be hosting," added Tomlinson. "We're going to follow up with our participants, keep the dialogues going, and invite other community members to be involved as well."

Lehman's final Conversations at 50 in this semester's series with the School of Education will take place on May 16.