Winter Concert at Lehman Rings in Holiday Season
Friday, December 14, 2018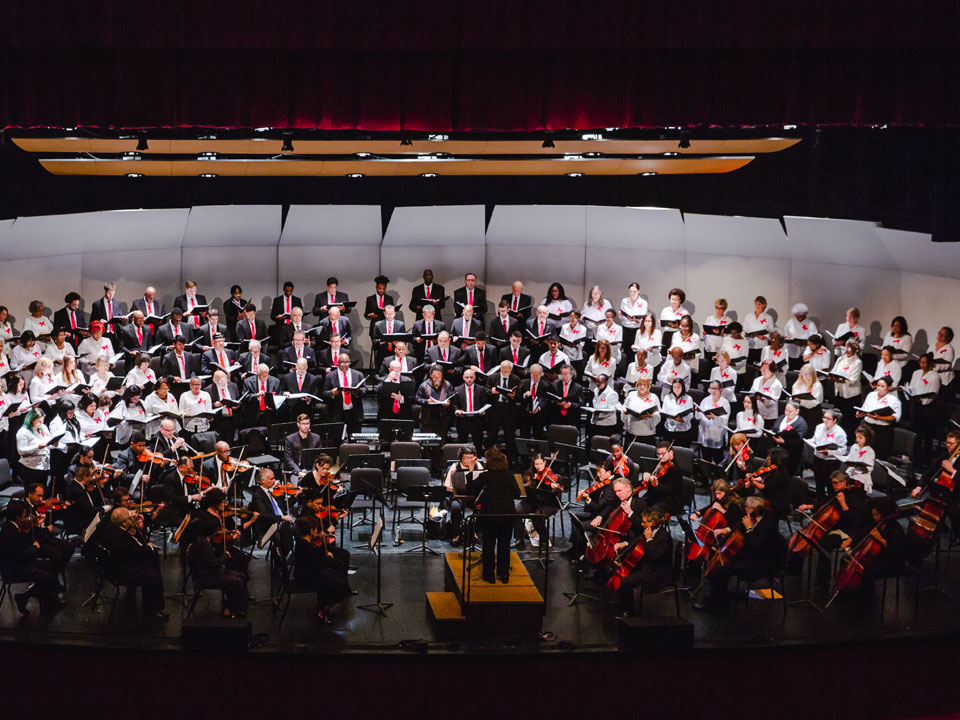 Lehman College and Community Chorus, joined by the Lehman Symphony Orchestra and conducted by Dr. Diana Mittler-Battipaglia
The year-end holiday season got off to a festive start on Dec. 2 when the Lehman College and Community Chorus, joined by the Lehman Symphony Orchestra and conducted by Dr. Diana Mittler-Battipaglia, presented "A Winter Concert" at the Lehman College Center for the Performing Arts for a sizable and appreciative audience.
One of the semi-annual performances offered by the Lehman College and Community Chorus, "A Winter Concert" featured the 120-member chorus performing Antonio Vivaldi's Gloria in D Major, plus shorter compositions by Felix Mendelssohn, John Rutter, and Johann Strauss Sr. To emphasize the seasonal holidays theme of the gathering, also on the program were the spiritual My Lord, What a Mornin', the Spanish carol "A La Nanita Nana," and the Sephardic Hanukkah song Ocho Kandelikas.

A showcase selection for the Lehman Symphony Orchestra on the program, Antonio Vivaldi's Concerto for Oboe and Bassoon, featured two remarkable soloists: oboeist Ellen Bardekoff, a graduate of the Julliard School and principal oboe with the Bardekova Ensemble and the Bronx Symphony Orchestra; and bassoonist Jessica Gillespie, a graduate of the Berklee College of Music currently enrolled in the Master of Arts in Teaching and Applied Music program at Lehman.

The bulk of the concert program, though, spotlighted the Lehman College and Community Chorus, whose soloists included lyric coloratura Osceola Davis, a member of the voice faculty at Lehman College who has performed at the Metropolitan Opera and Carnegie Hall; mezzo-soprano Sarah Knott, who has performed at the National Opera Center and appeared with the Capitol Opera, Cedar Rapids Opera, and the Bronx Opera; and soprano Johana García Lara, a third-year honors student at Lehman College majoring in Music, who has received a scholarship to participate in St. George's Choral Society.

The audience was also given an opportunity to participate in a holiday sing-along with seasonal favorites like "Silver Bells" and "Winter Wonderland," as well in the traditional finale, the "Hallelujah Chorus" from George Frideric Handel's Messiah.

For Dr. Mittler-Battipaglia, Professor of Music and Choral Director at Lehman College, it was the 33rd holiday concert in a row that she has presided over. Founded in 1986, the Lehman College and Community Chorus is comprised of Lehman alumni, faculty, staff, students and community members, as is the Lehman Symphony Orchestra. At the conclusion of the concert, each group was asked to stand up and be recognized, which drew the most enthusiastic applause of the afternoon.