The Lightning Returns to the Finals After Taking Down John Jay 78-55
Thursday, February 22, 2018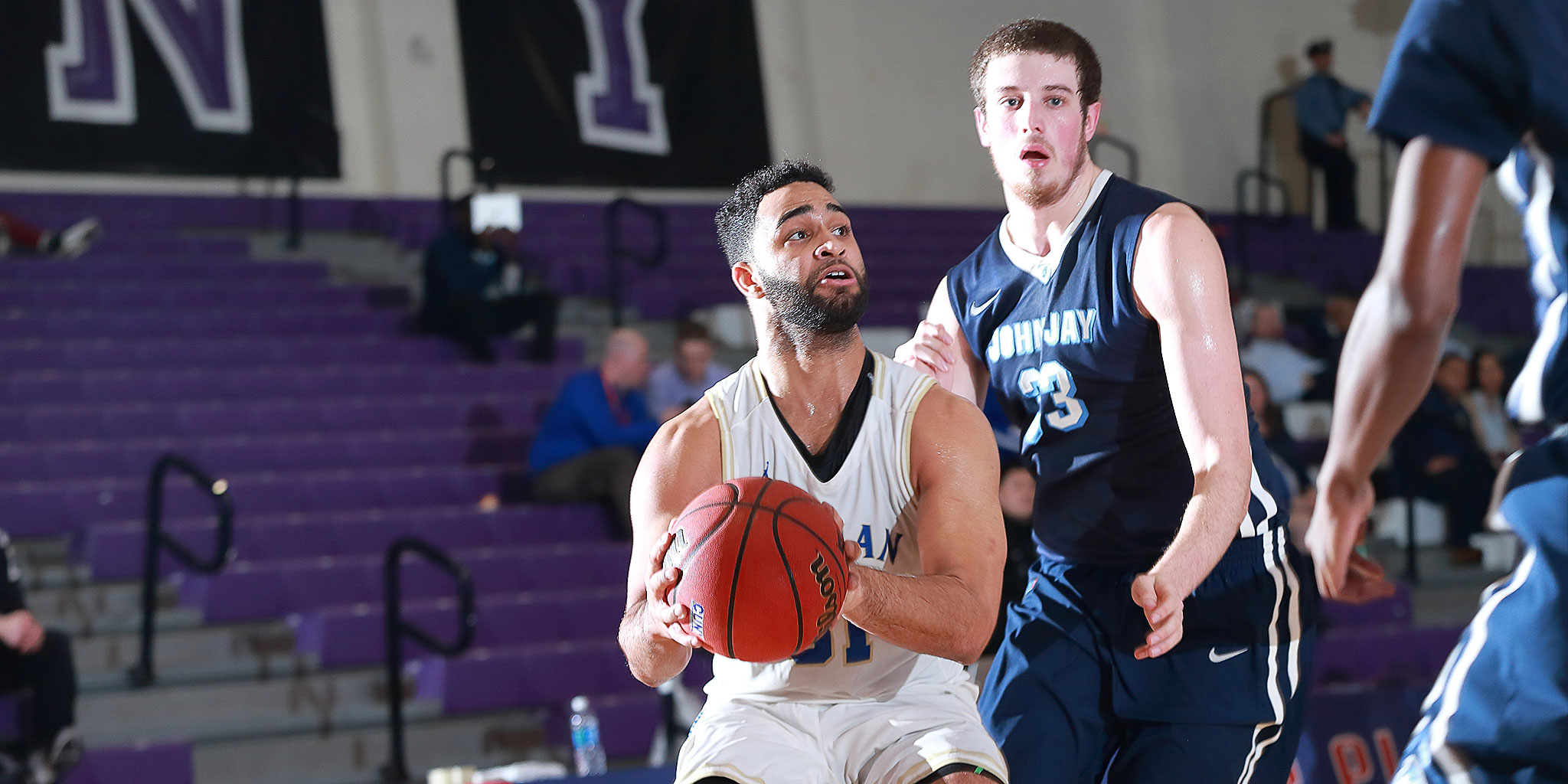 The Lightning suffered no ill effect from having a week off as it was déjà vu all over again as Lehman started the game against John Jay by going on a 12-0 run. The last time the two schools met the Lightning jumped out to a 14-0 start before going on to win 86-68. Luis Hernandez had seven points in the opening spurt. Nursing an eight-point lead the Lightning went on a 9-0 run to take a 17-point lead 26-9 midway through the first half. With the 78-55 victory the Lightning went 3-0 against the Bloodhounds this season and move into the finals for the first time since 2004. They were led by Andrew Utate (29 points) and Hernandez (20 points) who combined for 49 points. Jean Marcial added 12.
Andrew Utate commented at the post-game press conference that "this is something we have been working towards all season. We are all selfless and do whatever it takes to get the job done. Whoever is hot is going to get the ball and the shots. Tonight it was Luis and I." This is evident by the fact Lehman recorded 21 assists and average over 18 a night.
The Lightning were able to extend the lead to 20 after John Brens converted a traditional three-point play with 3:00 to go in the half before settling on a 38-20 lead at the break. It was another good shooting half for the Lightning as they shot 15-28 from the field (.536) registering 11 assists. The Lighting owned the boards in the half out-rebounding the Bloodhounds 22-10. Lehman uncharacteristically had 13 turnovers during the first 20 minutes. However, the Lehman defense was able to prevent John Jay from getting good looks at the basket. The Bloodhounds shot 8-26 from the field (.308). Utate led all scorers at the half with 12 points.
John Jay cut the lead to 15 with two minutes to into the second half but the Lightning answered and pushed the lead backup to 49-28 two minutes later. A Hernandez three and subsequent lay-up pushed the advantage to 56-31 with 14:48 to play. The Bloodhounds were able to cut the lead to 19 on two occasions but could not get any closer.
The last time the Lightning were in the final they took the title defeating City Tech 75-69 in 2004.
Lehman will play the winner of the Baruch–Staten Island game on Friday at 8:30 p.m. in the Nat Holman Gymnasium on the campus of CCNY.
By the Numbers: The Lightning shot 29-58 (.500), 11-22 from long-range Lehman was credited with 21 assists and won the battle of the boards 43-35. The Lehman defense held the Bloodhounds to 21-59 (.356) from the field and 16 turnovers.