Lehman College Raises Over $30,000 on Giving Tuesday, but There's Still Time to Give
Wednesday, November 28, 2018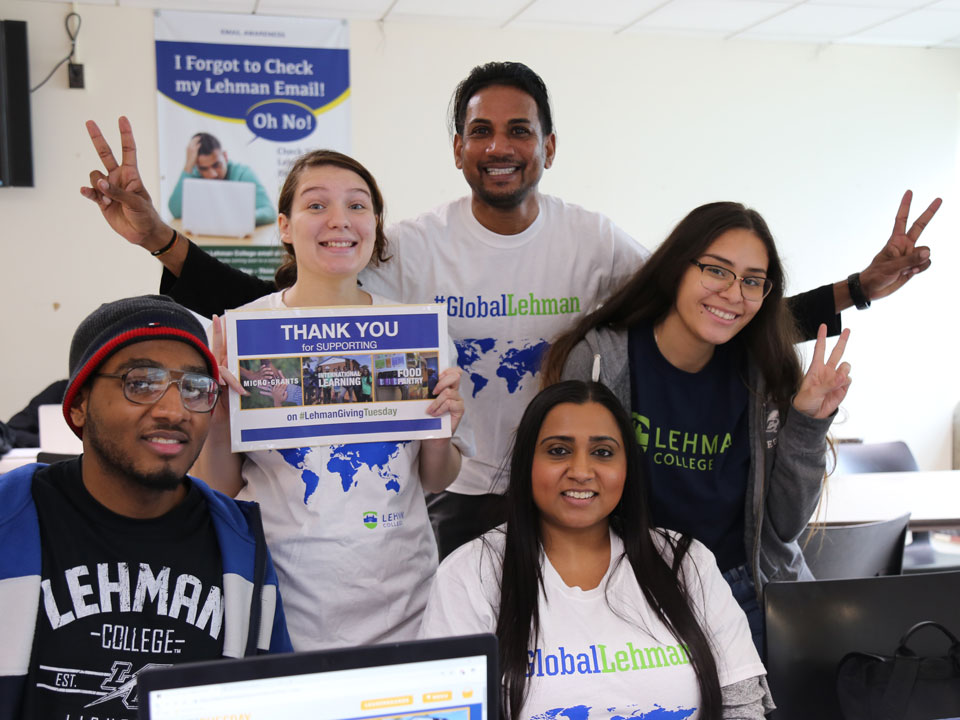 Photo of students thanking contributors on #giving tuesday
What does college actually cost? It's more than tuition, so for Giving Tuesday 2018, Lehman College asked for support to make sure that every Lehman student has the opportunity to receive a good education.
So far, 745 donors have contributed $31,781 to Lehman's Giving Tuesday campaign, supporting three causes that directly help Lehman students: the Lehman Food Pantry, the Lehman Micro-Grant program, and the International Learning Experiences program. Donations are still being totaled, which means you still have a chance to give.
103 students, faculty, and staff fanned out across the Lehman campus on Tuesday, Nov. 27 to ask the campus community to give through cash and online donations, payroll deductions, and credit card dip jars. Lehman supporters' donations were met with cheers, applause, and tiny silver pompoms at the tables, along with candy rewards for donating.
484 students gave back to the community, along with over 250 faculty, staff, alumni, and friends of the College adding their support.
Although Giving Tuesday is technically over, donations are still being accepted online. Visit https://www.cunytuesday.org/organizations/lehman-college to add your donation and help change the lives of Lehman students. Every donation matters.
Giving Tuesday is a nationwide effort started in 2012 to encourage donating to good causes in balance with Black Friday and Cyber Monday shopping. The City University of New York celebrates the day as #CUNYTuesday, a 24-hour giving challenge to raise $1 million in support of student success at CUNY colleges.