Lehman Alumni and Author Achieves the 'American Dream'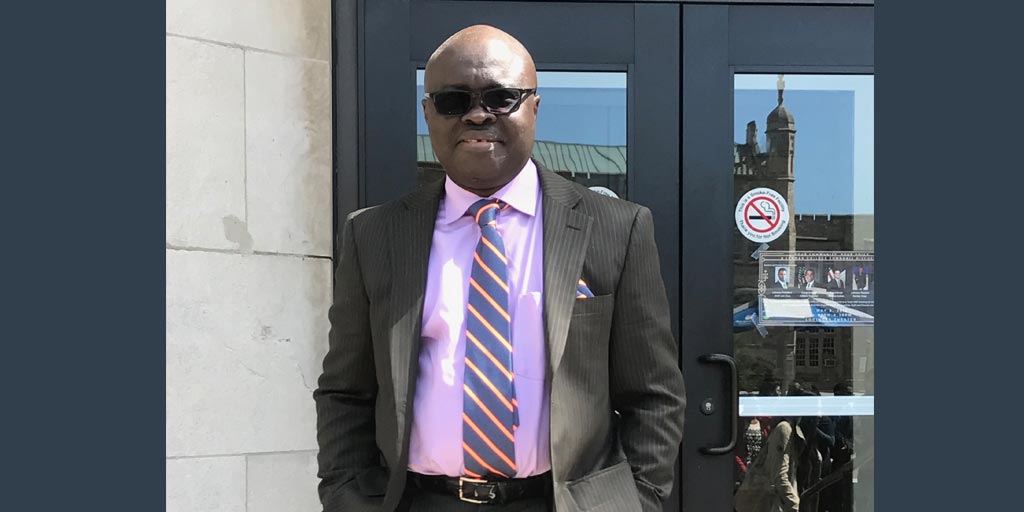 Lehman Alumnus Francis Ashun
When Francis Ashun first came to the Bronx from his native Ghana, he was eager to improve himself through education. He says Lehman College offered him the perfect opportunity. He recalls it as place of belonging and respite where he could relate to the diverse student body and feel at home.
Now, 23 years after graduating from Lehman College in 1994, Ashun has published his first book, "A Chronicle of the Life of an Immigrant in the United States." The book traces his path to success, and how he says he "achieved the American Dream."
The road he faced was filled with obstacles. Soon after taking his first job at a White Castle in the Bronx, Ashun says he believes his co-workers took advantage of him because he was an immigrant who was new to the country and naïve.
"When I was there, I would be told to clean the grease off the grill, constantly scrubbing things," he recalls. "It wasn't until another Ghanaian came to me and told me that they were taking advantage of me, that I realized and quit."
In contrast to the environment at White Castle, he found Lehman College very welcoming. He attributes much of that atmosphere to campus's diversity.
"That's what made attending Lehman worthwhile," he says. "The incredible diversity left an indelible impression on my mind. There were so many Ghanaians, Nigerians, and individuals from the Caribbean."
While Francis was flourishing academically, his experience was not without challenges. Ashun faced a tiring schedule while working at a department store on Fordham Road.
"Working at Alexander's was a struggle because I had to work from midnight to 8:00 a.m.", he says. "After work, I had to hurry to school for a 9:00 a.m. class. I even carried my toothbrush in my backpack."
Despite these challenges, Ashun went on to earn his Bachelor's Degree in Health Education and Promotion, earning high praise from Lehman faculty members, Professor Nicholas Galli, Department Health Science, and Professor Thomas Spear, Department of Languages and Literature for his academic work. He went on to earn a Master's Degree in Public Health at Hunter College, and graduated in 1999.
Professor Galli has fond memories of teaching Francis. "Francis was a bright, sincere man who worked diligently and was very receptive," Galli says.
Galli, as the director for the Health Education and Promotion Major, worked often with Ashun. Ashun decided to tell the story of his life as immigrant almost ten years ago, first starting by jotting down notes in a notebook. It was only in the past few years that Ashun dedicated himself fully to writing.
"My wife really spurred me to finish it, she supports me and my efforts," he says.
Ashun and his wife Dina have two children, Francine and Francois, and the family lives in Princeton, New Jersey. He currently works for the New Jersey State Department of Health, Office of the Assistant Commissioner.
Ashun says the motivation for writing his story was to "inform the public of the challenges that immigrants face." He has also shown, through his academic and career success, that Lehman College can be a key step for immigrants on the path to upward economic mobility.
"I feel that I have been able to achieve the American Dream, particularly in terms of education," he says. "It is not about where you're from here, but more about who you are. I owe who I am today to Lehman College."
The book, which was published earlier this year in both English and Spanish by iCONGH, is available on Amazon and through Barnes and Noble. Ashun says he also hopes to have it translated into French and Portuguese, so a wider and more diverse community of immigrants can learn from his life.
Ashun recognizes that the culture of child rearing in Ghana differs from that in the United States.
"I had to set the example for my five younger siblings," he says. "This meant getting up very early to do the domestic work of the house. I find myself making excuses for my children, they're inundated with homework, so they don't do as much domestic work as I did. In Ghana, I would never question my parents. Here, children negotiate with parents."