Men's Soccer Wins Second-Straight CUNYAC Championship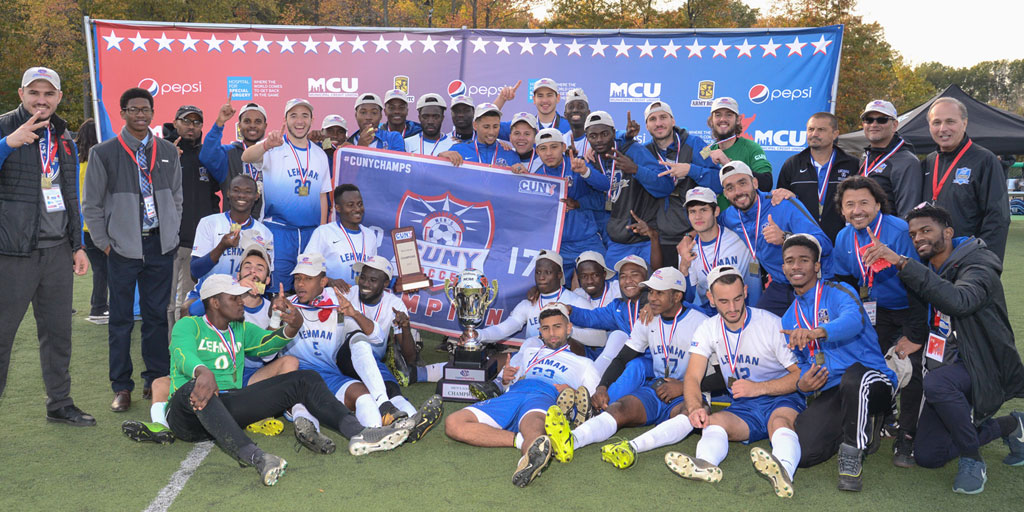 For just the third time in school history—and for the second-straight season—the Lehman College men's soccer team earned a spot in the upcoming NCAA Championship, after winning the CUNYAC Championship 3-1 against the John Jay Bloodhounds on Saturday (November 4) in Staten Island.
It was a familiar combination that put Lehman on the board in the 12th minute. CUNYAC All-Star Shevante Scott took a cross from CUNYAC Player of the Year and leading goal scorer Salh Alzubidi and blasted a shot that knuckled through the defense and went inside the far post for a goal. The marker was just the second of the year for the sophomore from Mount Vernon. The score stayed at 1-0 into halftime.
Then, barely four minutes into the second half, the Lightning went up 2-0. Lehman pressed the attack into the box and the Bloodhounds committed a penalty, which resulted in a penalty kick for the Lightning. Another CUNYAC All-Star, Nabi Ben Bangoura, calmly drilled the ball into the back of the net.
In the final ten minutes of action, John Jay started to press the attack and were rewarded for their diligence with a goal in the 85th minute that made the score 2-1. From there, Alzubidi, who was named Player of the Year in his inaugural season at Lehman, scored his conference-best 18th goal of the year after the John Jay goalie kicked the ball directly to him after making the save. The final score was 3-1.
"I'm just speechless," said Scott. "We've been highly motivated all year. We had one mission and one mission only, which was to play our best and win. It was a good game. The guys [from] John jay came on really hard. The pressure was on, but we stayed composed, made sure to keep the momentum up and that's why we won."
With the win, the team secured its place in the upcoming NCAA Championship. They currently have a 13-4-1 overall mark, including a perfect, 8-0 conference ledger. The Lighting will learn who their opponent is and where they will travel after the NCAA selection show on Monday, November 6, at 1:30 PM. More information on the NCAA championship
Earlier that day, the Lehman College women's soccer team lost a hard-fought game, 2-0, to the College of Staten Island in the CUNYAC Championship on the same field.
"I'm really proud of our seniors and the rest of the team," said head coach Casey Melilli. "We played well in the first half. CSI came out in the second half very determined and we had a problem responding."