What Leadership Means to Student Tiara Celestine, Winner of LCU Award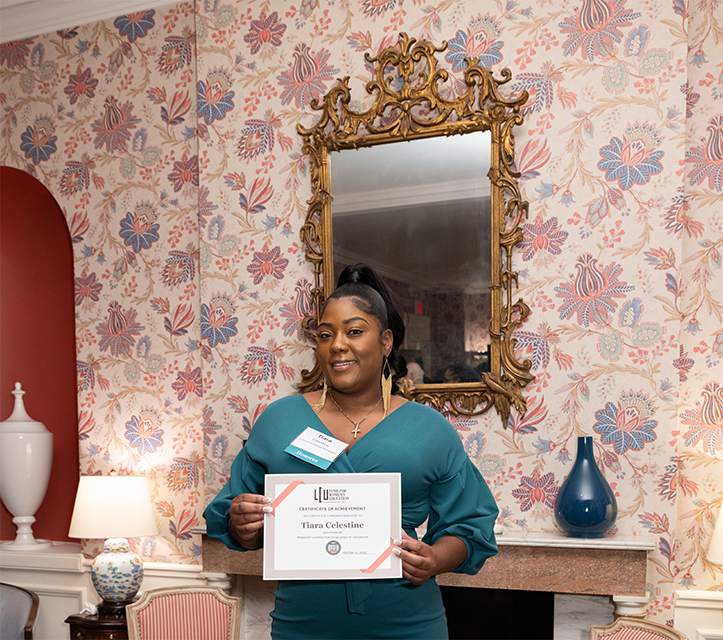 Tiara Celestine at the LCU Leadership Awards. (Photo: Jenna Bascom)
Leadership comes in many forms, but all leaders share a capacity to bring a community together and guide others toward a common goal. Lehman College student Tiara Celestine is one such leader, recognized on Oct. 12 by the LCU Fund for Women's Education with the President's Award for Excellence in Leadership.
A senior social work major, Celestine returned to college as an adult through the Adult Degree Program, and like many students at Lehman, she is a working single mother. After one of her three children was diagnosed with autism spectrum disorder (ASD), she discovered the unique challenges children of color with ASD face, most prominently, a lack of services.
Undaunted, she learned to navigate a complex city bureaucracy—while enrolled in college and holding down a job—to ensure her son received the support to which he was entitled. That was also the first time LCU came through for Tiara, offering a grant to help pay her rent.
It was a powerful investment. Now, her success has made her a role model, a source of knowledge, and a resource for parents and children in similar circumstances.
"As a mom of a child who is on the spectrum, I know how hard it is to navigate services on your own," said Celestine. "At my son's school, I've gotten parents and faculty members through the Early Intervention process."
In her nomination letter, Jaye Jones, Lehman's Director of Student Support, wrote that "one of Tiara's most commendable attributes is her ability to take the initiative when faced with difficulties. Her leadership, dedication, and ability to inspire others are exceptional and reflect a strong sense of responsibility to her community."
Celestine is on track to graduate in Spring 2024. Her next goal, she said, is a master's degree in social work, and eventually a clinical license. She'll also continue to work on behalf of individuals with ASD.
"Being a leader means advocating for those who are not able to, or may be afraid to speak up for themselves," she said. "When I became my son's advocate, I became a leader."
The LCU Fund awards grants to selected New York City colleges for emergency grants to help women scholars with housing insecurity. Lehman has had a 22-year history with LCU and has received $1,183,800 to date. Tiara's newest award is for a scholar in her final year of studies who has demonstrated outstanding leadership skills.