Recap: STEM Research Programs Send Undergrads Across the City and the Nation
Thursday, November 2, 2023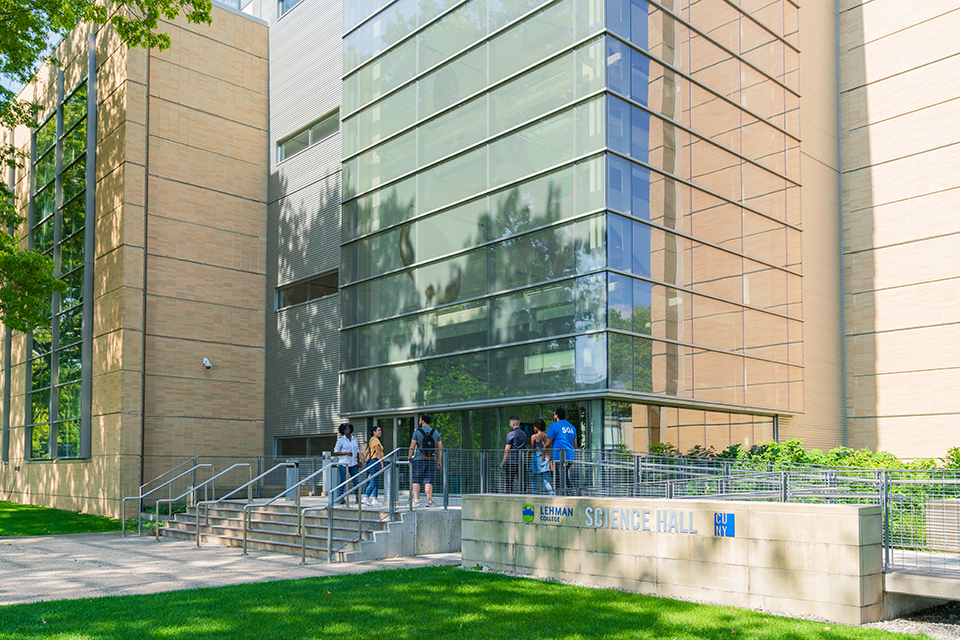 What do radioactive isotopes, the cellular microbiome, and intelligent streetscapes have in common? The answer is Lehman STEM majors, who work on exciting projects in these fields and others for their summer research.
The College's recent partnerships with institutions such as Florida Atlantic University, Texas A&M, Columbia University, and the CUNY Advanced Science Research Center are providing undergraduate students with opportunities to participate in high-impact research experiences for undergraduates (REUs) and professional development in areas like Artificial Intelligence, material sciences, and data analysis in the public interest.
Computer science major Emily Portalatin-Mendez was one summer REU participant, who developed a real-world social-distancing application with sensors and AI algorithms. She and three student colleagues—Jennifer Uraga Lopez, David Sanchez, and Koy Torres—spent nine weeks researching artificial intelligence applications at Florida Atlantic University, as fellows at the Center for Smart Streetscapes (CS3), funded by a $26 million grant from the National Science Foundation and led by faculty at Columbia University.
The grant funds the research and development of streetscape applications using advanced wireless technology to forge livable, safe, and inclusive urban communities—while promoting privacy and security.
"I've learned about how smart streetscapes can affect the lives of those in larger cities, such as blind people navigating their way along a path with a walking stick or how a cyclist must pass through busy intersections," said Portalatin-Mendez. "I was specifically tasked with researching object detection and tracking algorithms in applications for smart streetscapes."
CS3 fellows (from left) David Sanchez, Jennifer Uraga Lopez,
Emily Portalatin-Mendez, and Koy Torres
Five institutions around the country are participating in CS3, each offering student research opportunities. Lehman received close to $1 million of the CS3 grant to support its component of the program, which focuses on Public Interest Technology.
Recruiting for the 2024 cohort of CS3 Fellows begins in January.
Closer to home at Columbia University, CS3 Fellow and computer science major Dan Weiner worked with a faculty affiliate investigating the use of street cameras to improve wayfinding applications for people with visual impairments. Weiner's research at Columbia was carried out under the auspices of the SURE program, a 10-week REU funded by Amazon that provides under-represented students with opportunities to engage in cutting-edge engineering research.
In addition to Weiner, seven Lehman students were SURE fellows this past summer, each working with a faculty mentor and research team: Zahidul Zahin, Janissa Abreu, Chondi Touray, Irsath Azeez, Mohamed Albasuony, and Mia Minaya.
Before his SURE fellowship, physics major Zahidul Zahin had never worked in a lab setting. "Being a part of this research program has taught me how multidisciplinary science truly is," he said. "The lab I was at employed engineers, physicists, and chemists, and none of the work would have been possible without collaboration."
Zahin, who worked with a team on molecular electronics, won Best Poster at the end-of summer SURE symposium.
"I've learned that there are a lot of mental gymnastics required to try and explain a problem. This has allowed me to think like a researcher," he said. "All of the skills I learned will give me a better idea of the type of career that I would like to pursue."
Another award went to computer science major Minaya, who won Best Presentation for her work on quantum computing.


SURE fellows (clockwise, bottom left) Janissa Abreu, Zahidul Zahin,Chondi Touray, Irsath Azeez, Daniel Weiner, Mia Minaya, and program managers.
Like these institutions, Lehman draws students from around the country to its own REU, Integrated Design of Materials in NYC (known as IDMinNYC), funded by the National Science Foundation. Materials science encompasses aspects of physics, chemistry, and engineering to explore and develop new materials for industrial applications. IDMinNYC was established in partnership with City College and the CUNY Advanced Science Research Center.
The summer 2023 cohort included five Lehman students—Anthony Calderon, Philip Colman, Genesis Fermin, Nidhi Noble and Ashika Prakash—who worked alongside students from UC Berkeley, University of Pennsylvania, Howard University, and University of Puerto Rico, among others.
IDMinNYC participants and program directors Gustavo Lopez and Donna McGregor (rear center)
Undergraduate students interested in applying for these and other summer research opportunities can visit Lehman's STEM REACH site to learn more.