A New College Partnership Aims to Transform the Design Landscape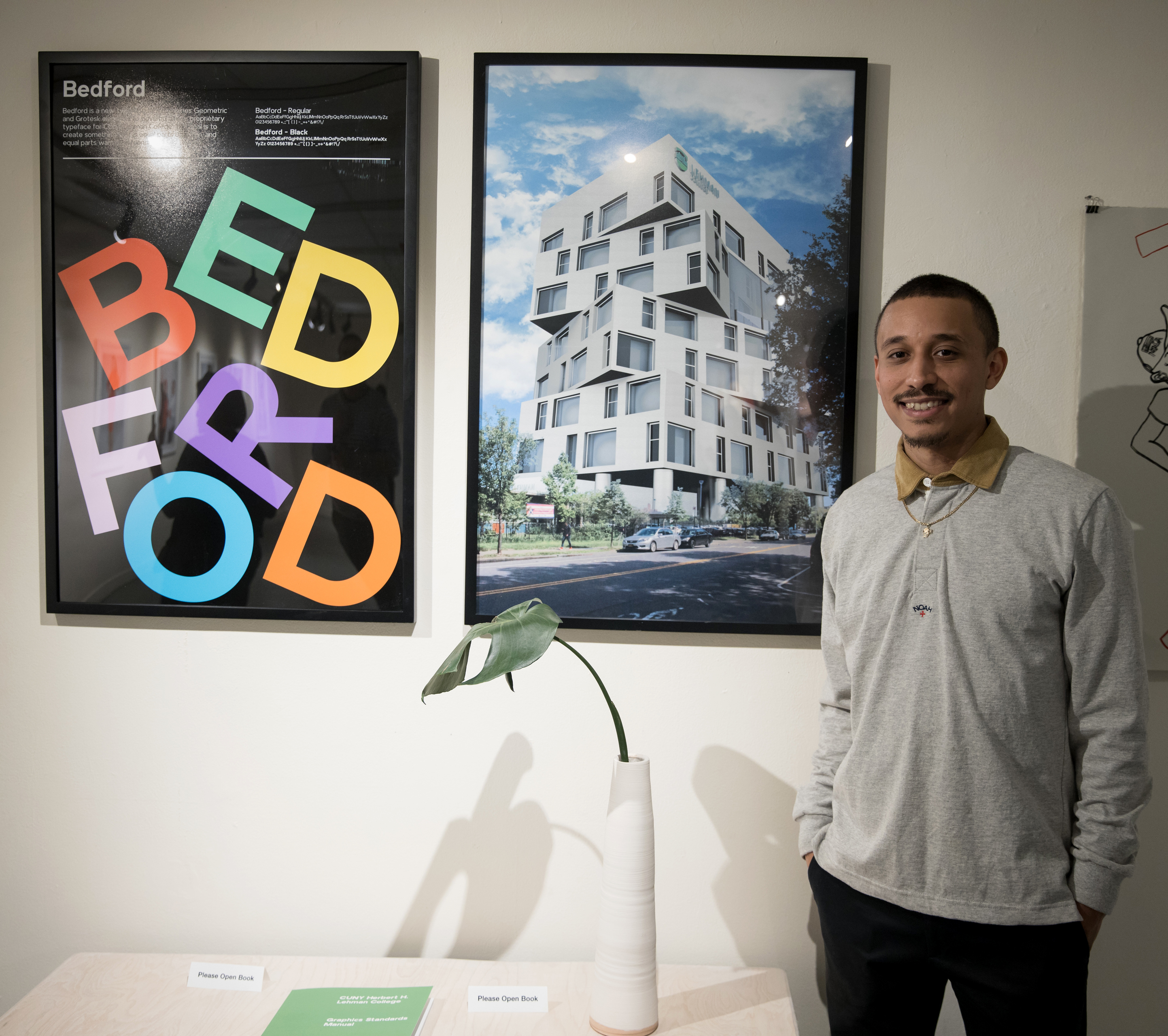 Eric Ramirez '19 poses with his work at his thesis show.
BRONX, NY—A promising new collaboration between Lehman College and Diversify by Design (D×D) is aiming to change the face of the design industry, while nurturing the next generation of designers at the undergraduate and graduate levels.
DxD, an initiative of the Impact Collaborative, is a response to the social and racial disparities in the design industry. It provides partners with the resources and expertise necessary to transform design education and practice to be both inclusive and reflective of the public they serve. Clients include academic institutions, organizations, foundations, and corporations.
"This is an exciting and mutually beneficial partnership between education and industry. Lehman is exploring design across disciplines, focusing on a variety of timely issues. The design education and career-awareness opportunities will be game-changing for Lehman students. At the same time, Lehman students and faculty represent diverse backgrounds and perspectives that are vital to the future legitimacy of design," said Dorothy (Dee) Dunn, a D×D Advisory Council member who was instrumental in forming the relationship between the coalition and Lehman.
With a growing design program, Lehman seeks to increase the design literacy of students, foster design thinking and creative problem solving, and explore a wide range of design subdomains that exist under the umbrella of design, ranging from print, web, and motion design, to industrial, fashion, and interior design.
The College's commitment to serving as an engine of upward mobility by providing opportunities for applied learning and career engagement for its students makes D×D an ideal partner.
"I am excited that D×D shares our commitment to experiential learning, which our Strategic Plan calls for as a signature component of a Lehman education," said Peter O. Nwosu, Lehman's provost and senior vice president of Academic Affairs and Student Success. "This partnership allows us to expand on this strategic priority."
James Mahon, dean of Lehman's School of Arts and Humanities sees Lehman's partnership with D×D as a gateway to increased engagement between students and industry. "We know that once industry comes to know our students and appreciate the talents and the diverse perspectives that they bring with them, internship and employment opportunities will follow."