2023 Celebration of Excellence Highlights a Productive Year for Lehman Faculty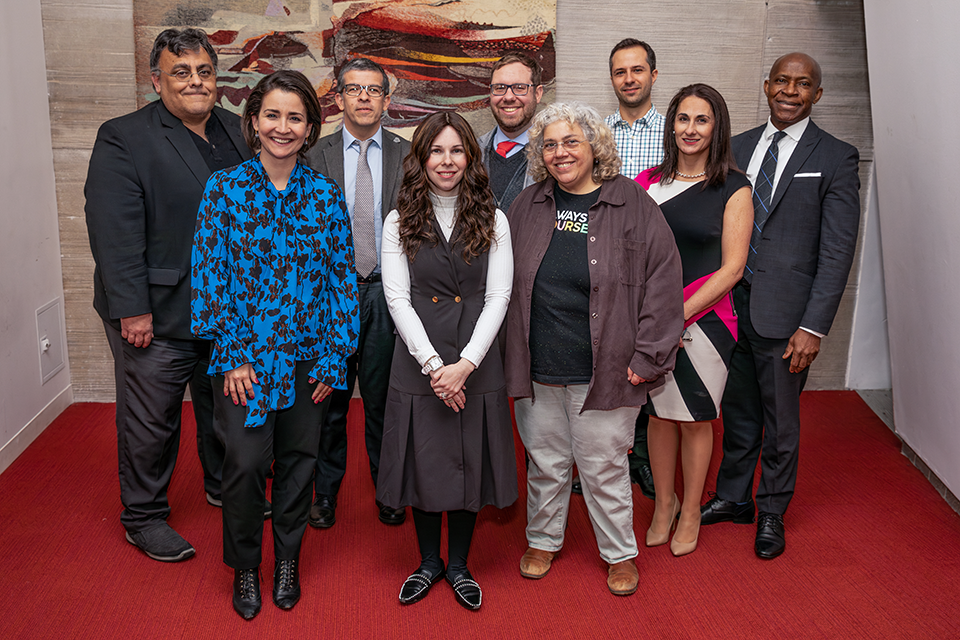 From left to right, President Delgado, Mila Burns, José Gomez-Gonzalez, Michelle Ehrenpreis, John DeLooper, Amanda Gulla, Renato Bettiol, Maria-Isabel Roldós-Prosser, and Provost Nwosu.
With campus trees in bloom, the Lehman College Office of Academic Affairs shared the flowering of fine and performing art pieces, publications, and even one patent filing from almost 70 faculty, spread across the college's six schools and the library.
It was the first Celebration of Faculty Excellence in Research, Scholarship, and Creative Activity held in-person since the pandemic began.
The celebration is organized every spring to recognize the accomplishments of faculty at all stages of their careers. This year's event included 68 faculty members from 32 departments across five academic schools, as well as Leonard Lief Library.
2022-2023 was a banner year for faculty activity, with over 600 publications and conference presentations, 25 grant proposals, and nearly 30 works in the fine and performing arts. In addition, one researcher filed for a patent.
After two years of virtual programming, this year's event was planned with the added goal to cultivate a sense of community achievement.
"It's important for all faculty to be recognized for their successes, and I enjoy collaborating with the Office of Research and Sponsored Programs, the deans and the faculty panelist to deliver an intellectually engaging experience that is also fun," said organizer Alison Abreu, faculty development and communications specialist.
The celebration kicked off with a cocktail hour and video detailing faculty accomplishments from the last year, and later featured a panel of seven scholars and researchers who presented their work to the audience. Panelists were nominated by deans and representatives from their respective schools and the library:
"EXPRESSO: Interdisciplinary Thinking"
Mila Burns, Assistant Professor, School of Art & Humanities
"Spillover Beyond the Variance"
Jose Gomez-Gonzalez, Associate Professor, School of Business
"Inquiry-Based Learning Thorough the Creative Arts for Teachers and Teacher Educators"
Amanda N. Gulla, Professor, School of Education
​"A Population Health Research Agenda for the Bronx, NY"
Maria-Isabel Roldós-Prosser, Associate Professor, School of Health Sciences, Human Services & Nursing
"Curvature, Topology, and Geometric Partial Differential Equations, with new tools
from Applied Mathematics"
Renato Ghini Bettiol, Assistant Professor, School of Natural & Social Sciences
"Implementing a Chatbot on a Library Website"
John DeLooper, Assistant Professor and Michelle Ehrenpreis, Assistant Professor, Leonard Lief Library
"This was one of the best events I have attended in all my years at Lehman," said James Mahon, dean of the School of Arts and Humanities. "The presenters were dynamic, smart, learned, relevant—and entertaining. What a fantastic collection of Lehman colleagues. How fortunate our students are to have them in the classroom and the library."
Livestreamed on the Lehman website, the gathering was also an opportunity for the wider Lehman community to learn about the exciting research, scholarship, and creative activities carried out at the College.