Lehman Student Among the Voices Helping the Adams Administration Chart its Course
Thursday, February 17, 2022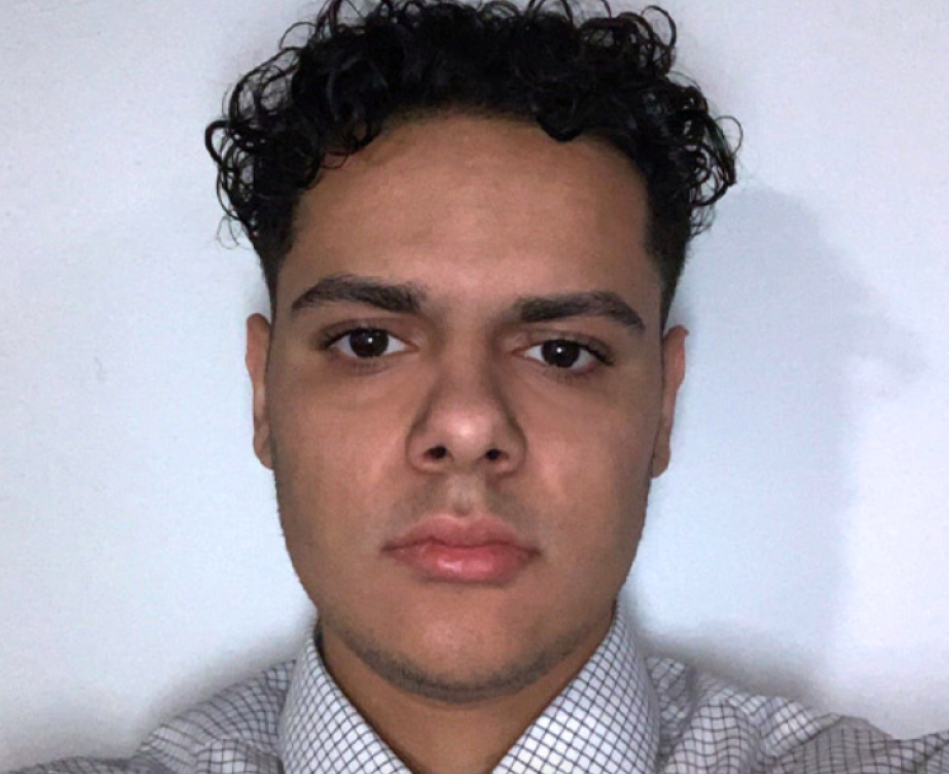 As Mayor Eric Adams nears the halfway mark of his first 100 days in office, he's relied on input from an array of community members to help guide his steps—including 21-year-old Lehman College senior Allen Mena.
Mena was one of 49 CUNY students who got to share their perspectives, make recommendations, and gain valuable experience as paid interns on Adams' transition team. Each was assigned to one of 15 committees devoted to policy areas such as housing or public health, with their work supported by a $100,000 gift from the Carroll and Milton Petrie Foundation. They completed the two-month-long internship in late January.
The interns were among the hundreds of organizers, executives, and subject matter experts Adams brought in to serve on his transition team alongside elected officials and civic leaders; CUNY Chancellor Félix V. Matos Rodríguez served as a transition team co-chair.
Initially, Mena didn't know that he was applying to serve on Adams' team—he responded to a CUNY ad for a Civic Engagement Internship that didn't specifically name the mayor. But he eventually outmuscled some 500 applicants for the role. Looking back, he said he's both grateful for the experience and excited about what comes next.
"It was a good opportunity to see how policymakers and stakeholders make decisions, and I feel like we interns had a voice, too," he said. "I feel like the work I did made a difference."
A sociology major at the Macaulay Honors College at Lehman, Mena is enrolled in a dual-degree health policy and management program offered jointly with the CUNY Graduate School of Public Health and Health Policy. He'll begin his master's degree in health administration this fall and plans to seek out work that allows him to help improve outcomes in lower-income and minority neighborhoods.
He was able to build on those interests with the Adams internship. Mena was one of four public health committee interns working under Torian Easterling, M.D, MPH, the city's first deputy health commissioner and chief equity officer. He sat in on virtual policy meetings and combed city databases and Census data to create policy briefs for senior officials on a range of health issues affecting city residents.
For example, Mena compiled research about the air and water quality in South Bronx neighborhoods and assessed food insecurity challenges in the Bronx and Queens. "I found that COVID exacerbated food insecurity a significant amount in Bronx and Queens neighborhoods and lower-income areas in New York City," he said. "I was really happy that I got to do some relevant research and present it to my supervisors, who were then able to take the data and put it to use," he said.
He also met public health leaders, including hospital managers that the committee worked with to create and expand violence intervention programs.
Mena, who grew up in Yonkers, has long had ties to the Bronx; both of his parents teach at P.S. 086 in Kingsbridge, down the road from Lehman. He chose Macaulay at Lehman after meeting Gary Schwartz, Macaulay's former director, who retired last year after more than 50 years at the College.
"Lehman's given me a lot of opportunities for growth," Mena said, noting that he'd spent half a year as the editor in chief of the College's student newspaper, The Meridian. "I got to try out different things and discover what my interests were because I didn't know what major I wanted to pursue at first."
What's more, he added, thanks to Lehman, when he earns his bachelor's degree at the end of the semester, he'll walk across the stage at graduation completely free of student loans.
For now, Mena has some advice for fellow students. One, make use of Lehman's Career Exploration and Development Center. "It helped me figure out how to market myself because I always felt like my resume was too light to apply for internships and job opportunities," he said. And two, check your email. "CUNY has a lot of opportunities for students on its campuses, so check your email every day to make sure you don't miss them."