Lehman College Is Named 2022 HSI Leader By Fulbright Program
Wednesday, October 12, 2022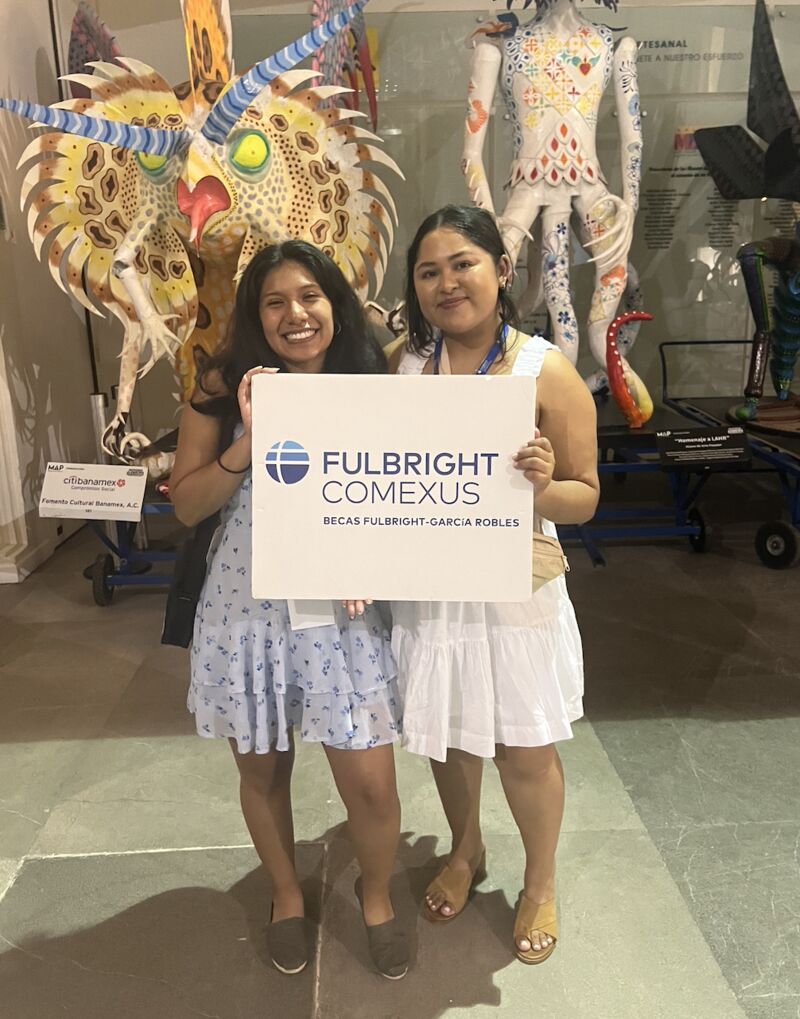 Ashly Huerta (R) at the Palacio de Cultura Citibanamex in Mexico City.
For the second year running, Lehman College was named a Fulbright HSI Leader the U.S. Department of State's Bureau of Educational and Cultural Affairs (ECA). The designation recognizes the noteworthy engagement that selected Hispanic-Serving Institutions (HSIs) have achieved with the Fulbright Program, the U.S. government's flagship international educational exchange program.
The announcement was made on October 10 during an international plenary session at the Hispanic Association of Colleges and Universities annual conference in San Diego by Deputy Assistant Secretary of State for Academic Programs Ethan Rosenzweig.
Lehman is one of 43 HSIs to receive Fulbright HSI Leader status for cultivating Fulbright exchange participants during the 2021-2022 academic and promoting Fulbright Program opportunities on campus.
"Lehman is proud of this recognition," said Lehman president Fernando Delgado. "The College continues to provide educational and professional opportunities to many underserved, first generation, and Latinx students. This designation reinforces the impact that Lehman has on our educational community."
Lehman alumna Ashly Huerta, '21 was one of those students. For the 2022-2023 academic year, Huerta is on a Fulbright assignment at la Universidad Tecnológica Metropolitana de Aguascalientes in Aguascalientes, Mexico, where she works as an English teaching assistant and serves as a cultural ambassador in her host community.
A first-generation Mexican American—and first-generation college student—she was motivated to apply for a Fulbright by her "deep passion for education equity and policy, based on my own personal experiences in new York City's public education system," she said. "I always had a desire to learn how we can better teach and serve students."
She is using her Fulbright year to "connect with other educators and learn about different school systems and pedagogical approaches." She plans to apply for graduate school after her Fulbright ends.
Lehman's Office of Prestigious Awards (OPA) has been fundamental to the College's recognition as an HSI leader. The OPA has supported numerous students applying for Fulbright awards; six students have received awards since 2018. The Office encouraged Huerta to apply as well.
"I always wanted to study abroad but felt limited because I live in a low-income household," she said. "However, once I joined the Office of Prestigious Awards community, my confidence grew as I saw my peers with similar identities win scholarships and fully-funded fellowships. I am especially thankful for [OPA Director] Alice Michelle Augustine, who always went above and beyond to support me in and out of school."
Speaking on behalf of the ECA, which sponsors the Fulbright Program, Rosenzweig thanked HSI leaders and campus liaisons for recognizing the value of the Fulbright Program and recruiting applicants. He also commended current HSI Fulbright participants and alumni for sharing "their expertise, experience, perspective, and enthusiasm with their institutions, their communities, and their societies."
Over many years the Fulbright Program has designed and implemented a wide range of initiatives to increase participant diversity and inclusion. The program strives to ensure that its participants reflect the diversity of U.S. society and societies abroad. Fulbrighters come from all backgrounds and are selected through an open, merit-based competition, regardless of their race, color, national origin, sex, age, religion, geographic location, socio-economic status, disability, sexual orientation, or gender identity. Information on the Fulbright Program's diversity and inclusion initiatives is detailed on the Fulbright U.S. Student Program website.