'An Investment in Our Future': Lehman Scales Up HyFlex Learning Options for Students
Thursday, February 3, 2022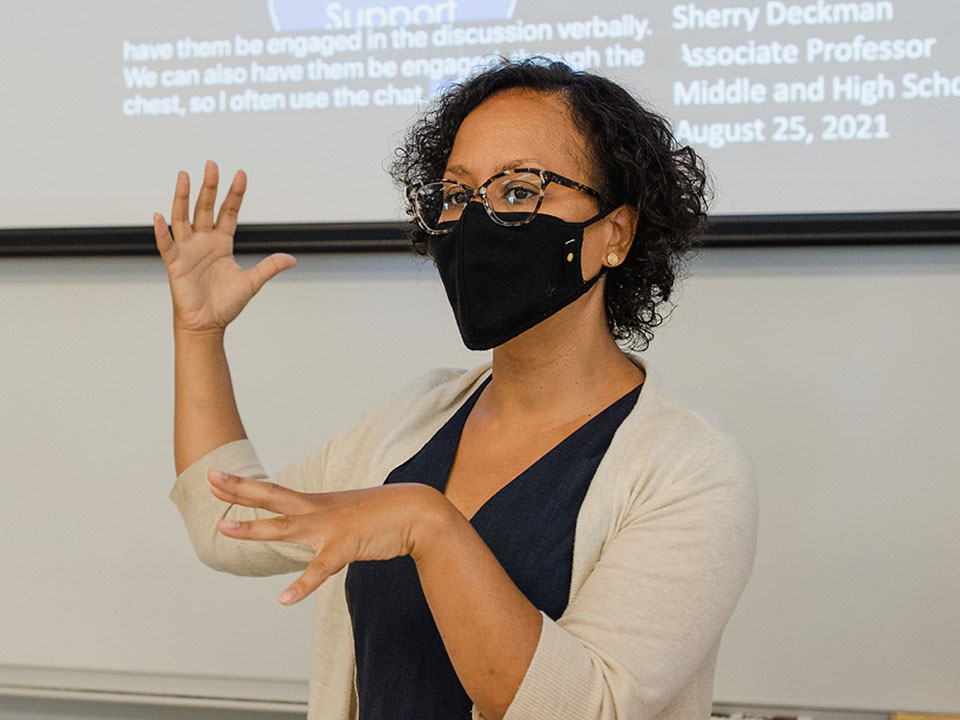 Sherry Deckman, an associate professor in the Social Studies Education program, said HyFlex learning has expanded her students' ability to access her classes.
When Daveisha Augustin signed up for her first HyFlex course—Professor Sherry Deckman's Social Foundations of Education—at the beginning of the fall semester, she didn't have strong feelings about class modality.
She'd heard that HyFlex gave students the freedom to choose how they attend class. Since HyFlex courses are taught in-person and online at the same time by the same instructor, on any given day, students have the option to come to campus or participate remotely, synchronously or asynchronously.
Lehman and 13 other CUNY colleges began piloting the HyFlex model last fall in a $5 million pilot funded by CUNY and developed by the School of Continuing and Professional Studies with input from Olena Zhadko, Lehman's director of online education. Still, Augustin hadn't thought much about testing it out.
"I was mostly just focused on finding courses that fit my schedule," said Augustin, a senior biology middle and high school education major. A wife and mother of three, she works full time as a kindergarten teacher's assistant.
But after the fall semester came to a close, Augustin counted herself among the converted: She is so enthusiastic about HyFlex learning that she tells her classmates at Lehman and even friends at other schools to consider the model if they have the option. Although she came to campus as often as she could, there were moments when the ability to switch to online learning proved valuable, like when her 12-year-old son had to stay home from school to quarantine.
"I would choose HyFlex over solely online or in-person classes," she said. "It's the best of both worlds, especially when you're juggling multiple responsibilities."
That's just the takeaway advocates of the model hope students will have. HyFlex—short for Hybrid-Flexible—isn't new; the course design was pioneered in the mid-2000s at San Francisco State University to attract and retain graduate students, most of whom worked, in an education-technology program. Faculty lacked the resources to create a fully online program and thought, initially, that the HyFlex model might serve as a bridge. What they found, however, was that it had merits all its own, principally in allowing students to engage however they needed to, without missing a step.
The concept found even greater resonance during the pandemic and is showing signs of staying power beyond it. In a survey of college presidents conducted earlier this year by the American Council on Education, 41 percent of respondents said they planned to expand HyFlex learning offerings at their institutions, while 40 percent were considering it.
At Lehman, 34 percent of classes—mostly arts and humanities—last semester were offered in HyFlex mode, with more than 12,000 students enrolled in at least one HyFlex course, according to the Division of Enrollment Management. In addition, 42 classrooms on Lehman's campus received initial technology upgrades for HyFlex classes through the CUNY pilot, said Ron Bergmann, Lehman's vice president for information technology and chief information officer. Ten student ambassadors were hired to assist Lehman professors with technology set-ups and troubleshooting, if needed, through last semester and this one.
"This is the most significant classroom technology update in the last 10 years," Bergmann said. "It's a very exciting partnership and we have received excellent ideas and feedback from our community. I want to thank our faculty, staff, and students for their input. We hope to make a Lehman education more accessible. This is another tool that can enable students to achieve their goals and get to graduation."
The plan, Bergmann said, outfits 172 classrooms and four lecture halls on Lehman's campus with networked technology, including new podium computers, updated projectors, new ceiling-mounted and wireless mics, and wide-angle cameras that can follow the instructor's and students' speaking voices during class. HyFlex also provides enhanced capabilities to support teaching and learning, and is intended to be easy to use and minimizes class start-up time.
Peter Nwosu, provost and senior vice president for academic affairs and student success, said the changes would be transformational for the College.
"By investing in the HyFlex instructional modality, we're investing in our future," he said. "It allows the College to grow exponentially. We can extend our reach and help many more students find success."
More than 130 CUNY faculty members, including 23 Lehman professors, attended an SCPS four-week HyFlex training seminar before the fall semester's start. Since then, Lehman also led HyFlex tech demos and sessions for faculty that included a Q&A on HyFlex course planning, with other seminars, workshops, and demos scheduled through the spring.
A Dec. 7 focus group for faculty, staff, and students facilitated by the Office of Online Education provided the community with the opportunity to share its experiences with HyFlex to date.
Indeed, with the modality rolled out rapidly amid the pandemic and with variations in how instructors have introduced it, faculty say they've learned a lot this semester about best practices. Rhiannon Dowling, an assistant history professor who teaches a HyFlex Russian History class, noted that students who mostly chose to attend asynchronously are essentially self-paced, and she checked in with them early on to ensure they could handle the tasks involved and do the work.
Along those lines, Professor Deckman said it would be important to offer explicit guidance to students, particularly undergrads who may be less experienced with self-directed learning, on how to manage HyFlex classes.
For example, Deckman said that when and where remote students joined class sessions made a difference. "When students attend via Zoom and they're, say, driving to work, that may be convenient, but it may not be the best way to access learning," she said.
Still, both said they appreciated the technology and the access it affords. "I offer my class in the evenings, and having a HyFlex format that allows both asynchronous students and students who Zoom-in means we not only get students who work nine to five, but also students who work service jobs and might work in the evenings," Dowling said. "That's made my classroom a lot richer and more interesting."