Lehman Looks Back: Our Top Stories of 2021
Friday, December 31, 2021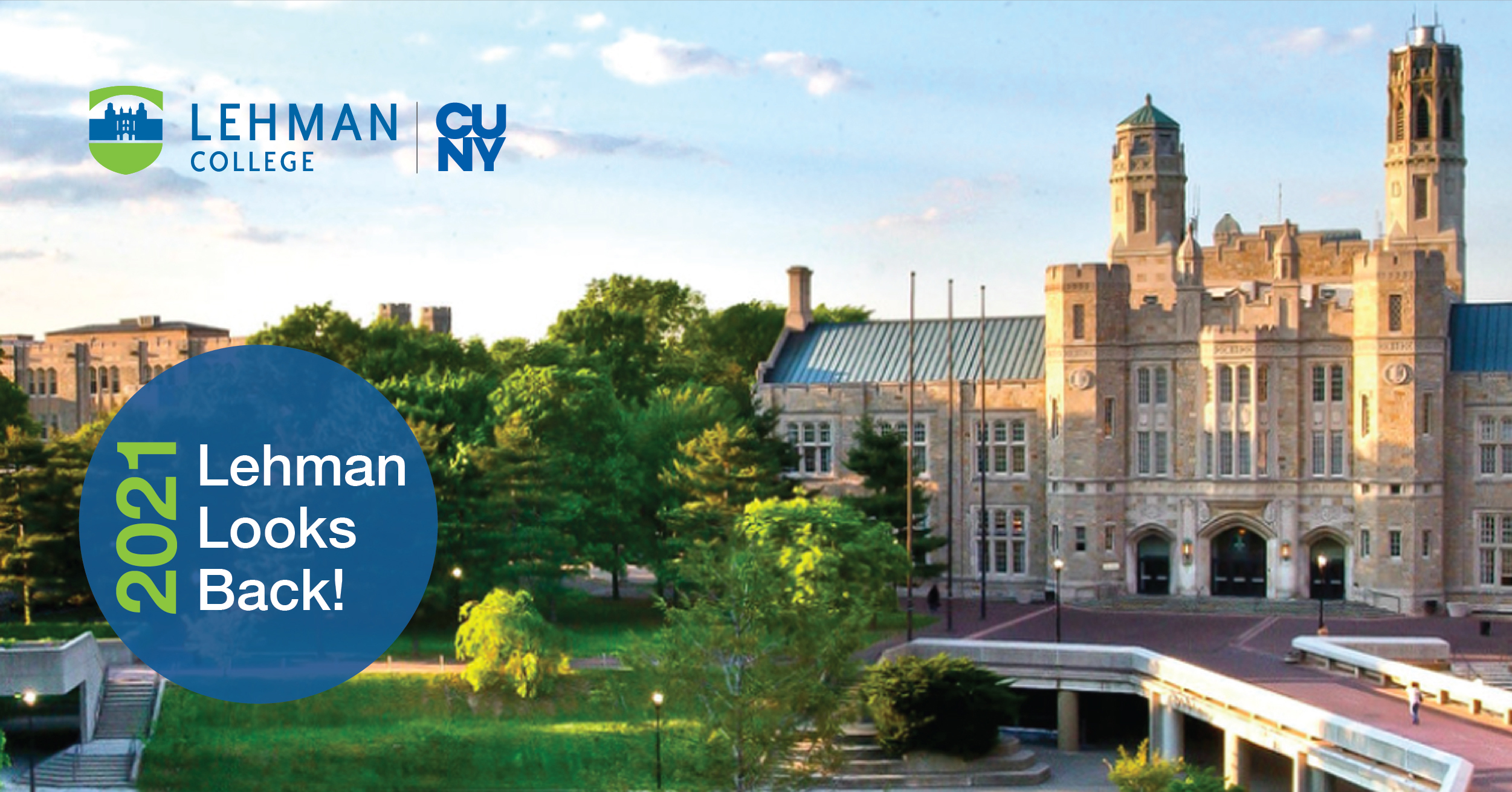 We'll remember 2021 for its headaches and uncertainties as the pandemic entered a second year, and our new normal felt anything but. Still, these past 12 months also had moments of triumph, with exciting developments at the College and noteworthy achievements by our students and faculty. Moreover, time and again, we saw our community jump into action, working to help the borough fight COVID. Here are just some of the stories that made us #LehmanProud; go to Lehman.edu/news for a more complete picture of Lehman's successes in 2021.


Lehman Launches Bronx Recovery Corps to Aid Region's Comeback
As the Bronx fights to revitalize its economy in the wake of the pandemic, dozens of Lehman students have been dispatched to small businesses and nonprofits as part of the Bronx Recovery Corps, a program that allows students to earn academic credit and gain work experience while contributing to the borough's comeback. Lehman launched the initiative in January in collaboration with the nonprofit HERE to HERE, and the program's promise is so strong that others have already begun to replicate the model. In June, Mayor Bill de Blasio announced that the city would invest $4.5 million over five years to create the Brooklyn Recovery Corps at Medgar Evers College.

Lehman Helps Fight COVID-19 as an NYC Vaccination Site
Last spring, when the Bronx had the highest rates of COVID hospitalizations and deaths of any borough, Lehman stepped up, partnering with The City of New York to launch one of the area's largest COVID-19 vaccination hubs in the College's APEX Athletic Center. Up to 300 people a day were able to receive a Pfizer-BioNTech vaccine at the hub. After the site closed in July, the College hosted a Vax Van outside its gates that continued to dole out shots.

CUNY Board of Trustees Names Fernando Delgado President
The College entered a new chapter of its history on Feb. 1, when CUNY's Board of Trustees voted to appoint Fernando Delgado as Lehman's fourth president. Delgado, who had been the executive vice chancellor for Academic Affairs at the University of Minnesota Duluth, officially took the helm in July.


History Makers Address the Campus Community
Though the campus remained closed in the spring and summer of 2021, several high-profile speakers made virtual appearances to share their wisdom and insights. That includes Lehman alum and New York State Attorney General Letitia James '82, who held a riveting discussion with Interim President Daniel Lemons for the 51st annual Herbert H. Lehman Memorial Lecture. And, at our 2021 commencement ceremony, where she was one of three trailblazers to receive honorary degrees, civil rights icon Dolores Huerta reminded students that they have the power to change the world. Andrea Stewart-Cousins, the New York Senate majority leader who made history by becoming the first woman and first Black woman to head a legislative chamber, also encouraged students to take on leadership roles as the Commencement '21 keynote speaker.

Students Win Top Awards
Lehman students continued to excel in the midst of the pandemic. Among them: Social work major Sadaf Sofia Latif, who won a pair of prestigious study abroad scholarships, the Boren Award and Critical Language Scholarship. Latif—the second student at the College to receive either award and the first to receive both—also earned a Gilman scholarship this year. In 2021, 14 Lehman seniors won $70,000 in scholarships from the St. George's Society of New York to support their final year of college. And Lehman nursing major Katherine Sánchez won a 2021 Frederick Douglass Global Fellowship, gaining recognition from Vice President Kamala Harris.


Lehman Earns Recognition as Fulbright 'Top Producer' and Fulbright HSI Leader
For the second year in a row, Lehman was named a "top producer" of U.S. Fulbright students by the U.S. Department of State's Bureau of Educational and Cultural Affairs. Adding to the prestige of the designation, the State Department recognized Lehman as a top producer of Fulbright scholars as well; only 16 other institutions across the country shared this dual designation for the 2020-2021 academic year. In October, Lehman won further accolades from the Bureau, which named it one of 35 Fulbright Hispanic-Serving Institution Leaders.


Innovation Reaps Big Rewards
The Lehman community brought in 37 new grants totaling $9 million in fiscal year 2020-2021, a 34 percent increase from the previous five years. Other good news: The Bronx Institute at Lehman was awarded a seven-year $12.2 million grant from the U.S. Department of Education to help prepare low-income public-school students for college, and the CUNY Mexican Studies Institute at Lehman, celebrating its 10th anniversary, secured $1 million from the New York City Council. In addition, Lehman received a $1 million allocation in city capital funding through Bronx Borough President Rubén Díaz Jr.'s office to upgrade its lecture halls, and the Lehman Center for the Performing Arts secured more than $1.1 million in public and nonprofit funding for fiscal year 2021-2022, its first new season since the pandemic dimmed its lights last spring.


College Unveils its Roadmap for the Future
In June, Lehman published its new strategic plan, "Lehman 2025: Roadmap to the Future," which will guide the direction of the College as a catalytic institution and national engine of inclusive excellence in the next five years and likely beyond.

Lehman Sees Record Freshman Class Enrollment
The College welcomed the largest freshman class in its 53-year history this fall, with some 1,585 first-year students enrolling for the 2021-2022 academic year.


Celebrity Chefs Join Lehman's Efforts to Fight Food Insecurity on Campus and in the Bronx
In November, Lehman announced that it had enlisted the help of culinary superstars and food justice advocates Kwame Onwuachi and Alice Waters to combat food insecurity among its students. The chefs will co-chair an Advisory Board for the Herbert H. Lehman Food Security and Sustainability Initiative (FSSI), which will offer guidance and best practices on food sourcing, preparation, and distribution, as well as sustainability.


School of Ed Earns Reaccreditation with Perfect Score from National Accreditor
In the fall, the Council for the Accreditation of Educator Preparation granted reaccreditation to Lehman's School of Education and gave the College a perfect score in the process.

Lehman Wins Approval to Launch New School of Business
In December, Lehman College announced that it will transition one of its largest departments, Economics and Business, into a School of Business on July 1, making it the only business school at any public college in the Bronx or Westchester County.