Lehman College Foundation to Honor BronxCare Health System and Retired NV Energy CEO Michael Yackira '72 at Leadership Gala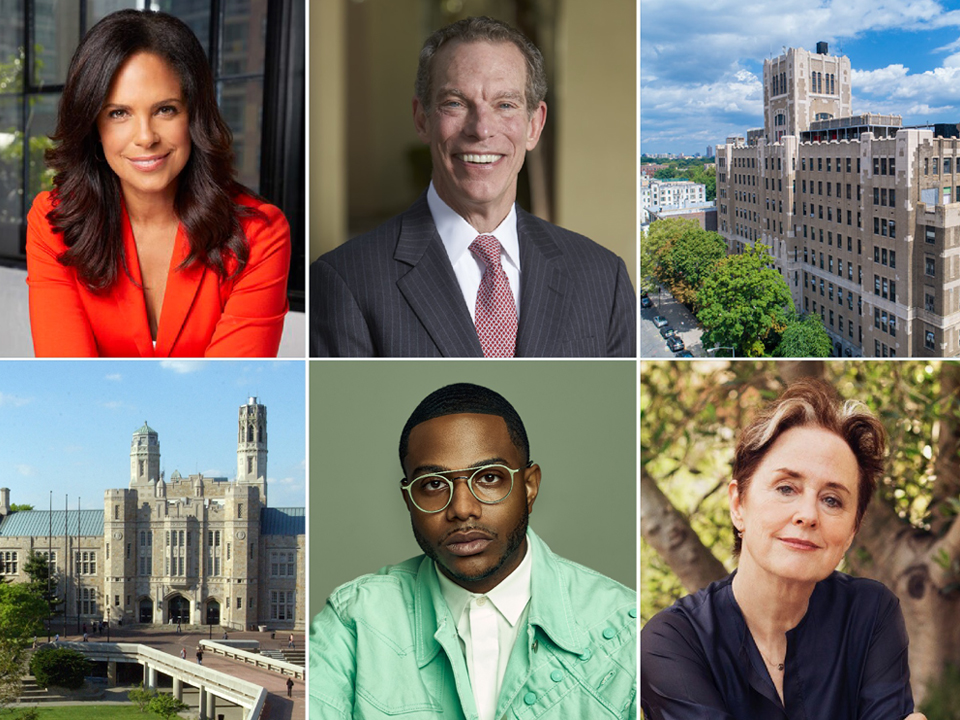 Superstar Chefs Chefs Kwame Onwuachi and Alice Waters Partner with Lehman to Launch National Advisory Committee on Food Insecurity at June 8 Event
Award-winning journalist and documentarian Soledad O'Brien will host the Lehman College Foundation's Leadership Gala, a virtual fundraiser to support vital student programs. The evening's honorees, BronxCare Health System and former NV Energy CEO Michael Yackira '72 will receive awards at the event, to be held Tuesday, June 8, from 7 to 8 p.m.
"We are so fortunate that the Lehman College Foundation works hard, not just to attract promising students through scholarships, but also to keep them in school through other programs like emergency grants and support of our Food Bank," said Lehman President Daniel Lemons. "The Foundation's gala will go a long way in support of these crucial programs."
Honoree: BronxCare Health System – A Longstanding Partnership with Lehman
BronxCare is the largest voluntary, not-for-profit health and teaching hospital system serving the South and Central Bronx, with 859 beds and more than 4,500 employees. BronxCare is now among the largest providers of outpatient services in New York City, with close to one million visits annually. Its Emergency Department has recorded 141,000 visits, making it one of the busiest in New York City. For more than 40 years, Lehman students have received on-the-job training through internships in BronxCare in fields such as nursing and social work.
Honoree: Michael Yackira '72 – An Alumnus Who Cherishes His Bronx Roots
All of Michael Yackira's schooling, from kindergarten through college, took place in the Bronx. In 1972, he was part of the first graduating class at Lehman and one of only 13 students in the College's new accounting program. He credits Lehman for providing the foundation for his career, which over time expanded to include strategic planning and marketing. Yackira worked in the oil and gas industry, telecommunications, and finally the electric utility sector. He retired in 2014 after having spent seven years as the Chief Executive Officer of NV Energy, an electric utility located in Nevada.
Although he moved away from the Bronx, he has not forgotten his roots. In 2019, he and his wife, Renee, established a scholarship fund to support students in the accounting program at Lehman. "We did this in order to in some small way help provide similar opportunities that I was fortunate to have by getting an accounting degree from Lehman," Yackira said. "It is our honor and privilege to continue to grow this scholarship fund."
The evening will also serve as the launch for the College's National Advisory Committee on Food Insecurity co-chaired by legendary Chefs Kwame Onwuachi and Alice Waters. The group will consult on ways in which the College's 37-acre campus could be utilized to create edible gardens, how food preparation could be optimized to create more meals, as well how to impact on the legislative front regarding policies that would ease the financial burden on college students, many of whom have to choose between paying tuition and eating. All of the task force's efforts will be assessed and documented to create a playbook of best practices.
About Lehman College
Lehman College is The City University of New York's (CUNY's) only senior public college in the Bronx, serving the borough and the surrounding region as an intellectual, economic, and cultural center. A federally designated Hispanic-serving institution (HSI), Lehman is a national engine for social mobility, providing undergraduate and graduate studies in the liberal arts and sciences within a dynamic research environment. For more information, go to lehman.edu.
About the Lehman College Foundation
The Lehman College Foundation mission is to raise, invest and distribute private funds for scholarships, faculty support and other educational needs of Lehman College. It raises funds through a variety of programs, including corporate and matching grants, alumni appeals, endowed scholarships, and planned giving.
Click here for more information about Lehman's 2021 Leadership Gala.