Lehman College Announces Formation of Advisory Board on Food Insecurity Headed by Celebrity Chefs Kwame Onwuachi and Alice Waters
Thursday, November 18, 2021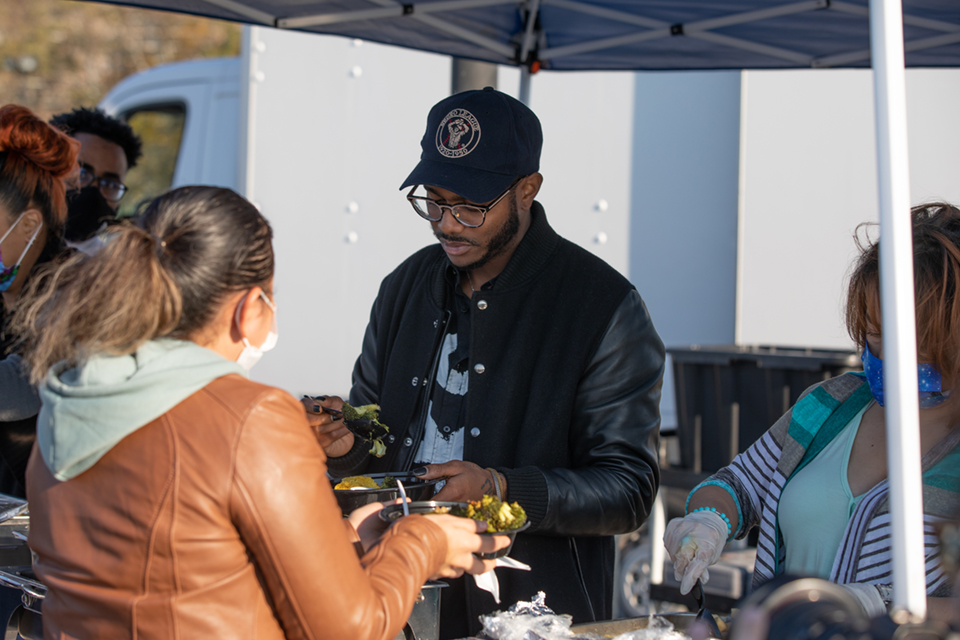 Chef Kwame Onwuachi and a Lehman student at the Buen Provecho Thanksgiving food giveaway.
Lehman College has enlisted the help of culinary superstars and food justice advocates Kwame Onwuachi and Alice Waters to combat the problem of food insecurity among its students. The chefs will co-chair an Advisory Board for the Herbert H. Lehman Food Security and Sustainability Initiative (FSSI), which will offer guidance and best practices on food sourcing, preparation and distribution, as well as sustainability.
To meet the growing number of students who experience food insecurity at Lehman, the College in March 2017 established a food bank, which has experienced growing demand. Before the pandemic, the pantry served about 100 students a week. After the pandemic, that number increased by more than 300 percent. In an effort to expand its outreach and implement sustainable practices on campus as well as influence relevant local and federal policies, the College, working in conjunction with the Herbert H. Lehman College Foundation, established the Advisory Committee.
The group will consult on ways in which the College's 37-acre campus could be utilized to create edible gardens, how food preparation could be optimized to create more meals, as well how to impact on the legislative front regarding policies that would ease the financial burden on college students, many of whom have to choose between paying tuition and eating. All of the committee's efforts will be assessed and documented to create a playbook of best practices.
The formation of the board was announced at a Nov. 18 Herbert H. Lehman Food Bank distribution event, Buen Provecho, with Montefiore Health System, which provided 200 Lehman students with a full Thanksgiving meal, including non-perishable items from the food bank, a full bag of fresh produce from Montefiore, and a $25 gift card from the Lehman College Student Government Association. Chef Kwame was also on hand at the event, leading a food demonstration and tasting with the College's Food Justice Peer Educators--a cohort of 15 students per year to view food insecurity in a holistic way, connect these students to further opportunities in academia for the study of food insecurity, and create student advocates to improve food security among CUNY students.
"We couldn't have asked for better co-chairs" Lehman College President Fernando Delgado said. "Both Chefs Kwame and Waters are icons in the culinary world, but they also work tirelessly to end hunger throughout our nation."
For Onwuachi, the issue is personal. "What do I hope to achieve being part of Lehman College right now?" he asked. "It's ending food insecurity on campus. Thirty percent of the students go to bed hungry. And that's an unfortunate number, but the number's even bigger outside of those walls of Lehman College. So, I think my goal is to end food insecurity in all of the Bronx. If I can do that, I can die a happy man because I know what it was like being a kid in the Bronx and not knowing where my next meal was coming from. I don't want anyone to go through what I went through."
Waters is looking forward to the work ahead. "I have great hopes for what we can accomplish at Lehman College. You could make a model there that could be used around the country, around the world. How do we edibly educate the next generation about priorities, values and at the same time, how do we feed the population at Lehman – every single student – nutritious, regenerative food? To have the right people as part of this group is very important to creating that model and to have the enthusiasm of the powers that be put you in exactly the right place at the right time," she said.
About Kwame Onwuachi
Onwuachi, born in the Bronx, is a James Beard Award-winning chef and author of the critically acclaimed memoir, Notes from a Young Black Chef, which is being turned into a feature film. He has been named one of Food & Wine's Best New Chefs, Esquire Magazine's 2019 Chef of the Year, and is a 30 Under 30 honoree by both Zagat and Forbes. He's also been featured on Time's 100 Next List and has been named the most important Chef in America by the San Francisco Chronicle.
He trained at the Culinary Institute of America in New York and, before turning 30, opened five restaurants, including the groundbreaking Afro-Caribbean restaurant Kith/Kin in Washington, D.C.
Onwuachi recently served as a judge on season 18 of Top Chef in April 2021. He first appeared as a contestant on the show in season 13. He also currently serves as Food & Wine's executive producer. In August 2021, he will host "The Family Reunion presented by Kwame Onwuachi," a multi-day event in Middleburg, Virginia that will celebrate diversity in the hospitality community.
About Alice Waters
Waters is a chef, author and food activist, and the founder and owner of Chez Panisse Restaurant in Berkeley, California, which she founded in 1971. She has been a champion of local sustainable agriculture for over four decades. In 1995, she founded the Edible Schoolyard Project, which advocates for a free regenerative school lunch for all children and a sustainable food curriculum in every public school.
She has been Vice President of Slow Food International since 2002. She conceived and helped create the Yale Sustainable Food Project in 2003, and the Rome Sustainable Food Project at the American Academy in Rome in 2007.
Her honors include election as a Fellow of the American Academy of Arts and Sciences in 2007; the Harvard Medical School's Global Environmental Citizen Award, which she shared with Kofi Annan in 2008; her induction into the French Legion of Honor in 2010; and she was awarded the National Humanities Medal by President Obama in 2015.
Waters is the author of 16 books including her critically acclaimed memoir, Coming to My Senses: The Making of a Counterculture Cook, the New York Times bestsellers The Art of Simple Food I & II, and The Edible Schoolyard: A Universal Idea.