Civil Rights Icon Dolores Huerta, Sen. Andrea Stewart-Cousins to Address Lehman College's Commencement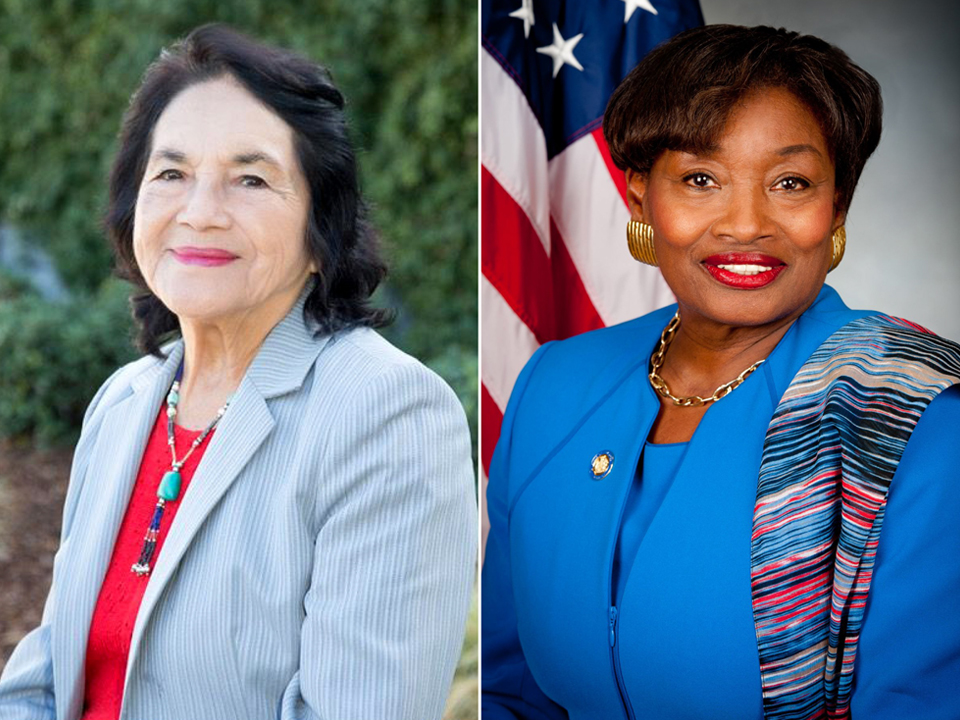 Civil rights icon and labor leader Dolores Huerta and Andrea Stewart-Cousins, the New York Senate majority leader and president pro tempore who made history by becoming the first woman and first Black woman to head a legislative chamber in the state, will address Lehman's class of 2021 for the College's May 27 virtual commencement. The ceremony will be livestreamed at 10 a.m. on Lehman's YouTube channel and website, BronxNet.tv, and BronxNet cable channels 67 (Optimum) or 2133 (FiOS).
Commencement Keynote
Keynote commencement speaker Stewart-Cousins taught in the Yonkers public school district before entering politics, and earned her teaching credentials in business education from Lehman College. She is one of the many prominent Lehman alumni who have gone on to hold elected office, and alongside Gov. Andrew Cuomo and Assembly Speaker Carl Heastie she's among the most powerful political figures in the state.
A passionate advocate for public education, Stewart-Cousins has long supported Lehman and institutions like it: She played a key role in creating the Excelsior Scholarship, which provides eligible New York students with free tuition at CUNY and SUNY schools. In 2018, she fought for a $1 billion increase in state education aid.
This spring, as the New York Senate considered a raft of bills designed to expand access to college further, she noted that "the years our students spend in higher education will help shape the trajectory of their lives" and that "New York is, and will continue to be, a national leader in offering quality college and advanced education opportunities."
"I am thrilled that so many respected notable luminaries will join us for our virtual commencement ceremony and my last as president of Lehman College," President Daniel Lemons said. "I am so proud of our graduates and all of their achievements and look forward to celebrating them on May 27."
Stewart-Cousins will be joined on the virtual stage by fellow Lehman alum, and the Bronx borough president, Rubén Díaz Jr., who will receive the College's Presidential Medal. His remarks to graduating students come as he prepares for a significant transition himself: Diaz, who has been borough president since 2009, will be leaving office this year when his third term comes to an end.
Honorary Degree Recipients
Students will hear from several other high-profile speakers as well. Lehman is set to confer honorary degrees to three trailblazers who embody the College's mission and values, pending approval by the CUNY Board of Trustees on May 24. They include Dolores Huerta, community organizer and founder and president of the Dolores Huerta Foundation, who has devoted her life to improving working conditions for Latino farmworkers and laborers and is one of the most important civil rights activists of the 20th century; former New York congressman and Lehman alumnus Eliot Engel, who represented the North Bronx and southern Westchester County in the United States House of Representatives for 16 terms; and T.J. English, an author, journalist, and humanitarian.
The ceremony will also feature remarks by outgoing President Daniel Lemons, who will leave Lehman next month for a new interim role as CUNY's interim executive vice chancellor; Provost Peter O. Nwosu; deans of the College's five schools; and student speaker Esther Asibuo-Ramos '21. Lehman will award nearly 4,000 graduate and undergraduate degrees at the event.
Lehman is planning a social media viewing party for the event, and in the days leading up to commencement will host several virtual activities, including a virtual dance party for seniors with Lehman alum DJ Ode.
An Honor's Convocation, for those graduates who received a 3.5 GPA or higher, is scheduled for Tuesday, May 25 at 6 p.m. and will premiere on the College's YouTube channel.