School of Education Launches Teacher Prep Program with a Focus on STEM
Wednesday, January 29, 2020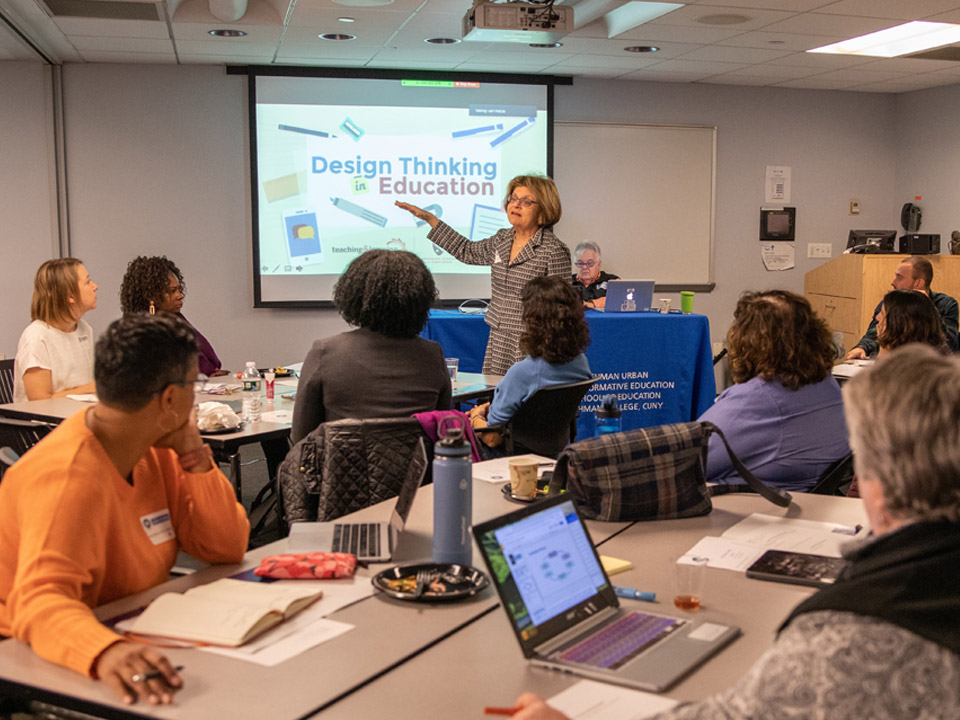 The Lehman College School of Education kicked off the new year with the launch of its Lehman Urban Transformation Education (LUTE)-STEM program, an urban residency initiative that prepares science, technology and mathematics teachers at the early childhood, elementary and secondary levels.

The launch event, held Jan. 20 in Carman Hall, featured 35 of the School's internal and external stakeholders who participated in design-thinking exercises in preparation for the five-year initiative, which is supported by a $5.4 million U.S. Department of Education Teacher Quality Partnership (TQP) grant. "One of the project's objectives is to employ deeper learning principles as we create robust course content and clinical experiences," said Niki Fayne, the program's principal investigator.

LUTE-STEM is open to master's degree teacher candidates pursuing training in math and science instruction as well as non-STEM future teachers who plan to integrate computer science principles and practices in their classrooms. Students will apply for the first LUTE-STEM cohort this spring semester; a full rollout will begin in Fall 2020. With four yearly cohorts, the program is designed to prepare 100 highly qualified teachers for high-need urban schools. In an intensive 15-month course of graduate study, candidates will work for one year as paid co-teachers in one of five high need New York City partner schools; complete their master's course of study; qualify for a New York State Education Department teaching certificate; and earn a computer science education micro-credential.

Members of the first cohort will begin their residencies at the beginning of the Fall 2020 semester.

Participating Lehman faculty are enthusiastic about LUTE-STEM's potential.

"There is a sense that this will be meaningful for our students and for Bronx schools," said Lehman College Associate Professor of Leadership Studies Rosa Rivera-McCutchen.

Based on the launch event, CUNY University Dean for Education Ashleigh Thompson said she felt optimistic about the LUTE-STEM program.

"This was really good," she said. "The information about the project was clearly communicated, and it got the stakeholders enthused about the effort." For more information about the application process for residents or how to qualify as a partner school, contact Alderson Magloire, Project Director, at LUTE.STEM@lehman.cuny.edu.