Lehman's Johnny Pacheco Latin Music and Jazz Festival Expands Its Reach
Tuesday, December 22, 2020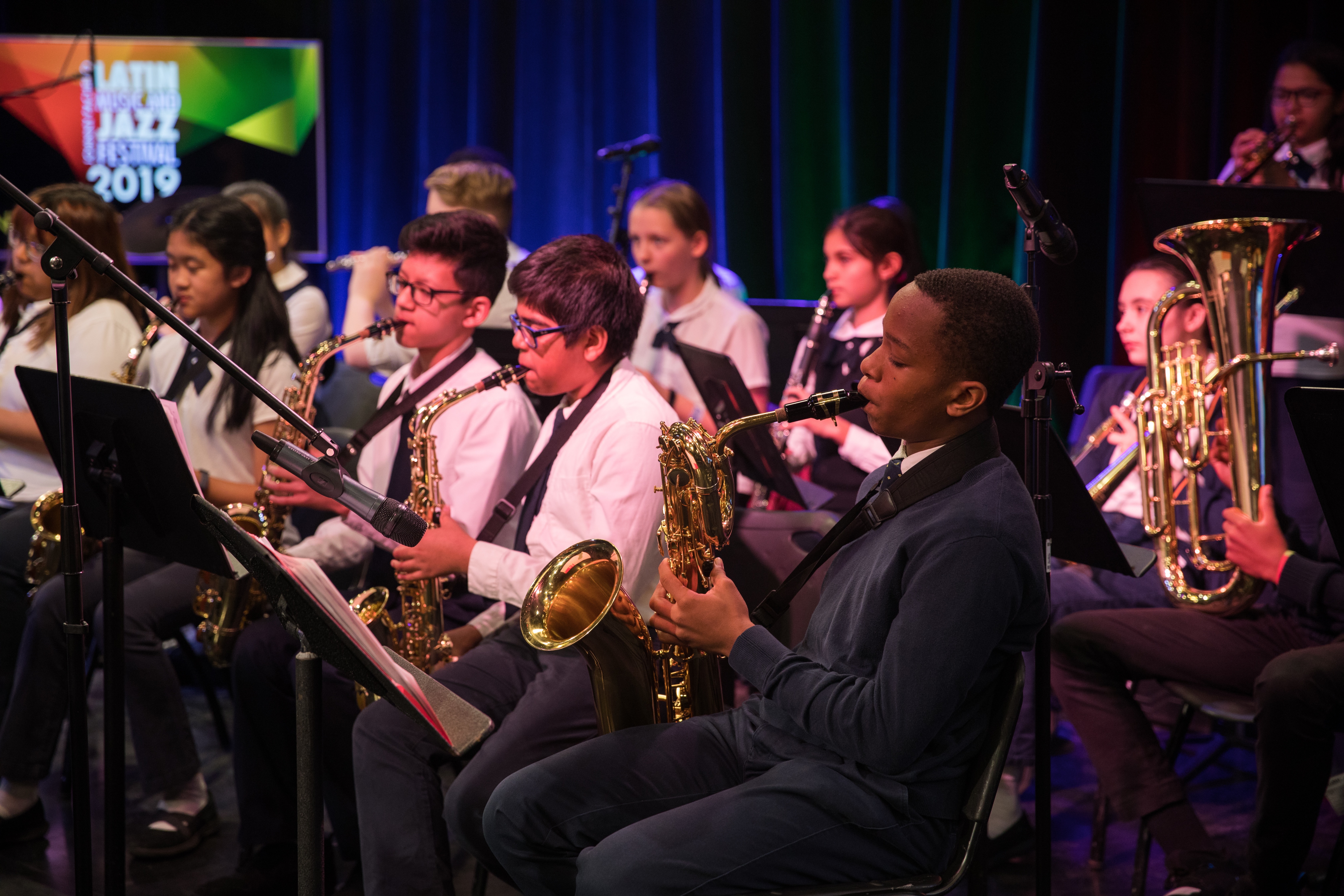 Local students participate in one of the 2019 festival's educational sessions. Amid the pandemic, the event was held entirely online this year.
Lehman College is giving families and music lovers around the world some uplifting content to stream over the holiday season: Its 10th annual Johnny Pacheco Latin Music and Jazz Festival airs on BronxNet Dec. 25 and Jan. 1 and 8 at 8 p.m.
The event, organized each year by Lehman College music professor and bandleader Allan Molnar and supported by the Louis Armstrong Educational Foundation, was established to provide master classes and performance opportunities for young people studying music in New York City schools.
While middle school, secondary school, and college students take the stage, neighboring elementary, middle, and secondary schools are invited to be a part of the festival audience. The show also includes performances by professional musicians and educators.
Normally, the festival runs live throughout a weekend in mid-November, but this year's show, "Giant Steps from the Bronx," was reformatted as a fully virtual event amid the pandemic, with pre-recorded sessions.
"I was concerned that the COVID-19 pandemic might have an adverse effect on this year's festival, but at the same time, I knew that we had to proceed and be ready to adapt with a commitment to bring something extraordinary to this year's event," Molnar said.
Ultimately, Molnar used the challenging circumstances to expand the festival into a worldwide celebration of music education. He pursued a partnership with One Planet Education Network (OPEN), which provides distance learning opportunities in music and STEM to schools around the globe. With its international connections, OPEN helped the festival develop an extended series of master classes and enabled students from different continents to learn, perform, and share musical traditions with each other.
Fifteen schools participated, from countries including Argentina, Australia, Canada, China, the Democratic Republic of Congo, Haiti, Japan, Kenya, Liberia, Malawi, Nigeria, and Thailand, as well as New York and Hawaii.
Molnar is no stranger to online music education. The Pacheco Festival has long incorporated some virtual elements, which allows guests from outside New York City to participate. In previous years, clinicians and professional musicians have joined the event from Chile, Canada, and Hong Kong, among other locations. National Endowment for the Arts Jazz Masters Clark Terry and Frank Foster have offered music presentations from their homes via Skype.
However, with the disruption of the pandemic, and so many K-12 students learning remotely this fall, music education has suffered as a whole, Molnar said. He noted that many New York City schools that participate in the festival have had to curtail in-school rehearsals or go without traditional ensemble groupings altogether.
"At least one school that I know of discontinued its music program before school began in September," he said. "Fortunately, the music teacher was hired by a new school and [participated] in a Pacheco Festival masterclass with his new student ensemble."
Still, Molnar forged ahead, spending much of the semester working closely with music directors at participating schools to determine the best way to serve their individual programs.
"I was very pleased that most of the directors were interested in participating in spite of the challenges they are experiencing in school this year," he said. "Needless to say, everything has changed this year, but I remain committed to serving the Pacheco Festival's primary mission of supporting the growth of music education programs here in the Bronx and beyond."