COVID May Have Cancelled Her Fulbright, but Lehman Student Tasmim Hoque Still Has Research Dreams Come True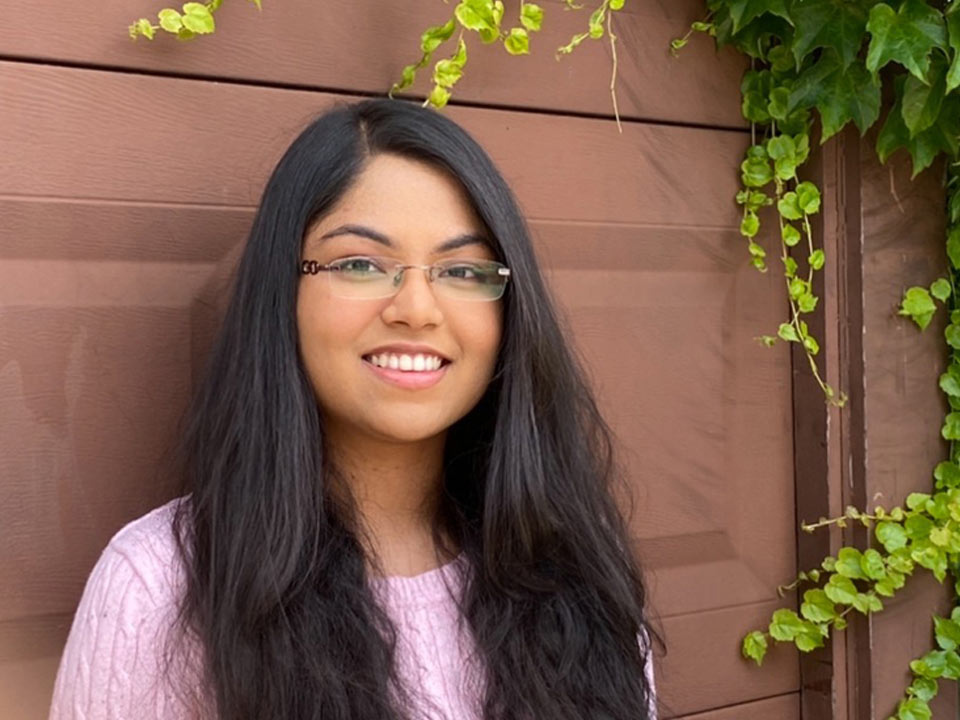 Just before Tasmim Hoque, a Macaulay Honors College senior, relocated from Bangladesh to the United States as a child, people told her that her new life would be magical. Early on, however, the difficulties her family faced as immigrants made their life here far from ideal. But with the support of faculty mentors, her Lehman community, and family—coupled with her deep love of scientific research—Hoque has found another kind of magic: the success that comes from doing what you love. Last spring she was accepted to a specialized Fulbright program for undergraduate students, the Fulbright Canada-MITACS Globalink.
Most Fulbright programs are designed for people who have already earned degrees, including established researchers and academics. The Fulbright-MITACS Globalink, however, is a specialized summer program designed for U.S. students to pursue advanced research projects at institutions across Canada. Hoque was matched with the Behavioral Reward Affect + Impulsivity Neuroscience (BRAIN) Lab at the Universikity of British Columbia, on a project researching the neurobiology of addiction and mental illness.
Whereas Hoque's current research at Lehman may lead to future therapies for disease, "the research in the BRAIN Lab [can transfer] over to a clinic where we actually apply it to patients, so that really excited me," she said.
"Mental health and substance abuse are a universal problem, yet more often they are stigmatized" explained Hoque. "In a lot of immigrant communities, these problems are swept under the rug…but they destroy people, and the way they break up families is awful. So that's why I was really grateful to receive this project, to be involved in developing better interventions related to decision making involved in addiction and mental health problems."
Hoque's journey to where she is today was not easy. She described the challenges she faced as a new American.
"Living in a developing country, in Bangladesh, things like the skyscrapers in New York City and hot showers readily available in your bathroom gets you excited," Hoque said.
However, adjusting to life in New York City was an uphill battle, she said.
"The language barrier and how expensive everything was," said Hoque, "that really took a big toll on my family and made it difficult to embrace this new way of living."
These early hardships she and her family experienced are also what led Hoque to Lehman. In her senior year of high school, she attended an open house for the Macaulay Honors College at Lehman; the promise of a full scholarship and stipend attracted her to the program. The financial support, however, was not the only reason. The open house is also where she met Gary Schwartz, the program's director.
"He was so kind and friendly to me, and took the time to ... get to know me, and I really appreciated that," said Hoque. "I went to visit the Lehman campus myself, and I was in awe of how beautiful it was. I knew that I wanted [Schwartz] to mentor me throughout my college career. So, with meeting him and going to campus, I knew...being a part of these two really amazing supportive communities, Macaulay and Lehman, would keep me happy for the next four years of my life. So, I applied and was accepted."
Hoque makes her acceptance into the highly competitive honors college sound easy. But in addition to her academic accomplishments, she had been nurturing her interest in science on her own time, taking online Ivy League courses in anatomy and bioscience.
Once at Lehman, she blossomed.
"I was really excited to take anatomy and physiology," she said. "My chemistry lectures were completely mind-blowing—to learn, for example, how structurally similar drugs can have opposite [effects]. It's really cool."
Unwilling to narrow down her diverse academic interests, Hoque even discovered the perfect major.
"Instead of deciding on biology or chem, I knew I wanted to have classes where I learned about different human cultures," said Hoque. "That's something I've always had an interest in, because coming to New York City, learning about people and sharing my own culture is something I've always found great joy in. And I knew that anthropology offered these courses. So, with the anthropology, biology, and chemistry [major] that Lehman offers...this major was made just for me."
With her love of research, as a freshman Hoque was already searching for faculty who could mentor her. She interviewed with Stephen Redenti, professor of biology, for a position in his lab, where he works on stem cell-based treatments for blindness. He hired her.
"Tasmim is an exceptional young scientist who brings curiosity, focus, and determination to her research goals," said Redenti. "She has an ability to execute complex experiments in cell biology, and she openly shares her knowledge with fellow scientists in the lab. Her insights and motivation really inspire others."
Along with a full credit load of courses, the position added a significant amount of work, but Hoque was not daunted.
"It was fun, balancing these two commitments…but when you're really excited about something, you forget that this is a responsibility," she said.

Early this spring, Hoque was notified by the Office of Prestigious Awards about the Fulbright-MITACS Globalink program in Canada. Redenti and other mentors encouraged her to apply. She is especially grateful to a doctoral student in the Redenti lab, Onyekwere Onwumere, for boosting her self-confidence.

"Before I came to Lehman, I never saw myself applying for these prestigious scholarships," said Hoque. "Onyekwere…has given me tremendous support and encouragement. [She] is not only an amazing teacher but is also one of the kindest people I've ever met…always makes time for me when I need her, and constantly pushes me to believe in myself," said Hoque.
Hoque credits mentors like Onwumere, her teammates in the lab, and peers in the Macaulay Honors College for helping her to achieve so much.
"It's my community at Lehman and colleagues who grew my ambition and gave me that encouragement to apply for a program that I honestly did not think I would get," she said.
"They all influenced who I am today, this very ambitious person who no longer has the mentality that I could be a good student, but I am not going to be applying to these prestigious programs because I have no shot…[they] nurtured this new way of approaching my life."
Her own drive, determination, and the magic she finds in research, however, certainly played a role.
Like most other summer research programs, the Fulbright-MITACS Globalink was cancelled because of the COVID-19 pandemic. But Michelle Augustine, director of the Office of Prestigious Awards, found another opportunity that seems tailor-made for Hoque: a public health internship at Mt. Sinai Hospital in New York.
"I don't even have words to express my gratitude toward her," Hoque said. "The internship that I have now is a really amazing one. It perfectly lines up with my interests in the medical field."