Lehman Chemistry Major Wins Prestigious Belle Zeller Scholarship
Thursday, December 3, 2020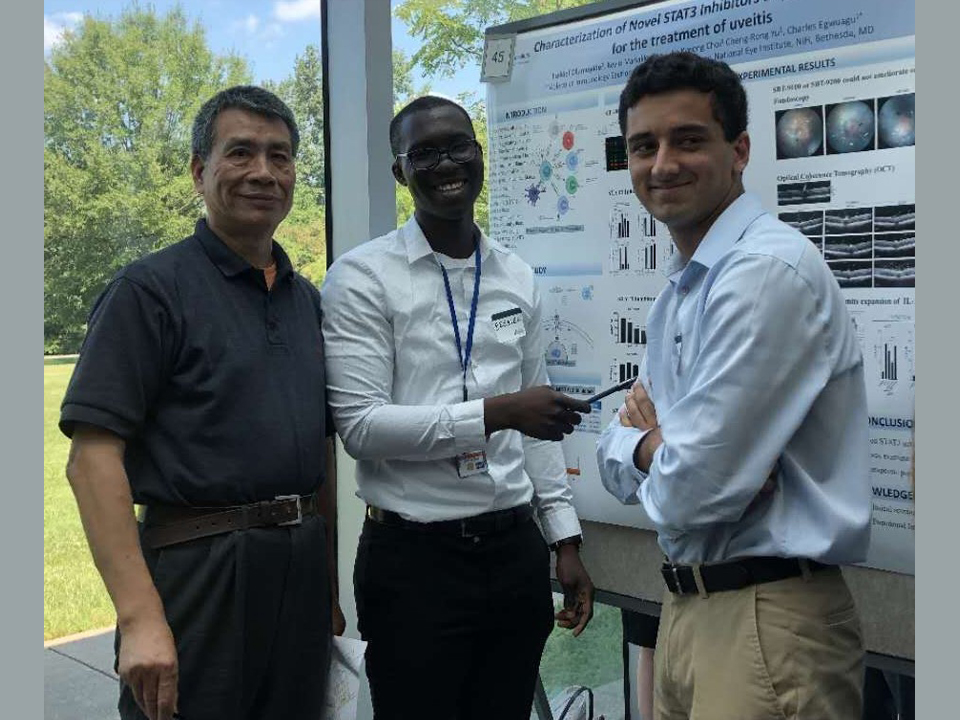 Ezekiel Olumuyide, pictured center, worked with National Institute of Health staff scientist Dr. Cheng Rong-Yu, left, during an internship last year.
By the end of the decade, Ezekiel Olumuyide '20, hopes to reach his lifelong goal of merging his two passions, medicine and science. His mission is to earn both an M.D. and Ph.D. and launch dual careers as a practicing physician and immunology scientist.
It's an ambitious plan, but the 20-year-old Nigerian native is well on his way. He's completing his last hours of undergraduate studies at Lehman before applying for medical school. And he recently received a highly-selective scholarship that will not only help him fund his education but ties him to another fiercely determined New Yorker who used her training to serve others, as he hopes to do.
Olumuyide is Lehman College's 2020 winner of the Belle Zeller Scholarship, a CUNY-wide annual academic award. The scholarship was established in 1979 by CUNY's instructional staff union, the Professional Staff Congress/CUNY (PSC), in honor of its late founding president Belle Zeller. Zeller was an influential labor advocate and professor emerita of political science at Brooklyn College, where she taught for more than 40 years.
Students from each of CUNY's 27 institutions are eligible to apply for the scholarship, but each winner must, like Zeller, have a record of outstanding scholarship and show a history of significant service to CUNY, or their respective colleges, and the community.
Olumuyide has a 3.98 GPA and last year completed a prestigious research fellowship with the National Institutes of Health. At Lehman, the biochemistry major has served as a tutor and undergraduate research assistant and is currently working with several professor studies on cancer immunology and soil composition.
Outside the classroom, he spent more than two years as a student senator in Lehman's Student Government Association and is a campus Red Cross volunteer. Olumuyide said he plans to open a health outreach clinic after he finishes his studies.
Still, despite his impressive résumé, he was caught off guard when organizers of the Belle Zeller Scholarship Trust Fund called him. "I was surprised to learn that I won," he said.
His professors, however, believe he is more than deserving.
"Ezekiel is amazing," said Donna McGregor, Ph.D., an assistant professor in Lehman's Chemistry Department. "He is, without a doubt, one of the most academically gifted students I have ever taught, and he stands out among his peers as one of the most diligent and organized research students."
Moira Sauane, M.Sci., Ph.D., an associate professor in Lehman's Biology Department and the Graduate Center's Biochemistry Department, agrees.
"Ezekiel is a natural problem solver and careful and rigorous in conducting experiments," she said. "I have no doubts that he will be an amazing M.D./Ph.D. student."
Belle Zeller scholars receive a $5,000 tuition stipend. Olumuyide said he would use his award to pay for his remaining laboratory research class requirements. Throughout the pandemic, he has had special permission to use Lehman's research facilities.
Shuttling back and forth from campus, where the trees and lawns remind him of his native Lagos, he said he's grateful for the support he gets from his family, friends, and the Lehman community. He credits a long list of professors and research mentors for championing his academic success.
Olumuyide notes that he initially thought his time at Lehman would be short, with plans to transfer after one year.
"But my first semester made me stay. I liked how engaged the professors were with students—they love teaching and assisting us," he said. "The Lehman community is exceptionally collaborative, which resonates with my childhood values. If someone asks me to advise them of a college in New York, I would say Lehman College."
Likewise, McGregor said she has benefited from being one of Olumuyide's instructors.
"Throughout my time as his professor and mentor, he has constantly challenged me to help him connect the dots of science well beyond the scope of his courses or his research," McGregor said. "It is rare in my career that I have come upon a student of his potential, caliber, and work ethic."
The Board of Trustees of the Belle Zeller Scholarship Trust Fund will host its annual Friend of CUNY Awards and Salute to the 2020 Scholars Wednesday, December 9, 2020 at 6:50 p.m. CUNY Chancellor Dr. Felix Matos Rodriguez is scheduled to speak at the virtual event where Olumuyide and the five other Zeller scholarship winners will be honored. Tickets are free for students who register with their college email address. For more information about the program, tickets, or sponsorships click here.