Lehman Art Students Chronicle the Pandemic, Support Local Food Banks with New Book
By Nicole Saunders
When City University of New York schools announced that they would be holding nearly all of their spring courses online amid the COVID-19 pandemic, Melissa Brown, an associate professor of studio art at Lehman College, scrambled to restructure her classes.

There were practical concerns: Brown teaches several sections of advanced printmaking, a hands-on, upper-level course that includes a long list of tools and supplies—all of which remained in the studio on campus. At the start of the semester, Brown had envisioned her students doing silkscreens and letterpress printing. But once New Yorkers were told to shelter in place and classes went virtual, "I knew they would be limited in what they could do from home," she said. "I thought, 'what can we do [using materials] they have access to?"

An even bigger question, though, was how to engage more than a dozen students devastated by the outbreak. Like the rest of the city, some were facing immediate unemployment or were immunocompromised and needed to self-isolate, Brown said. Several were graduating seniors, who didn't know if they would step foot on a stage to receive diplomas, much less find job prospects in a world reshaped by the coronavirus.

Since, at the very least, they all had 8.5 x 11-inch paper and black pens, Brown shifted the class's focus to a new assignment: a print-on-demand book of drawings that documented their feelings and observations about the COVID-19 crisis.

"I thought about the history of graphic novels, the history of printmaking," Brown said. "It's filled with artists responding to wars and trauma and famine and plagues."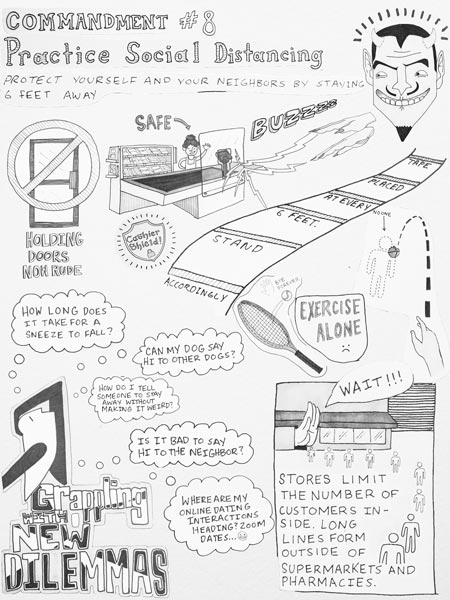 Not only did the book project fit into what Brown describes as the artist's role in society, but it offered an opportunity for an emotional release. "It was a kind of therapy for everyone, a nice way to share our thoughts about what was happening," she said.

Still, her students weren't completely sold on the idea at first. "When we started, they were really overwhelmed, and we had a lot of tough conversations," Brown said. "Right off the bat, they asked, 'What's the purpose of making art now? When the world's falling apart, how can we sit here drawing?' As a faculty member, I had to think about that a lot myself."

The students ultimately decided to flip the project into an opportunity to support local communities hit hard by COVID-19, by donating 100 percent of the proceeds to New York City food banks. Titled COVID Times, the book was published in May and will be printed on a per-order basis for $20 a copy. Students hope to raise at least a few hundred dollars in book sales, a goal that Brown says they're on track to meet soon.

Over some 96 pages, the book chronicles the first 40 days of quarantine during the COVID-19 crisis in New York City. Brown says she's impressed by how well the students were able to capture what they and many other New Yorkers felt at the time, particularly as the dynamics changed from week to week. Among other things, the students' work tackles themes of isolation, fear, sadness, spirituality, and the unknown.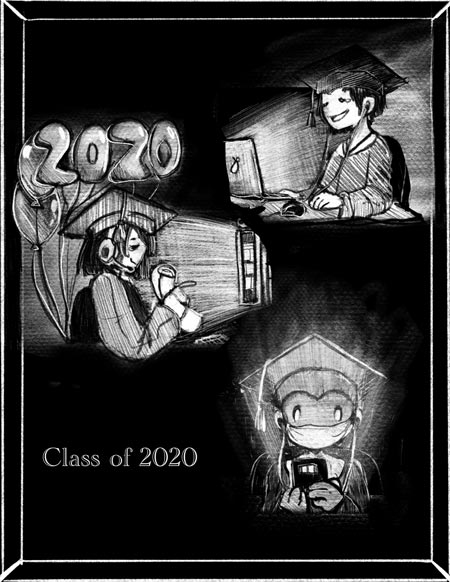 Jennifer Figueroa, a student in Lehman's art education master's degree program and one of the illustrators featured in COVID Times, said her pages take a darkly comedic look at the new rules of social distancing and other aspects of the urban response to the coronavirus.

"I thought I had something to say," she said, "but in working on the book, I realized I had so much more." Another strength of the project, she adds, is that the students, who range in age and life circumstances, were able to bring their varied experiences to it. "One of the great things about Lehman is our diversity, and that's represented in the book," she said.

They were also able to build a strong sense of community along the way. In their online class sessions, they would review each other's pages and discuss the ideas behind them and how they fit into the project. "The fact that Professor Brown made [the process] collaborative was really smart," Figueroa said. "It made us all accountable, and we were all really emotionally invested in each other's work."

By the end of the class, she said, "we had this full-circle moment where we had produced a piece of work that we can say has a place in history."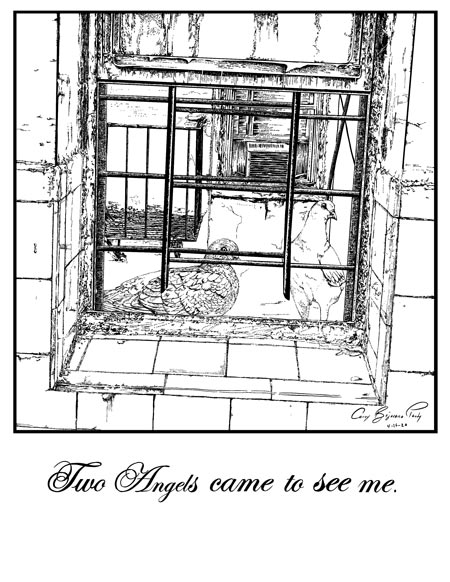 At least one of Brown's students has asked about creating a follow up to the book next semester, which Brown said she's considering. But she's also thinking about how to help students create home studios where they can be productive artists no matter what happens.

"The pandemic has really gotten me to think about what the most useful skills are for students," she said. "Self-publishing and figuring out what they can do from home is really valuable. If they can set that up for themselves, it will be liberating."