Lehman Alum DJ PHNXMP Teams Up with Campus Life, Throws Virtual House Party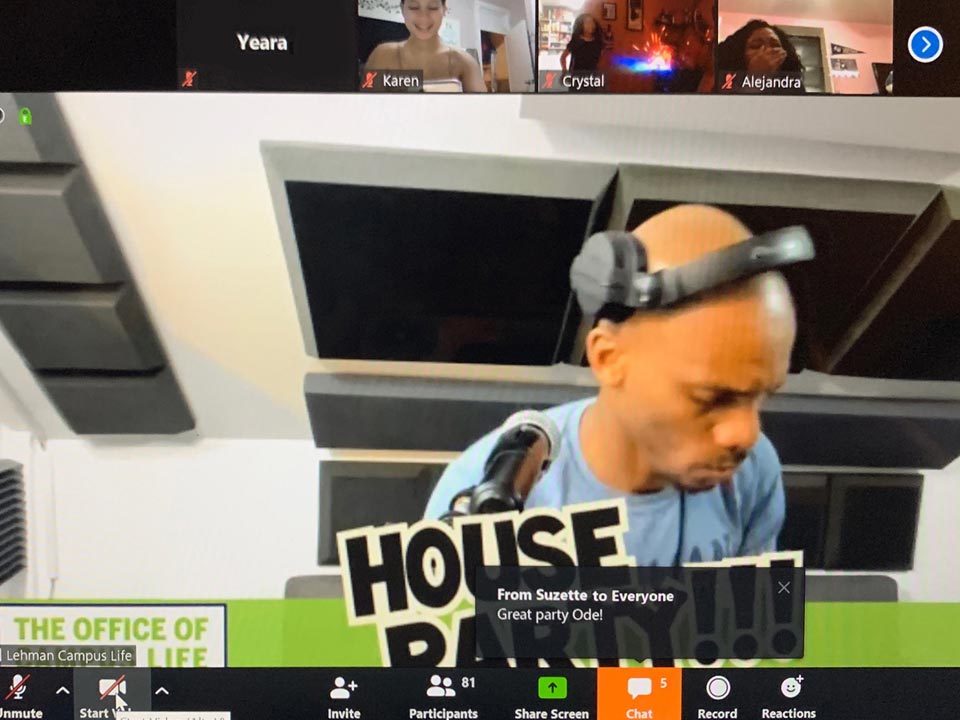 Lehman Alum DJ PHNXMP Throws Virtual House Party
But for one exception, the house party that Lehman's Office of Campus Life and DJ PHNXMPM hosted on March 27 was like any other get-together. There was festive music playing, while friends came together to let loose, laugh, sing and dance—except that in this case the partygoers were not only in different rooms, but different residences altogether.

The virtual house party, which drew close to 100 participants, represented a welcome reprieve from the stress and daily grim news cycle brought on by the coronavirus. Ode Hoppe, a '05 Lehman alumnus and former assistant director of the Office of Student Life, was the DJ for the night—it's a role he assumed as an undergraduate and continues to do when called upon.

"When it comes to Lehman, I'm always up for the chance to connect with students," said Hoppe. The virtual nature of the party didn't at all dim the positive energy emanating from the participants. "I think we all needed this opportunity to get away from the craziness of the past few weeks, and return to something normal, like getting together with friends on a Friday night after a long week."

Like all good DJs, Hoppe tuned into his audience's energy, threading the hypnotic rhythms of merengue típico with hip hop and salsa. In almost no time, many of the attendees had turned on camera features on their computers, revealing familiar faces from the campus community, some swung babies in their arms while others pulled loved ones close for a dance.

"The experience was really amazing," said Derron Thomas, another Lehman alumnus. "I didn't expect it to be what it was. It just felt great being able to connect, have fun, dance and get my mind off of the craziness of what's going on. Can't wait until next time. Quarantine isn't so bad when you got a Lehman Virtual Party going on."

To everyone's surprise, among the revelers was Lehman President Daniel Lemons. "It was definitely my first-time partying with the president," said Hoppe. "It was very nice of him to join us and see how the Lehman community comes together."

Missed the first party? DJ PHNXMPM returns Friday, April 24, from 8-10 p.m. at Zoom ID# 524-187-793. Everyone in the CUNY community is invited.