It's Not Just a Beauty Contest: Lehman Professor Looks Back at 99 Years of Miss America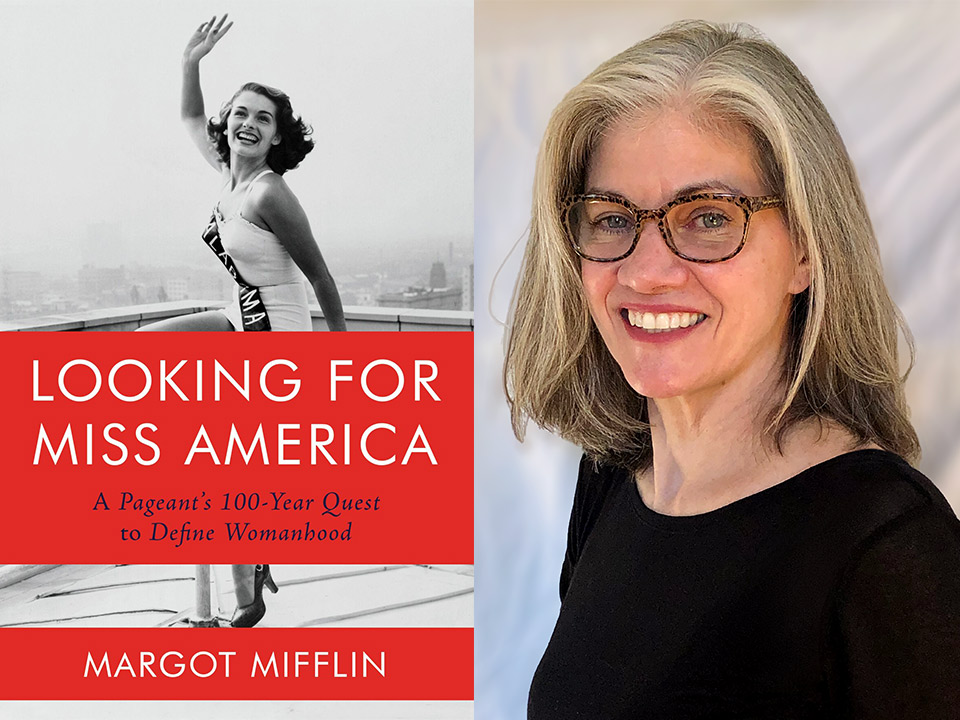 Lehman professor Margot Mifflin, a journalist and essayist who has often focused on women's history, happened upon her latest subject almost by accident. Six years ago, browsing around television channels, she stumbled across the Miss America pageant. Its contestants were parading around in swimsuits, a key feature of the competition that dates back to its start in 1921. (Miss America eliminated the swimsuit portion of the contest in 2018.)
"I just couldn't believe this was still a thing," said Mifflin, who teaches English at Lehman and in the arts reporting program at CUNY's Craig Newmark Graduate School of Journalism. "I thought about it and was surprised that no feminist or cultural critic had written a history of [the pageant], considering it is almost 100 years old."
That led Mifflin to begin a comprehensive study of the competition as an American tradition. The result of her work, "Looking for Miss America: A Pageant's 100-year Quest to Define Womanhood," was published on Aug. 4 to glowing reviews.
The book brings the pageant into conversation not only with women's history but also with the larger social history of the past century. According to Mifflin, tracing the evolution of the pageant alongside the cultural shifts that have transformed the nation was both a gratifying, and necessary, process.
"All those pieces of social history, pop culture history, political history, periods of conservatism or more liberal periods, and how they were reflected or ignored by the pageant were fascinating to document," she said. What's more, she added, they offered insights into Miss America that couldn't be gained solely by reading pageant history alone.
The book, which includes interviews with many former Miss Americas and state titleholders, offers an unflinching look at the institution and its contradictions. Still, in parsing the pageant's meaning, Mifflin discovered that Miss America was more than a beauty contest, and its winners more singular than some might expect.
"Once I started digging in, I saw that it was never just one thing," Mifflin said, noting that, beyond traditional beauty pageant components, Miss America tied in the arts, education, and advocacy, with contestants required to adopt social issues. "Also, some really interesting women competed, a number of whom were more subversive than I anticipated and didn't conform to the cliché of Miss America."
Miss America grew out of a local festival staged by Atlantic City businessmen in 1920. Dubbed the "Fall Frolic," the event was devised to extend the summer tourist season along the New Jersey shore. It featured several activities, including a beauty competition that proved so popular the Frolic was re-envisioned as a pageant the following year. However, it wasn't just the sight of young women, who were pushed along the parade route in rolling wicker chairs, that drove its success.
"Women had just won the vote, so it was a reaction against the women who had marched to win suffrage," Mifflin said, whereas "the pageant… focused on women who were not suffragists and were not political and outspoken, who were girlish and socially conformist. [It] relegated them to the female realm at the same time that women were entering the male realm."
The pageant was also a response to cultural anxieties about American identity that emerged after two decades of mass immigration to the U.S. There was an emphasis on national pride and identity—that identity being white. Of this, the pageant rule book was explicit: From the * 1940S to the 1950s, contestants were required to be "in good health and of the white race" and had to recite their heritage to "prove that they were true Americans." "There was a default white supremacy in play," Mifflin said.
One early exception was 1926 winner Norma Smallwood, who was part Cherokee, although her heritage wasn't revealed until after her reign. According to Mifflin, there were also a few Latina state winners along the way, but that ebbed under the weight of the racial exclusion rule. *. Indeed, decades would pass before any non-white women competed, and more than 60 years elapsed before a woman of color won the title.
"Black women didn't start competing until the late 60s, and it was a very small percentage," she said. Not until 1983 was Vanessa Williams—one of the best-known Miss Americas and the first Black winner—crowned.
Erin O'Flaherty, the first openly lesbian candidate, competed in 2016. Still, even in more recent decades, the contestants' pool has never truly reflected the demographic makeup of the United States, Mifflin said. "The amazing thing to me is that there has never been a Latina winner. That right there tells us that Miss America does not represent America."
In addition to the pageant's once-racist eligibility policies, other regulations have restricted who could compete, and some of those rules remain in effect today. Although the minimum and maximum age limits have been raised to 17-25, candidates cannot have been, or currently be, married, or have children.
"That sustains the idea of the available, consumable, young, America's sweetheart," Mifflin said.
From the beginning, however, some contestants recognized that Miss America offered more than an idealized public image and a cash prize. The title could also propel middle-class women socially and economically upward.
Smallwood, for instance, "wanted to use it to make money and pursue opportunities that weren't available to women. She used it for what she wanted to use it for, not what she was told it should be for," Mifflin said.
Since then, the prize has become a scholarship—albeit one partly financed by the contestants themselves. Woman competing in Miss America-sponsored local pageants
are required to solicit donations that help to support Children's Miracle Network Hospitals, but also largely drive the scholarship award.
Miss America's social context has also changed. Besides transformations wrought by the women's and civil rights movements, a new media environment has diminished the pageant's public reception, and "America's Sweetheart" is no longer a common point of reference.
"Because of the fragmentation of the media, there are so many outlets and venues, and they're so demographic-specific, we don't really have a show anymore that everybody watches, the way everybody used to watch Johnny Carson and Miss America," Mifflin said.
Current events have furthered the decline in the public's interest: Amid the #MeToo era, "having a ritual where women present themselves and their bodies publicly in exchange for an opportunity … really did not wash after a certain point," Mifflin said.
Organizers of the Miss America Pageant intend on celebrating its centennial in 2021, but, as Mifflin notes, both the viewership and participation in the pageant has dropped dramatically.
"It may get to its 100th anniversary," said Mifflin, "but after that, who knows?"
Want to hear more? Mifflin will read passages from "Looking for Miss America: A Pageant's 100-year Quest to Define Womanhood," at a Leonard Lief Library sponsored reading on Oct. 19 at 11 a.m. Register here. Virtual seating is limited.