Double the Honors for Lehman Speech-Language-Hearing Students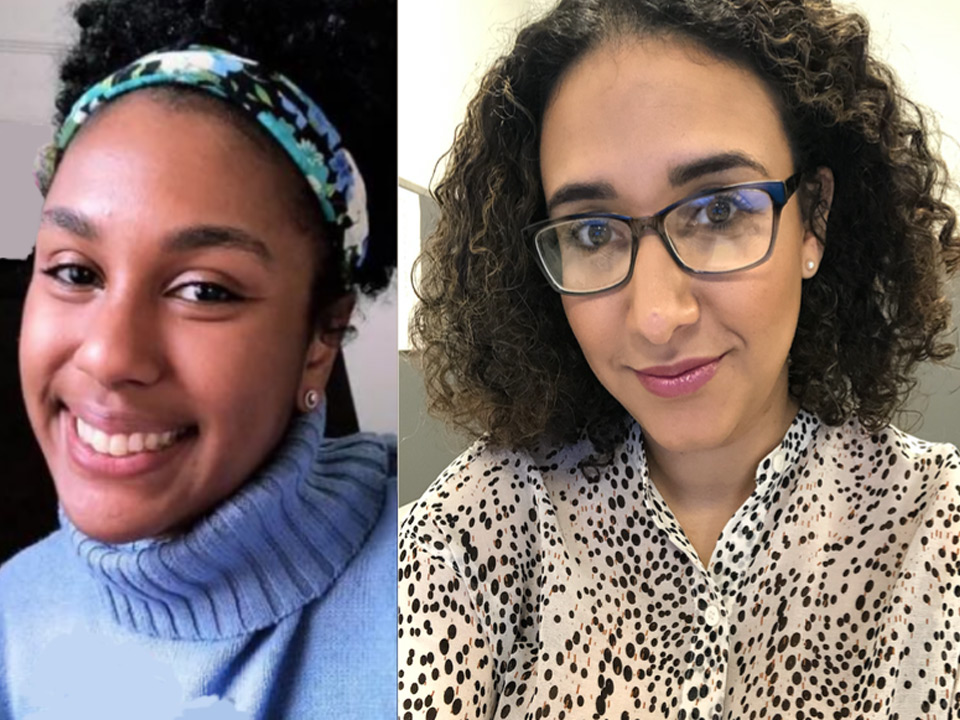 Photo of Rebeca Mora and Floralida Cabrera
At the conclusion of every academic year, the National Student Speech Language Hearing Association (NSSLHA) bestows two awards, the Excellence Award, and the Speaking Out and Being Heard Award. Honorees are graduate or undergraduate students selected from communications disorders programs at institutions across the country. This spring, the NSSLHA's awards announcement brought good news to the College twice over: both awards went to Lehman Speech-Language Hearing program students, Rebeca Mora and Floralida Cabrera.
Mora, a graduate student clinician and copresident of the Lehman College chapter of the NSSLHA, earned her bachelor's degree from Lehman in 2018. She received the Excellence Award, NSSLHA's highest member honor given to a single speech-language pathology graduate student.
The honor is well-deserved. In addition to getting involved in the NSSLHA's local chapter and in the national organization, Mora spent three years working in a faculty member's research lab, two summers working with local families to enrich literacy skills, and took advantage of opportunities to work at the Lehman Speech and Hearing Center.
"Rebeca Mora embodies the six core values of the National Student Speech Language and Hearing Association—leadership, collaboration, integrity, service, diversity, and education," said Grubler. "She represents the earned grit and nose-to-the-grindstone commitment that describes so many of our students for whom obstacles become pauses in life that teach."
Although she considers herself an "overachiever," Mora points to the support of everyone in the program, from her clinical advisor and chapter members, to clients at Lehman's speech and hearing clinic.
"I always like to take advantage of every opportunity that is available to me," Mora said. "I have learned so much about leadership and with this recognition I look forward to continue honing them."
Cabrera, an undergraduate who also serves as the chapter's public relations officer, was recognized with the Speaking Out and Being Heard Award. The honor is given to one outstanding undergraduate or graduate student whose efforts have enhanced public awareness of communication sciences and disorders. Cabrera graduates this spring.
"As an undergraduate student with a significant portfolio of success, Floralida steps in and out of the box to reliably maintain, educate, and elevate NSSLHA followers," said Grubler. "She has been… the consistent voice of NSSLHA, an asset to our academic community, and the profession of speech-language pathology."
In addition to her work with the chapter, Cabrera also volunteered in numerous positions to support the Speech-Language-Hearing Department at Lehman, including working in the Spanish Aphasia Clinic, and serving as a research assistant in the Brain and Language Lab. She took on the extra responsibilities, she said, because of her passion for the discipline and practice of speech pathology, and a desire to learn as much as she could.
"Even though I have a great support system, it is challenging to do all I did while having a family," Cabrera said. "Everything I did, I did it with joy and love, not expecting to get recognized for any of it. The fact that I was nominated and won, it's a great honor. It makes me feel that I am on the right path."
"It is not often that we get to announce one winner of an NSSLHA award, but this year we have two," said Grubler. In fact, it's "unheard of," she added.
Unheard of, but perhaps unsurprising, in light of repeated praise garnered by Lehman's speech-language hearing students. Last month, the Lehman chapter of the NSSLHA was awarded the association's highest recognition, the Gold Chapter Honors. The national honors are awarded to chapters whose activities successfully advance the association's mission "to inspire, empower, and support students in communication sciences and disorders programs," the association stated in a press release.
2020 marks the fifth year running that Lehman's student chapter has received the award.
"We want to thank our executive board members, faculty, and our chapter's mentor, Professor Leslie Grubler, for their continued support," said Miya Wilson, copresident of the Lehman chapter. "This honor reminds us to continue our work towards cultivating diversity in the field of Speech-Language Pathology and Audiology."
Of the 320 chapters nationwide and in Puerto Rico, Lehman ranks in the top 20 percent receiving gold honors. It is the only CUNY institution to receive an NSSLHA honor.
"Year after year, as NSSLHA chapter mentor, I have the pleasure of working closely with undergraduate and graduate students from the Department of Speech-Language and Hearing Sciences," said Grubler. "To achieve the Gold Chapter Honors Award in the same year that we have two of our students selected for NSSLHA National Member Honors is more than gratifying."