15 Lehman Students Awarded $80K in St. George's Society Scholarships
Wednesday, November 11, 2020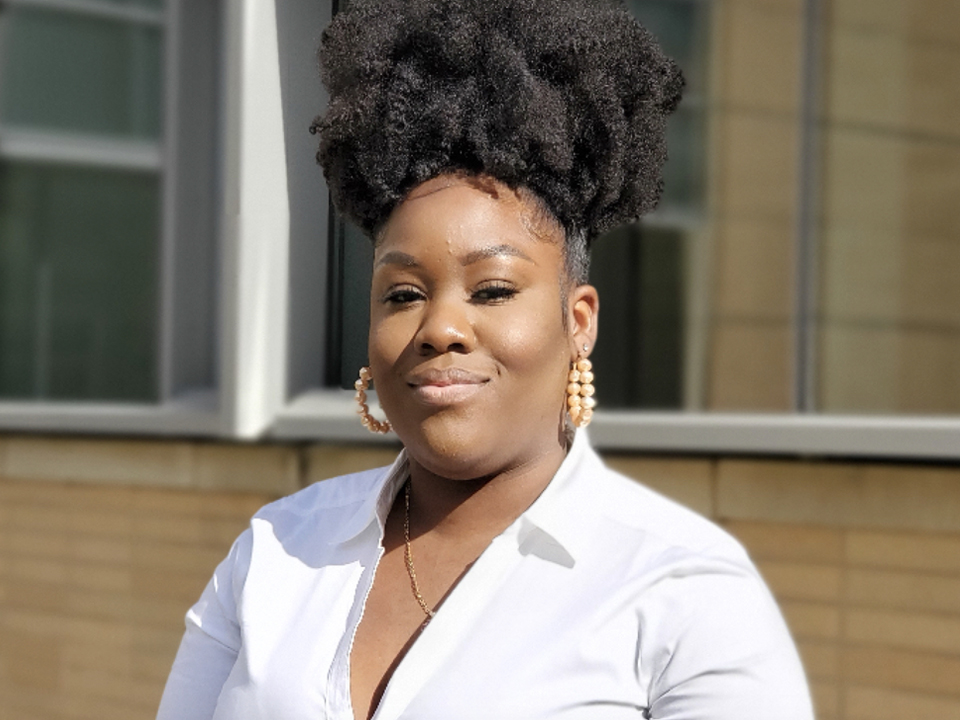 Business Administration major Khadijah Warner '21 is one of 15 Lehman College students who received a St. George's Society of New York scholarship this year.
Fifteen Lehman College seniors were awarded a total of $80,000 in scholarships by the St. George's Society of New York for the 2020-2021 academic year as part of a program that supports students of British or Commonwealth heritage.
Established in partnership with Lehman College in 2008, the program provides scholarships to final-year students who have achieved excellent academic standing but lack the financial means to complete their education. Since it began, St. George's Society has served more than 350 Lehman students from countries including Nigeria, Ghana, The Gambia, India, Guyana, South Africa, Jamaica and St. Kitts & Nevis.
"Over the past 12 years, St. George's has given more than $1 million to our students–critical support that is especially needed now," said Lehman College President Daniel Lemons. "We are grateful to St. George's Society for continuing a long tradition of supporting Lehman College students through its scholarship program and professional development opportunities."
The Lehman College St. George's Society Scholarship recipients selected this year are:
David Baffour Asuo, Nursing
Nina Oti Bosuo, Biology
Sherise Brown, Health Services Administration
Jainaba Ceesay, Nursing
Heidee Haizel, Nursing
Tosin Ibrahim, Nursing
Jasmin Jackson, Music
Emeka Mbazor, Computer Science
Basiru Mohammed, Nursing
Ezekiel Olumuyide, Chemistry
Sandesha Ramharak, Accounting and Health Services Administration
Felecia Thandeka Mhlanzi, Business Administration
Ubaku Ubawike, Speech Path and Audiology
Khadijah Warner, Business Administration
Victoria Yeboah, Social Work
Scholars were selected after an intensive review process. In addition to financial support, scholars also receive mentoring and professional development opportunities as well as a complimentary one-year membership to the Society.
Sandesha Ramharak, a double major in accounting and health services administration, said the scholarship brings her one step closer to her goal of earning her CPA license after graduation.
"I feel blessed that I had the opportunity to earn a scholarship and reduce my financial burden, especially now in this COVID era," said Ramharak, who hails from Guyana. "I came to this country as an immigrant with little finances" so this scholarship, "could not have come at a better time."
That was also the case for Nina Oti Bosuo, a biology major now applying to medical school. St. George's award in recognition of her academic excellence came at just the right time.
"My mother was even planning to go and take out a loan to help pay for my medical school applications and other related expenses," she said. "But with this scholarship, she no longer has to do that, and she was so relieved when she heard of my selection."
"We are thrilled to award scholarships to a very deserving group of individuals, especially during this unprecedented year," said St. George's Society First Vice President David Drinkwater. "We are extremely grateful to our community for their unwavering support, which has enabled the Society to maintain our commitment to ensuring the future of these bright minds. We join their families, friends and colleges in congratulating them on their achievement and look forward to seeing what they accomplish in the coming year."
Named after the patron saint of England, St. George's Society of New York is one of the oldest charities in America and this year celebrates the 250th anniversary. Founded in 1770 by Englishmen living in New York to celebrate St. George's Day and to assist fellow countrymen in need or distress.