Lehman L.I.F.E. Students Earn Community Service Award, March in Puerto Rican Day Parade
Thursday, September 26, 2019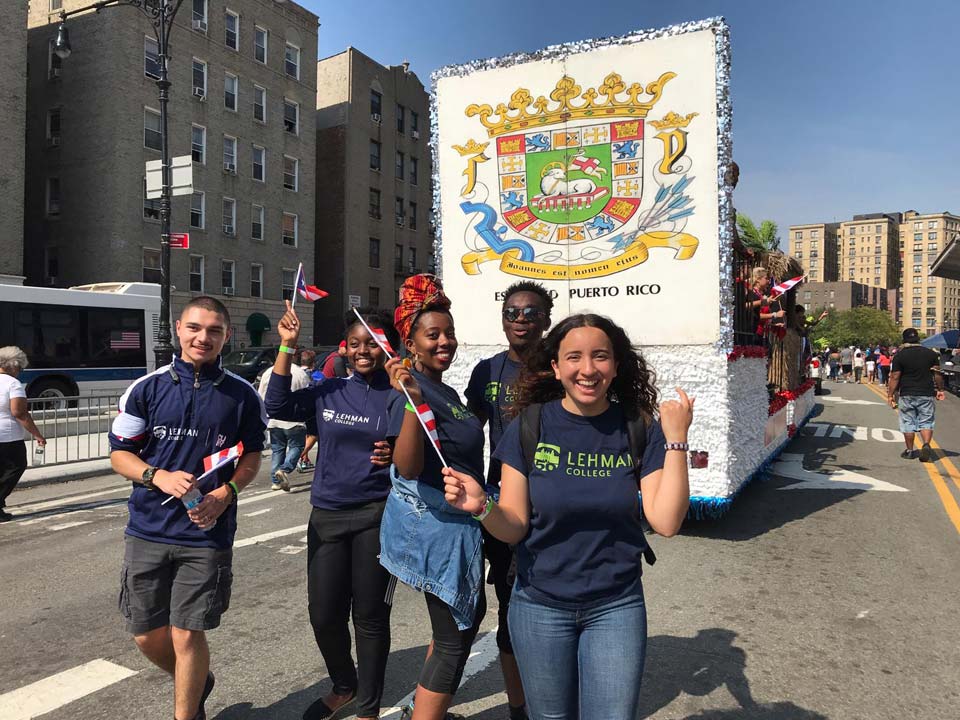 Photo of Lehman L.I.F.E. students
The 33rd annual Bronx Puerto Rican Day Parade, held under sunny skies on the last day of summer, brought out the usual large crowds and enthusiastic participants this year, including a team from Lehman L.I.F.E. (Leaders Involved for Everyone), the service-learning organization for students at Lehman College.
The five Lehman L.I.F.E. students who marched in the parade—Nadia Baba, Leah Benitez, Lida Mora, Quameisha Moreno, Gabriel Ogbennaya, and Daniel Santiago—plus L.I.F.E. adviser and staffer Lida Mora, made their way up the parade route on the Grand Concourse while accompanying a float that carried the parade's Grand Marshal, José Luis Cruz, former Lehman president and now executive vice chancellor and university provost at CUNY, and Latin hip-hop singer Candela.
This year's Bronx parade organizers honored Lehman L.I.F.E. with its Community Service Award for its efforts in helping rebuild Puerto Rico following the devastation caused by Hurricane Maria in 2017. Dozens of Lehman College students have volunteered with CUNY Service Corps in Puerto Rico since the summer of 2018. This past spring, 12 Lehman L.I.F.E. students, one alumnus, and two advisers traveled to the Caribbean island to help, according to Amanda Dubois-Mwake, director of Lehman's Office of International Programs & Community Engagement.
"Receiving this honor demonstrates Lehman College's commitment to its global engagement, which begins in the Bronx," said Dubois-Mwake. "Each year, our Lehman L.I.F.E. students learn the importance of community, both here and abroad, and how strong relationships help support a stronger future for all of us."
All six of the Lehman students at the parade had volunteered in Puerto Rico.
"It was great bonding with the people in the community where we stayed, getting to know their culture, and seeing how our work really made a difference," Ogbennaya said of his Lehman L.I.F.E. experience in Puerto Rico, which included renovating a school library and starting a vegetable garden.
During the parade Candela frequently gave the students a shout out for their volunteer efforts, added Ogbennaya, "so everybody on the parade route was happy and excited to see us."