Lehman Dance Company Premieres Work from New Artistic Director
Tuesday, February 26, 2019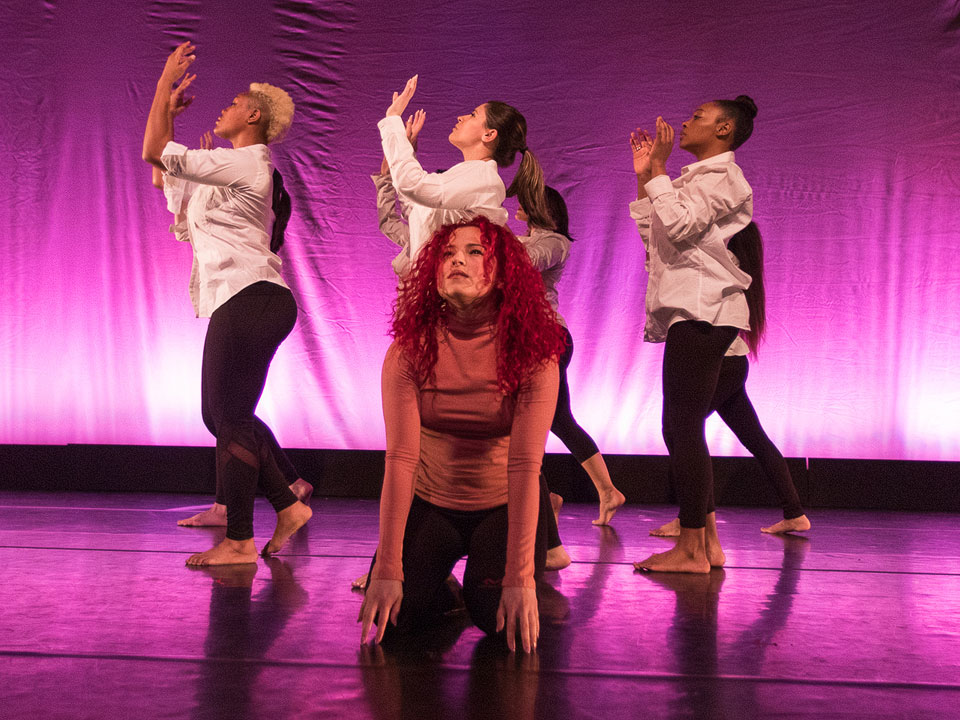 Lehman Dance Company Premieres Work from New Artistic Director
Love was in the air during the Herbert H. Dance Company's Valentine's Day premiere of "A[R]MOR," a work about relationships and emotional healing created by the company's new artistic director, Lourdes "Loli" Santiago, a 2014 Lehman alumna.
For Santiago, this first show at her alma mater was a personal expression of a romantic rollercoaster ride and life changes she experienced while in a vulnerable state, and how a spiritual grounding redirected her emotions.
"I was absolutely thrilled in seeing my work come to life and the positive feedback that it received from the audiences," said Santiago. "From the start of the opening night and continuing a few days after the last performance, I found myself trying to process it all in a state of happy numbness. I can truly say that I couldn't have done this without God and the amazing group of talented and supportive individuals I was blessed to work with this season."
The company performed to a full house each of the three nights "A[R]MOR" was presented. The program was divided into 11 segments and featured modern dance infused with elements of hip-hop and Latin dance styles. The soundtrack for the program consisted primarily of upbeat contemporary songs such as Alicia Keys's "New Day," Maxwell's "This Woman's Work," and Musiq Soulchild's "Love," with two segments of spoken word interludes that featured 2016 Lehman graduate and third-year company member Mone't Fuentes, also an actress and poet.
Lehman Stages Director Dante Albertie named Santiago as artistic director of the Herbert H. Dance Company in March 2018, replacing Brittany Wilson, who led the group for four years.
While earning her BFA in dance and minor in sociology at Lehman, Santiago participated in all of the company's productions. Following her graduation, she trained with Rhythm City from "America's Best Dance Crew," worked in professional troupe D'Cor, and danced in a number of music videos.
"A[R]MOR" was performed by Lehman student Sabrina Olavarria, Lehman graduates Christina "CC" Cruz, Nandanie Dudhnath, and Stephen Galvan, and Kara Rose Hauenstein, Rebecca L. Lopez, Alexandra Ortiz, and Nissil "Nini B" Richards, all experienced dancers from the New York City dance community. Lighting designer Amira Mustapha and stage manager Aleigi Dumé provided technical support for the show.
"The dancers were, by far, the most supportive, trusting, and reliable group I've ever worked with," said Santiago. "It was such an amazing experience to work with them, and I hope our collaborations continue. I also appreciated the efforts made by the crew and stage manager to bring my artistic vision to life."
Having completed and produced her first full-length choreographed work, Santiago's schedule—she works full-time as the assistant director of the ASPIRA of New York's after-school program at P.S. 25 Bilingual School in the Bronx—has returned to normal, for a few months at least. In September, auditions for the dance company's next production will begin.
For more information, visit:

http://www.lehmanstages.org/