Lehman College Joins Peace Corps Prep Program
Friday, February 15, 2019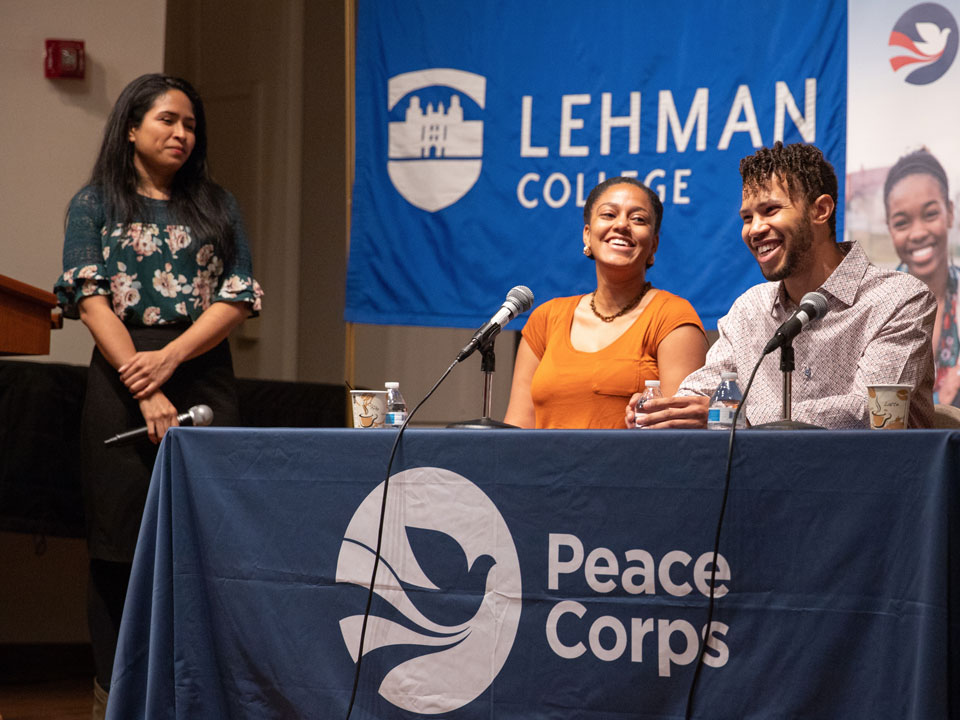 Lehman College Joins Peace Corps Prep Program
It's official: Lehman College is now a recognized affiliate of the Peace Corps Prep Program, making it the only college in New York City and only the third in New York state to be granted permission to administer the volunteer program.
The College held a special launch event on Feb. 6, featuring a panel discussion with former Corps members, workshops, and an induction ceremony for the program's 64 new participants.
"This is an incredible opportunity for our students and the College," said Amanda Dubois-Mwake, director of Lehman's New Student Programs and Community Engagement. "Among the benefits of this affiliation with Peace Corps is that it will give our students the opportunity to cultivate their intercultural competence, giving them yet another competitive edge in the global job market."
Since 2015, five Lehman students have been deployed on international service projects through the Peace Corps. Lehman alumna Immaculee Fabre ('14) served in Macedonia from 2015-2017, as a community and organization development specialist with the non-profit organization Sfera Macedonia. While she was there, Fabre designed, implemented, and launched three youth development programs through the community and around the country.
"Beside the professional development opportunity, one of the things I am most proud of is the impact this service has made in my life and the people I was able to call friends and family while I was away from home," said Fabre, who now works as the East Coast Program Coordinator at Black Girls CODE.
Lehman's Peace Corps Prep Certificate Program will prepare students for international development fieldwork. Over the course of their undergraduate career, participants will work toward meeting four competences, including training and experience in a work sector, foreign language skills, intercultural competence, and professional and leadership development.