A Campus of Givers: Lehman Breaks Own Record, Ranks in Top 10 of all CUNY Schools for #LehmanGivingTuesday
Wednesday, December 18, 2019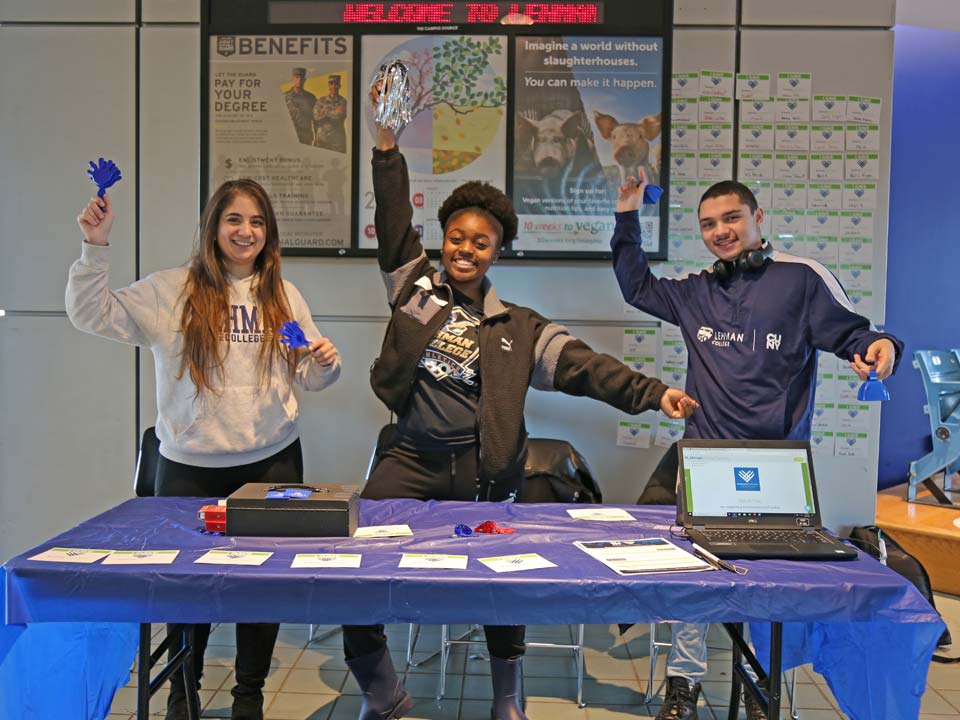 Photo of Lehman student volunteers working during #LehmanGivingTuesday
#LehmanGivingTuesday was a resounding success this year after approximately 50 campus volunteers helped collect more than $60,000 for causes that directly help Lehman College students: the Lehman Food Bank, the Lehman Micro-Grant program, general scholarships, and the International Learning Experiences program.

More than 730 donors, including administrators, professors, support staff, students, alumni, friends and family of the College, helped Lehman rank No. 7 out of 26 City University of New York (CUNY) schools, institutes and programs for funds raised in the annual giving event this year as compared to the more than 750 donors who contributed a total of $42,960 in 2018.

"Our team was again reminded of the enormous generosity of this campus and we could not be more grateful for the spirit exhibited by our extended Lehman community for this year's Giving Tuesday," said Vice President of Institutional Advancement Susan E. Ebersole. "These donations have a real, tangible impact on the student experience at Lehman College, providing critical support for students as they work to focus on their academic and career goals. This community-wide effort was made possible by leadership on our staff working in tandem with student and faculty volunteers who made exceptional gifts of time, dedication, and enthusiasm to raise funds for Lehman Giving Tuesday."

There is still time left to give to these important causes: the #LehmanGivingTuesday campaign runs through Dec. 31. Go here to learn more about these initiatives and to add your donation to help change the lives of Lehman students.

Giving Tuesday is a nationwide effort started in 2012 to encourage donating to good causes. CUNY celebrates the day as #CUNYTuesday, a 24-hour giving challenge to raise $1 million in support of student success at CUNY colleges. CUNY exceeded that goal, raising more than $1.5 million as of Dec. 18.