$4 Million Gift Will Grow Lehman's ACE Program in 2020
Wednesday, October 30, 2019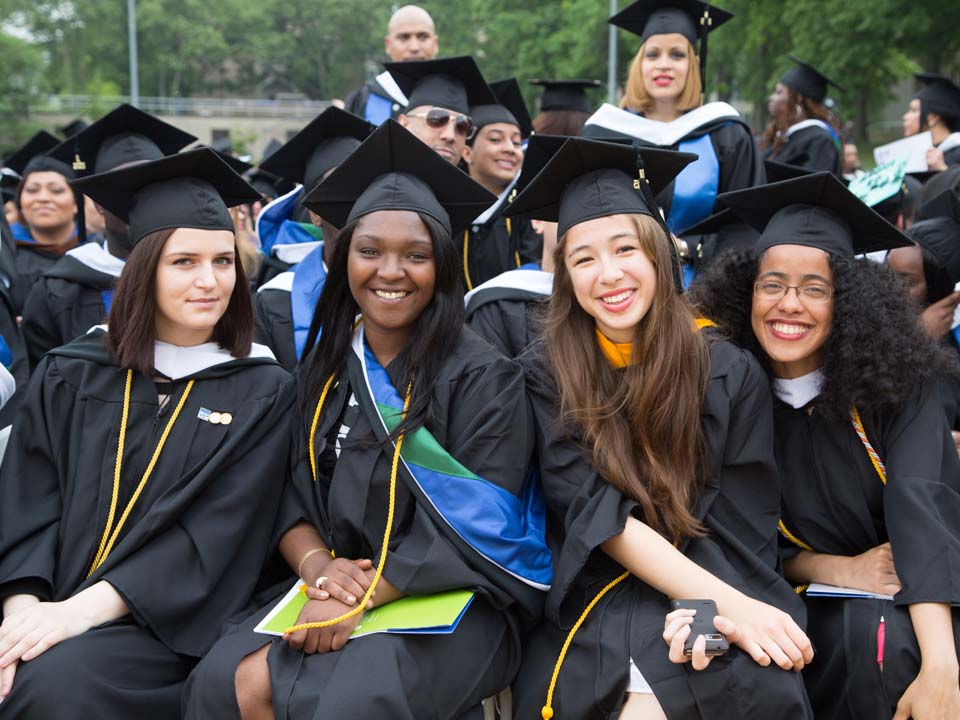 Photo of Lehman College Graduates
A unique program launched at Lehman College this year that has been proven to increase students' "on time" graduation rates by providing a high-level of financial, academic and personal resources will be available to an even larger number of Lehman students in fall 2020 thanks to a recent $4 million gift from a private trust.

Lehman College accepted 254 freshman and transfer students into The City University of New York's Accelerate, Complete and Engage (ACE) program this fall with the aim of doubling the College's current four-year graduation rates for first-time, full-time freshmen from 25% to 50% and the two-year graduation rate for transfer students with an associate degree by the same rate: from 25% to 50%.

Now that the Donald A. Pels Charitable Trust has gifted the program $4 million, Lehman is planning to increase the fall 2020 cohort to 300 students, 150 transfers and 150 freshmen and is looking to increase the number of majors available to students enrolled in the program.

"ACE is a proven game-changer and its expansion will help more CUNY students complete their degree requirement and graduate on time," said Chancellor Felix V. Matos Rodriguez. "I am grateful to our Lehman College leadership, and for the generous financial support that is allowing this promising program to flourish."

ACE is modeled on CUNY's Accelerated Study in Associate Programs (ASAP), launched in 2007 to help students complete associate degrees as quickly as possible. Both programs help mitigate obstacles that often prevent a student from graduating in a timely manner, if at all, by providing students with academic, social and financial supports. Those services include tuition waivers, semester-based unlimited MetroCards, lab fees, textbook assistance, early registration options, a personal advisor and career specialist and support in identifying internships.

Timely degree completion is critical to social mobility, as students who graduate on time can enter the labor market earlier and boost long-term earning potential. Students that take longer than four years to earn their degree are at a disadvantage. They spend more money in school costs, lose those years of earning potential, and many don't ever finish school at all.

"This generous grant is a resounding endorsement of Lehman College's and CUNY's track record as socioeconomic mobility engines for students," said Lehman College President Daniel Lemons. "This investment will enable hundreds of students to earn their degrees sooner, launching their careers and post-graduate education earlier. The positive impact of that acceleration on them, their families and their communities is measurable in greater earning potential and richer lives. There will be a large return on investment for students, the Bronx and the region."

CUNY launched the ACE program at John Jay in the fall of 2015 with initial seed funding from Robin Hood (formerly the Robin Hood Foundation) with the goal of achieving at least a 50% four-year baccalaureate completion rate among participants. The 262 students who formed the first ACE cohort more than made good on that goal with 155 members of that group — 58% — graduating in four years or this summer.

The ACE students' four-year graduation rate outpaced by 16 percentage points that of a matched comparison group of non-participating John Jay students, and exceeded the 37% four-year graduation rate of the nation's public colleges, based on the most recent data from the U.S. Department of Education.

ACE expanded to Lehman this year through a $1.1 million grant, also from Robin Hood. Lehman is only the second CUNY school to launch the ACE program and the only college to include a cohort of transfer students. While most of Lehman's ACE transfer students were also enrolled in ASAP, it is not a requirement of eligibility.