Real-Time Financial Data Now Available with Bloomberg Terminal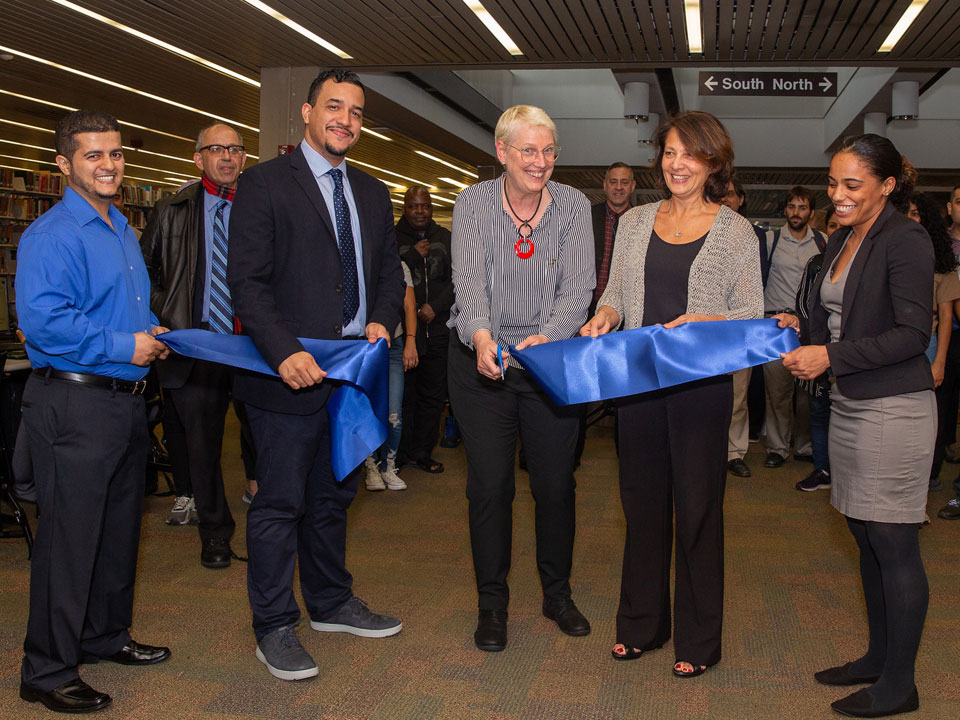 Photo of ribbon cutting ceremony for new Bloomberg Terminal at Lehman College
An excited group of Lehman College administrators, faculty and students gathered at Lief Library recently to celebrate the installation of a Bloomberg Terminal, a computer software system that provides users with real-time financial market information and essential analytical data. The ribbon-cutting ceremony, held just several feet away from the small classroom where the terminal is located, was sponsored by the library, School of Natural and Social Sciences (NSS) and Department of Economics and Business.
The terminal, which connects users to Bloomberg Professional Services, has over 300,000 subscribers worldwide. In her welcoming remarks at the ribbon-cutting, NSS Interim Dean Pamela Mills noted that Lehman now joins Baruch College, Brooklyn College and New York University as the only higher education institutions in New York City with a Bloomberg Terminal on campus. "It is an essential tool in financial America," she added.
To gain better knowledge of the financial and economical concepts that are widely used in the terminal, students are being encouraged to gain certification with Bloomberg Market Concepts (BMC) through a self-directed e-learning course.
Since the Bloomberg Terminal arrived on campus at the end of April, Lehman was placed in the top 10 of 150 schools with just one terminal that had the most certifications so far in 2018, "which speaks of the level of interest of our students in obtaining new tools that make them more appealing to the industry," said Dr. Alexander Núñez-Torres, from the College's Department of Economics and Business. Some of his colleagues are requiring students to get BMC certification as part of regular course work. Institutions with over 100 certifications a year become a Bloomberg Partner School, which brings added opportunities and recognition.
Besides offering cross-market information and asset valuations, standard Bloomberg Terminal functions include job-hunting and networking applications. The terminal also informs users of upcoming webinars and seminars that offer interaction with professionals across the finance industry. To serve a growing number of students interested in business and finance careers, there is hope that other Bloomberg Terminals will be brought on campus (annual subscription price per terminal: $24,000, with some discounts for multiple terminals.) Dr. Dene Hurley, chair of the Department of Economics and Business, suggested at the ceremony that having Bloomberg Finance Lab on campus was the logical next step upward in terms of being able to "empower" even more students with the market-based technology.
Sakia T. Colon, a Lehman senior majoring in accounting with work experience at Morgan Stanley and Bank of New York, remarked she first became interest in the Bloomberg Terminal when saw colleagues relying on it in the workplace. "I think it is very beneficial to Lehman students like myself to learn the system and be able to add this to their résumés," she said. Another student who spoke at the ceremony, Foad Muthana, a sophomore studying finance, stated the terminal gives students "an actual taste of how the financial markets behave" and likened being able to operate the terminal to piloting an airplane.