Mural in Facebook's NYC Office Created by Lehman Art Professor Dannielle Tegeder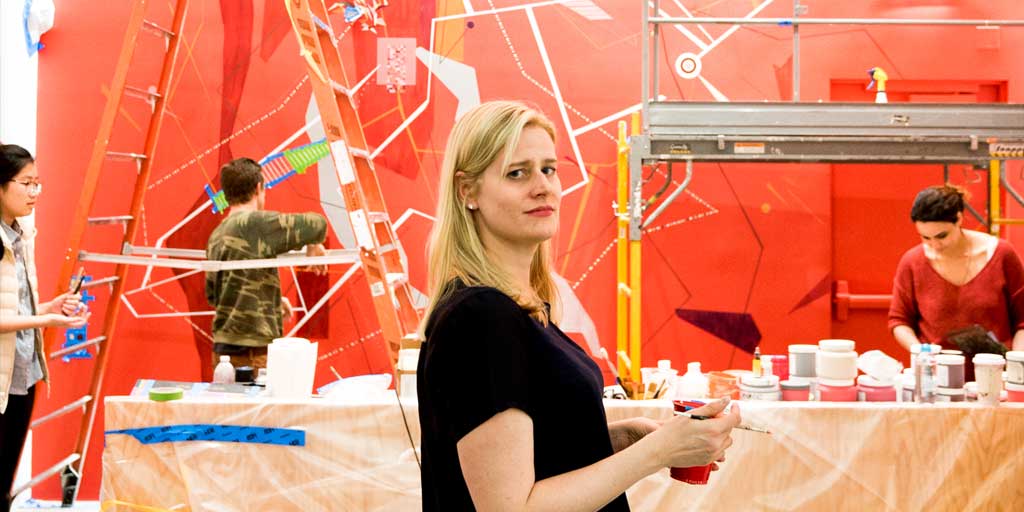 Professor Dannielle Tegeder from Lehman's Art department gets a big thumb's up "like" for the large, fascinating, and diagrammatic mural she created for the lobby of Facebook's New York City office.
The permanent, site-specific mural, entitled "Center of Machine-Life Transmissions," is part of Facebook's Artist-in-Residence program. Tegeder was among 20 artists chosen to utilize different spaces for public art projects around the social network giant's offices at 225 Park Avenue South in Manhattan. Facebook even documented Tegeder creating the mural in a short online video.
Work on the mural began last March, ahead of the arrival of hundreds of Facebook employees moving from another Manhattan workplace. Completing the project in the midst of what was basically a construction site as the lobby and offices were refitted for Facebook—complete with carpenters, electricians, painters, and other tradespeople at work nearby—made the creative enterprise "an interactive performance in itself," Tegeder chuckled.
Predominantly vermilion and encompassing about 300-square-feet, the hard-to-miss mural features a complex structure of abstract shapes connected and transected by a variety of narrow lines. In her proposal for the Facebook mural, Tegeder stated that her idea for the lobby space was to imagine "the infrastructure that exists behind the lobby's walls and how it intersects with the work that is being done outside them…and how the connections made in the drawings reflect maps or meeting places that exist between us all."
With Tegeder, Facebook certainly found an artist able to create an embodiment of connectivity. Throughout her career in the fine arts as a painter and sculptor, she has focused on the complex interconnections between people, structures, and ideas—both seen and unseen. This preoccupation, Tegeder admitted, was nurtured during her earliest years. Raised in a family of steamfitters in New York City's northern suburbs, her first imaginative drawings mimicked the schematics and blueprints made by her father and uncles for building construction, which were often piled on the dining room table at home.
"My first 'art school' was watching draftsmen make these meticulous, beautifully crafted drawings every morning for different construction jobs around the Bronx and in Yonkers," Tegeder said. Her love of drawing led her first to Purchase College, SUNY and then the School of the Art Institute of Chicago, where she received her BFA and MFA, respectively. Since then, her work has appeared in galleries and group exhibitions around the country and in Europe, most of it utilizing the visual language of architecture, urban design, and modernist abstraction.
It took 10 days for Tegeder to complete the Facebook mural using various types of paint as well as other mediums such as ink and markers. To get the job done, she hired a dozen assistants—to buy materials, tape and mask the lines Tegeder had drafted, manage the work site, and clean up—including two of her former students at Lehman: Maria Estevez, a fine arts major who graduated in 2012; and Sima Schloss, who received her MFA last year.
"Dannielle's art is different from mine, but I learned a lot about utilizing space and different shapes while working with her on this project," said Schloss. "And her courage to paint with red—bravo! I was sad when we finished and it was time to leave."
Added Estevez: "The mural was definitely one of the largest works of art I have been associated with, and so it was challenging. When it was finished we all felt so proud that we had tackled this monster. It's pretty impressive."
Tegeder is now involved in three new public arts projects: a 30-foot enameled painting at a school in Tribeca; a wall installation for Capital One Bank's headquarters in McLean, Virginia; and a set of paintings for a Washington, D.C.-based law firm. She also has a solo exhibition of her work opening on January 26 in the H&R Block Artspace at the Kansas City Art Institute.