Lehman Hosts Panel of Journalists to Examine News Coverage of Hurricane Maria and its Aftermath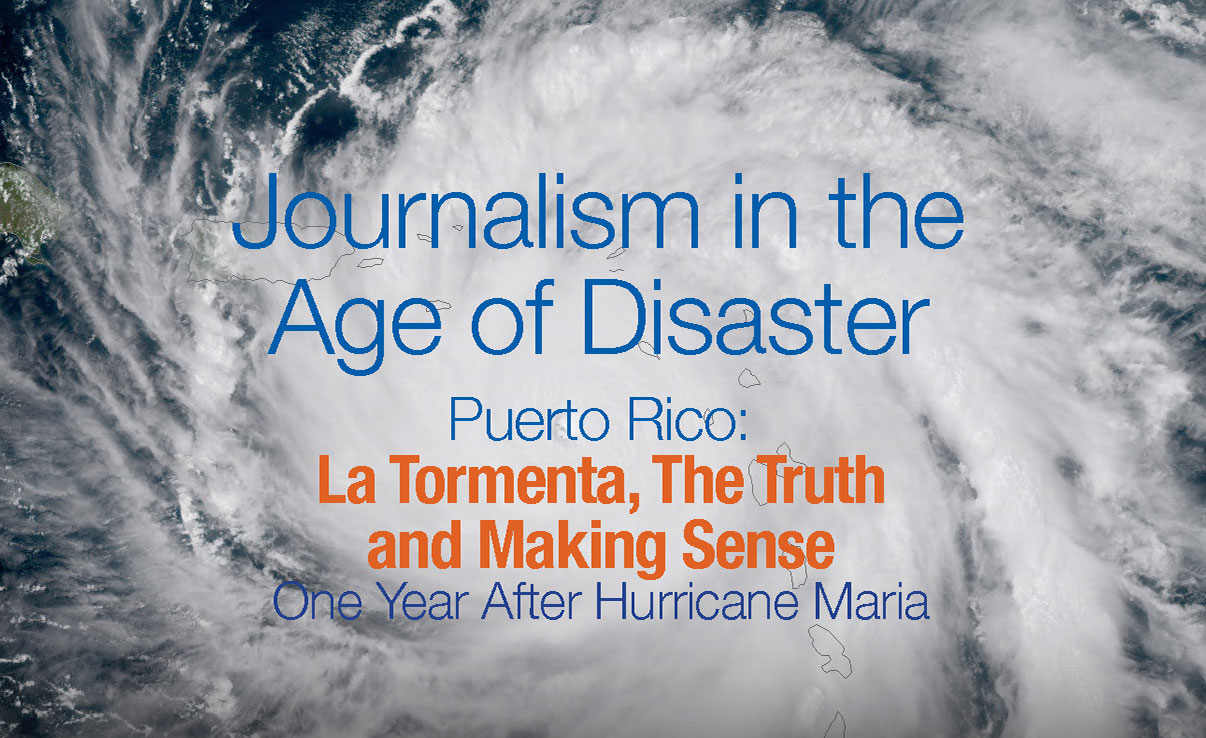 Lehman College, News Covervage of Hurricane Maria
It's been a time of extreme challenges for journalists and for journalism as a profession. The advent of "fake news," a divided country, and the loss of public trust are all issues today's journalists must confront every day.
On October 11, Lehman College will host "Journalism in the Age of Disaster, Puerto Rico: La Tormenta, The Truth and Making Sense One Year after Hurricane Maria." The event will focus on how news organizations performed their jobs as "watchdog, witnesses, and truth teller."
The discussion will be led by an impressive panel of journalists and moderated by David Gonzalez, a noted New York Times reporter. The participating panelists are Carla Minet, from Centro Periodismo Investigativo de Puerto Rico, Alana Casanova- Burgess, a producer for On the Media, WNYC, New York Public Radio, Ana Teresa Toro, of El Nuevo Dia, and Ed Morales, a freelance journalist who teaches at Columbia University's Center for the Study of Ethnicity and Race.
All of the journalists on the panel have extensively covered Hurricane Maria and Puerto Rico's struggle to recover from the devastation. They have also tried to provide the public with an accurate account of the fatalities that resulted from the hurricane.
Eileen Markey, a lecturer in the Department of Journalism and Media Studies, and one of the coordinators, said that the event was conceived as a an "assessment of journalism's response to Hurricane Maria" and "how to do better both with ongoing coverage of post-Maria Puerto Rico and also whatever the next disaster is."
"This discussion will examine the Hurricane Maria news coverage with a practical goal: how can we equip our budding Lehman College journalists to do it better next time and how can we prod students and professional journalists alike to do better now," said Markey. "Hurricane Maria was a year ago, but the disaster and exploitation are old and ongoing. How can journalists tell true stories better? What should we be doing to train for the next disaster? What stories need to be told now about Puerto Rico and its diasporas?"
Markey believes it's important for Lehman students to be a part of this conversation and called "the Bronx and Puerto Rico inextricably linked."
"As a place written off as a disaster and famously abandoned by federal and local government, the Bronx empathizes in a particular way with what is happening now in Puerto Rico," she said.
Lehman CUNY Service Corps students who volunteered in Puerto Rico this summer to provide relief in the aftermath of Hurricane Maria will also be part of the upcoming program. These students will provide introductions and offer commentary based on their own experiences working to help rebuild a ravaged island.
The event is a joint presentation of the departments of Journalism and Media Studies, Latin American, Latino, and Puerto Rican Studies, the Center for Human Rights and Peace Studies, the Leonard Leif Library, and the School of Arts and Humanities. In addition to Markey, the event was coordinated by Dr. Mila Burns, an assistant professor in the Department of Latin American, Latino and Puerto Rican Studies, and Dr. Rima Brusi, writer in residence for the Center for Human Rights and Peace Studies.
"Journalism in the Age of Disaster" will be held on Thursday, October 11 at 12:45 p.m. in The Music Building Recital Hall, Room 306.