Lehman Faculty Selected for Prestigious CUNY Program
Thursday, December 20, 2018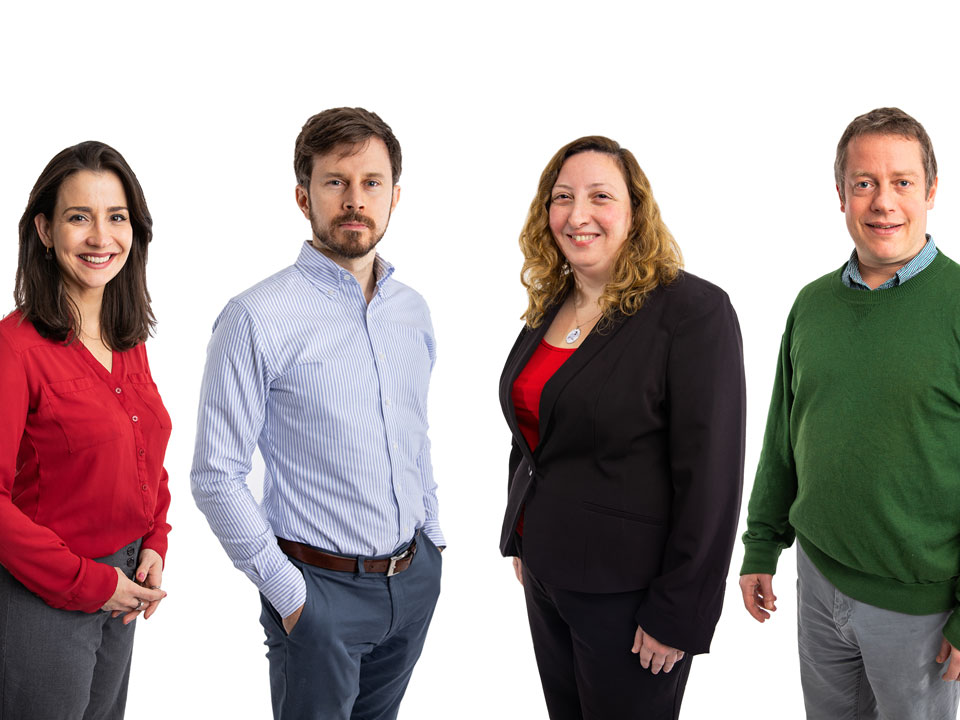 Photo of Lehman College faculty selected for prestigious CUNY program
Five Lehman faculty members have been accepted into the 2019 Faculty Fellowship Publication Program, a university-wide initiative that provides full-time untenured CUNY faculty with the time, mentorship, and peer support as they work to design and complete writing projects essential to professional progress and tenure.
The highly competitive program, initiated in 1998, is open to junior faculty in all disciplines, with the goal of cultivating their careers while fostering CUNY's institutional commitment to faculty diversity. It provides participants with three credit hours of course release time, a writing group, seminars, and the guidance of a senior faculty member.
Alyse Anekstein, who teaches in the Department of Counseling, Leadership, Literacy & Special Education, has been conducting research on productivity among mentored doctoral students and pre-tenured faculty in school counselor education programs. She will use the fellowship to prepare a manuscript article based on her data; this work promises to make a worthwhile and timely contributions to both theory and practice in counselor education.
"It is wonderful to be a part of a program that encapsulates this theory into valuable and supportive practice," said Anekstein. "I am externally grateful to have the opportunity to participate in this transformative experience in the CUNY community."
Mila Burns, who teaches in the Department of Latin American, Latino and Puerto Rican Studies, is planning to write a book based about the 1973 overthrow of Chilean president Salvador Allende, installation of military dictator Augusto Pinochet, and the pivotal role that Brazil's own dictatorship played in that process. Her work will propose a new paradigm for the history of dictatorships in Latin America.
"The fellowship is decisive for my project," said Burns. "It is not only about having more time do finish my next book, but also about having a network of support and mentorship. I am very grateful to Lehman for the support during the application process. It is great to know that the institution is in tune with the perils and joys of academic life."
Department of Health Sciences professor Ileana Carillo intends to use the award to develop and conduct a study focusing on students and current practitioners of nursing, to determine what has motivated students and working nurses of various backgrounds to go into the profession. The results will offer new information about such motivators, which will enable more effective recruitment and retention of nurses—in turn promoting better health outcomes for patients.
"The Faculty Fellowship Publication Program provides an opportunity for mentorship, peer collaboration, and collegial support to advance my scholarly work," said Carillo. "It will be a privilege to participate amongst my esteemed colleagues."
Carillo's work will supply vital knowledge to a growing body of scholarship on the nursing profession, at a time when the nation's health care system is undergoing major shifts in job growth, employment demographics, administration, and medical technologies.
In the Department of English, Bret Maney has been formulating scholarship on "Trumbull Park," Frank London Brown's compelling yet critically-neglected novel of racial strife and the desegregation movement in Chicago. The program will provide him with the necessary resources to revise, complete, and submit for publication his article on the novel; his work will make an important contribution to knowledge in several fields of the humanities, including African-American studies and American literature.
"I'm most excited to be immersed in a growing and thriving community of CUNY scholars," Maney said. "I've watched my colleagues who are FFPP alumni build lasting relationships with tenure-track scholars across the university system. These relationships continue to motivate solidarity and research productivity."
Maney also appreciates how the program aims to build a diverse, dynamic, and connected CUNY professoriate, and knows that the guidance, support, and mentorship provided by the Faculty Fellowship Publication Program can be transformative in these respects.
Collin O'Neil, who teaches in the Department of Philosophy, has been working on a critical issue in bioethics for a number of years: informed subject consent and the withholding of care in clinical healthcare trials.
"I'm really excited about the fellowship because it will give me a chance to work on a problem that I've been wrestling with ever since I worked as an ethicist at the National Institutes of Health: whether it is okay for researchers to allow subjects in their trials to suffer serious harm when this is necessary to obtain results that can be used to save many other live," said O'Neil. "I'm also looking forward to learning about everyone else's projects as we help each other with the writing process."
O'Neil's work has important implications for the field of bioethics and for the implementation of trials that test life-saving interventions. The Faculty Fellowship Publication Program award will provide him with the time, feedback, mentorship, and working environment necessary for him to bring this project to completion and submit a finished article to a scholarly journal.
Initiatives such as the Faculty Fellowship Publication Program are instrumental to professional growth and transition to tenure. In the coming spring semester, these five assistant professors will join 58 others from 19 CUNY institutions in this outstanding program.