Lehman College Celebrates 50th Commencement in Historic Ceremony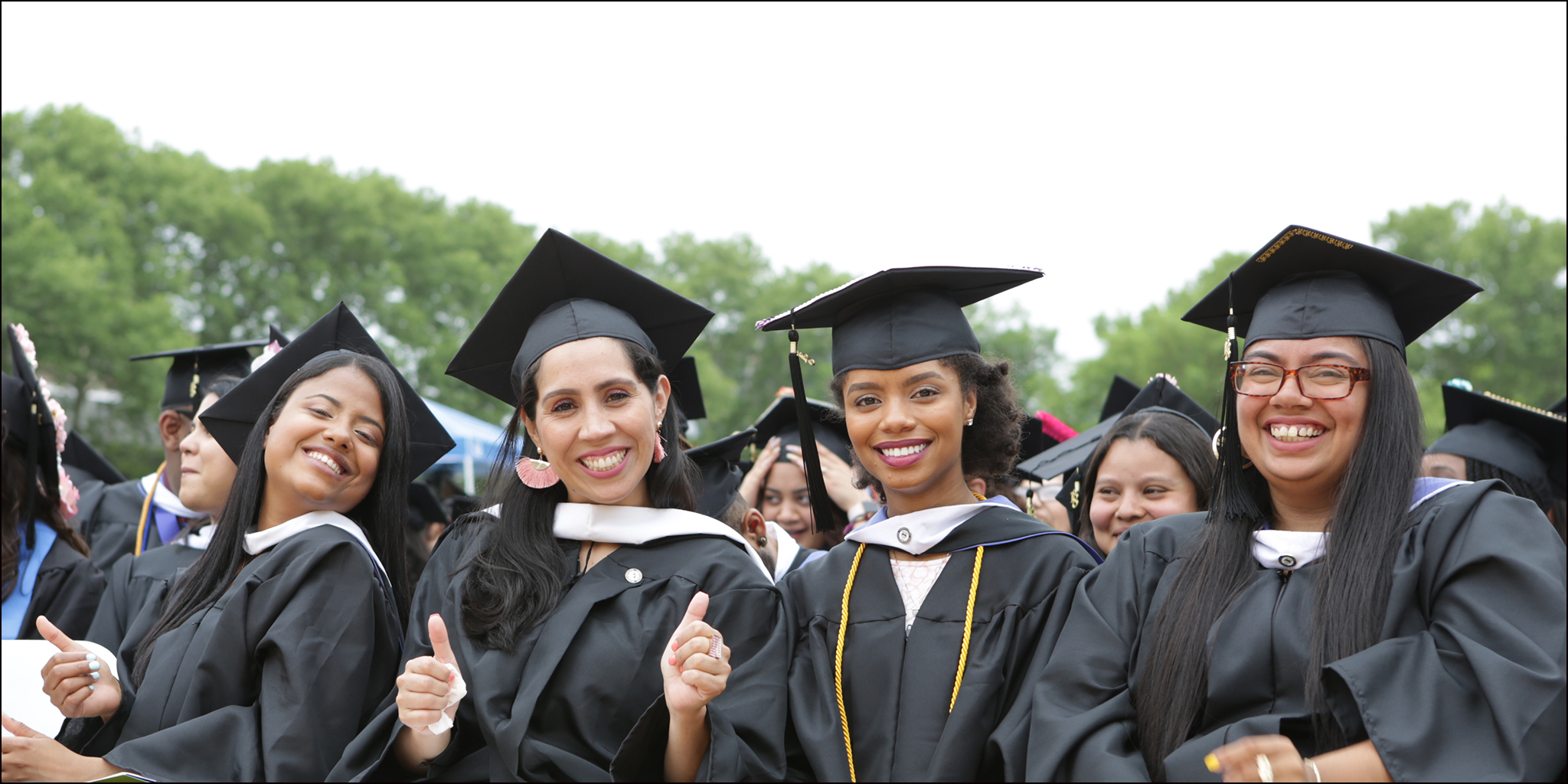 Lehman College Celebrates 50th Commencement in Historic Ceremony
Celebrating its 50th commencement, Lehman College of The City University of New York today conferred a record 3,446 undergraduate and graduate degrees to a celebratory crowd on the College's South Lawn.
The ceremony featured greetings by Lehman College President José Luis Cruz and CUNY officials and a keynote address by author and professor André Aciman, who also received the College's 2018 Distinguished Alumni Award. In addition, Professor Emeritus Jacob Judd, one of the College's longest-serving faculty members, received an honorary doctorate of humane letters.
"Most of you had significant responsibilities outside our classrooms and labs: you held down jobs and internships, you raised children, you cared for family members, you dealt with illness," President Cruz commented to the graduates, while noting that more than half of the undergraduate students receiving degrees—55%—are the first in their families to earn a college diploma. "But you persisted and came to our campus, and you expanded your knowledge, deepened perspectives, learned new skills…Above all, each and every one of you exhibited what I have come to learn is the drive and determination that characterizes those who strive to make their lives here, in the world's greatest city, The City of New York."
President Cruz added an exhortation to the graduates that "it is time for you to lead others—in your families and the communities you represent—to become part of the fabric of change."
CUNY General Counsel and Vice Chancellor for Legal Affairs Loretta Martinez and CUNY Trustee Lorraine Cortés-Vázquez also addressed the graduates. Jonathan Berenguer, who received his master's degree in Organizational Leadership, delivered the student speech and spoke of how he overcame tremendous adversity to attend and succeed at Lehman College.
"No matter the ingredients in your life; past, present, or future; remember that when life gives you lemons, you make Lehman Lightning Lemonade," concluded Berenguer to a standing ovation.
Dr. Aciman, who received his bachelor's degree from Lehman in 1973, is the author of four novels, including Call Me by Your Name, which was adapted into an Academy Award-winning film last year. He is the author of the memoir Out of Egypt, and also two collections of essays. Widely published in leading magazines and journals, Dr. Aciman is the recipient of the Whiting Writers' Award, a Guggenheim Fellowship, and a fellowship from the New York Public Library's Cullman Center for Scholars and Writers.
In his remarks, Dr. Aciman noted that he was also the first one in his family to graduate from college, and an immigrant to the U.S. as well—much like many of the Lehman students in attendance, but "here a half-century earlier."
"Lehman College changed my life," he said, adding that the degree he received from Lehman was "an invitation" to further learning and success.
A nationally recognized scholar specializing in Colonial American history, the Revolutionary War, and the early years of the republic, Dr. Judd first taught on campus in 1967 when Lehman College was still Hunter College in the Bronx. The editor of the four volume collection of Van Cortlandt family letters and papers, he was also program director for the Rockefeller Archives American Business History Series. At Lehman, Dr. Judd was chair of the Department of History for twelve years, acting dean of Arts and Humanities, and chair of the Lehman College Retirees Association until 2016.
The Commencement was filled with applause and cheers. Professor Joseph Fera from Lehman's Department of Mathematics, named Teacher of the Year, was the master of ceremonies; and the Adjunct Teacher of the Year award was given to Professor Kenneth Piccininni from the Department of Counseling, Leadership, Literacy and Special Education. Provost Harriet Fayne presented the candidates for degrees while the noise on Lehman's South Field swelled.
Amid the celebratory nature of the proceedings, this year's Commencement included a somber recognition of loss as well. Professor Young Kun Kim, a beloved member of the College's Department of Political Science, died earlier this month as a result of a random act of violence near his Manhattan home; an award in his name has been established to honor his scholarship and long service to the College. And a posthumous Bachelor of Arts degree was conferred to Yoryi Joel Dume, an outstanding student majoring in Latin American and Caribbean Studies, who had completed his Honors Thesis with distinction before he passed away this spring. An award has been created in the Department of Latin American and Latino Studies to honor Yoryi's memory as well.
After the Commencement ceremony, there was a luncheon for the graduates and guests, who mingled and strolled around the 37-acre campus while the Lehman College and Community Latin Jazz Ensemble, conducted by Professors Victor Rendón and Armando Rodríguez, performed.