Lehman Celebrates the 70th Anniversary of the Universal Declaration of Human Rights
Wednesday, December 12, 2018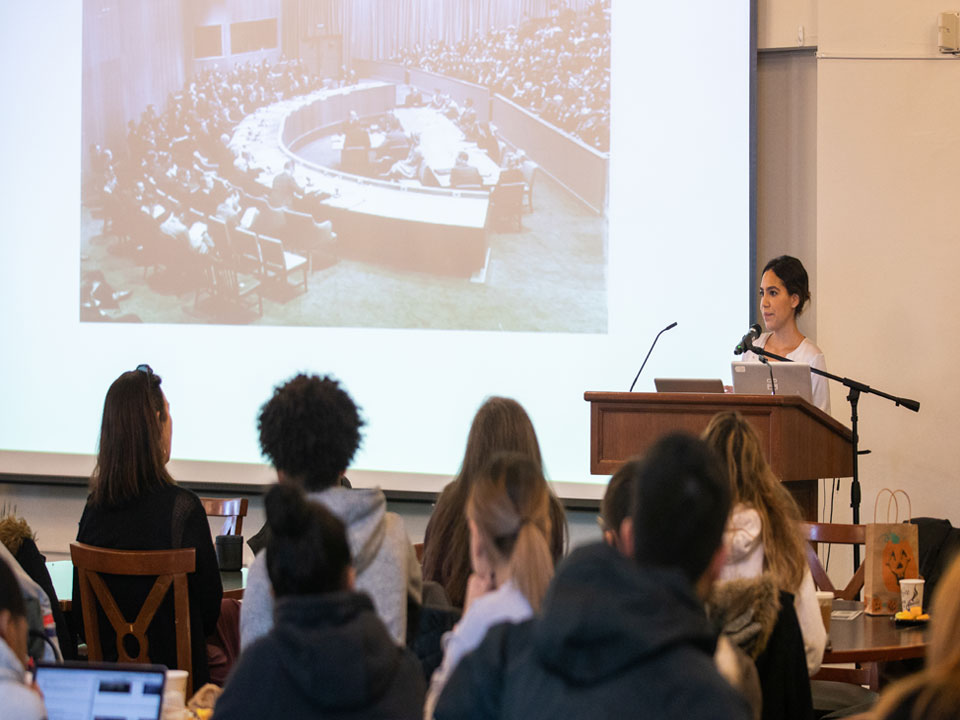 In recognition of the United Nations Declaration of Human Rights' adoption 70 years ago, Lehman College faculty, staff, and students gathered in the Faculty Dining Room on Wednesday, Dec. 11, to learn about the history of this remarkable document and the current state of human rights.
The event was sponsored by the Center for Human Rights and Peace Studies, and included presentations by Professor Stacey Engels and student researchers in her fall 2018 English course. The class is a natural fit for Lehman, with the school's history as the site of the first American meetings of the United Nations Security Council.
Dr. Victoria Sanford, director of the Center for Human Rights and Peace Studies, explained Lehman's special connection to the declaration. "We celebrate human rights to build a better present and future. Lehman has a special relationship to the Universal Declaration of Human Rights—it was written here!"
The event provided students in the class with an opportunity to present their capstone research projects, which focused on topics ranging from prison education, to domestic and sexual violence, to community crime prevention. The celebration included a screening of archival photographs documenting the writing and signing of the declaration.
Elijah Janicki presented an extensive data analysis of funding constraints on educational programs in prisons. He also discussed the three days he spent volunteering for Books Through Bars, a Brooklyn-based project that provides books to incarcerated people all over the country. His goal was to provide a perspective on human rights many people may not think about: the rights of prisoners.
"If you do the crime, you do the time," Janicki said. But the lack of educational opportunities in prison "takes away thousands of opportunities," he added, noting that even people who serve their time suffer a life-long impact since the lack of education can create real hardships for people once they are released.
Chinique Joseph sees her research on sexual violence as part of the larger conversation about human rights worldwide. Victims may to fight to be heard, she said, and both law enforcement and the justice system often fail them, because allegations rely on personal experience, which is often subject to others' judgement and criticism.
Engels developed the course as a way to connect literature with the human rights movement, and established the connection during the first class by having her students read and discuss the Universal Declaration of Human Rights.
"I believe it is life-changing for students to develop critical thinking, reading, and writing skills and to be surprised, moved, and affected by literature," Engels said. "My intention was to explore the idea put forward by Lynn Hunt that human rights and literature were intertwined centuries before the field of human rights or the UDHR existed."
Engels' goal for the course was to encourage this holistic understanding of human rights. She asked students "to consider what they want to see change in the world, to give them examples of people who have done that in a variety of ways and to offer them a capstone assignment that pushed them out into the world, beyond their comfort zones, to do a real-world activity and report on that in lieu of writing a research paper."
Engels' belief that literature can be an effective introduction to peace and human rights issues, and a gateway for the Human Rights and Peace Studies minor (offered in conjunction with the Center), was confirmed by students at the presentation, who said that this course piqued their interest in the field and their motivation to make a difference.
The UN Declaration of Human Rights and more information about the document's history are available on the United Nations website.