Jazz and Modern Art Brought Together in Lehman Professor Sharon Jordan's New Book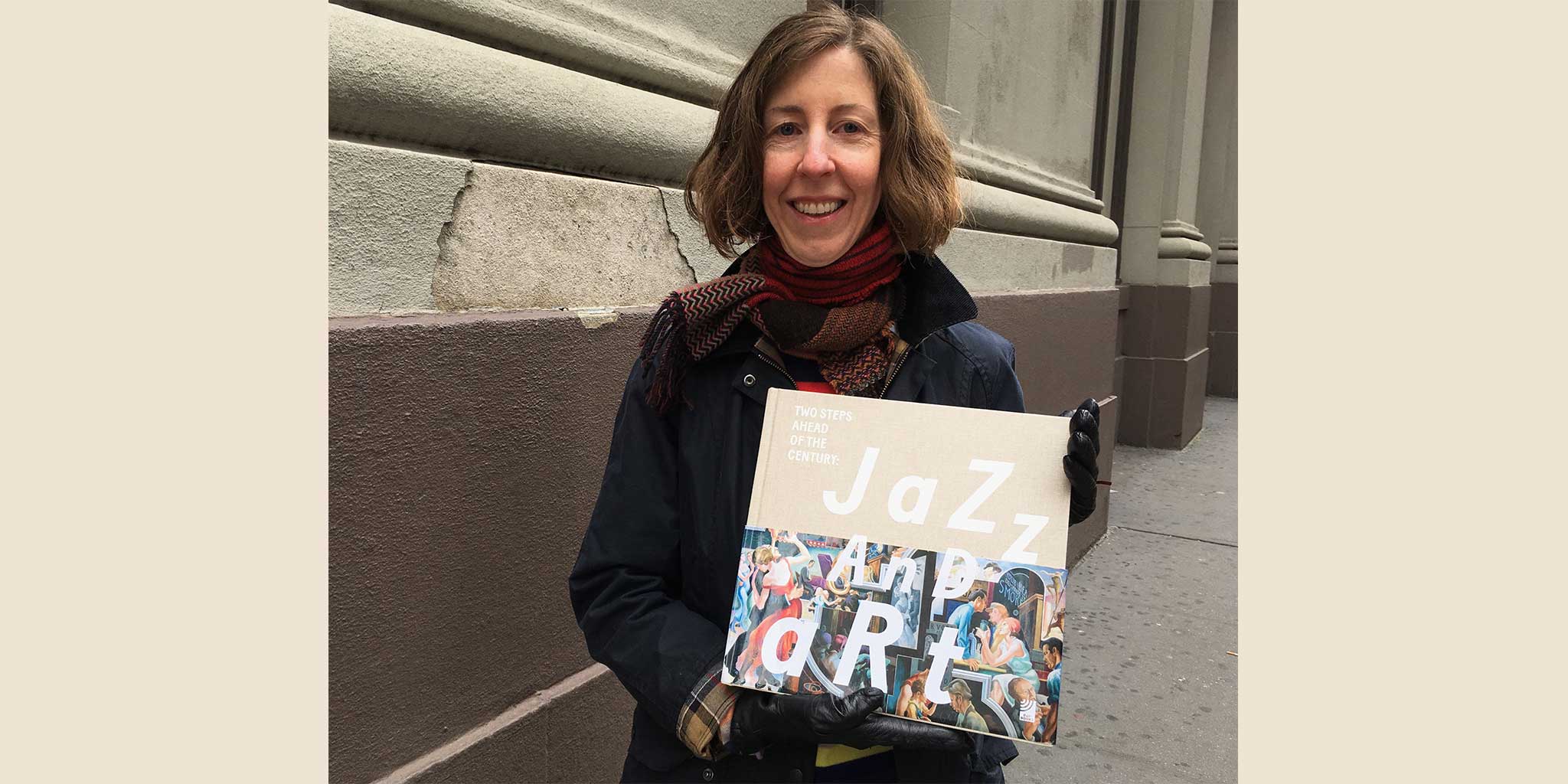 In her newly published book, Two Steps Ahead of the Century: Jazz and Art, Lehman College professor Sharon Jordan examines the relationship between America's great musical idiom and the visual arts that began roughly a century ago and inexorably shaped the cultural landscape of the world. Jordan, an art historian, appeals to eyes and ears in her richly illustrated coffee table book, which also includes three CDs of jazz recordings that provide a soundtrack to her research and exposition.
Written for a general audience, Jazz and Art was published by the earBOOKS imprint of Hamburg-based publisher Edel Germany GmbH. Jordan's text is in both English and German, with translation by Margarete and Julian Forsyth. Among the 130 full color reproductions found throughout the book are seminal artworks by Pablo Picasso, Stuart Davis, Romare Bearden, Charles Demuth, and Jean-Michel Basquiat—a comprehensive representation of both American and European artists from Impressionism to Pop Art. Reproductions of significant photographs are found throughout the book as well, from the lenses of masters like Man Ray, August Sander, and Roy DeCarava, which depict the milieu and musicians through the course of the modern era.
The aural expedition through a history of "the improviser's art" on the three CDs included with Jazz and Art correlates with the three major sections of the book—"Ragtime and Popular Entertainment, 1900-1917," "The Jazz Age in Europe and America, 1920-1930," and "Post-War Art and Jazz, 1940-1990." Commencing with "Livery Stable Blues" by the Original Dixieland "Jass" Band from 1917, the recordings range from the traditional jazz, swing, and bebop eras to works by eminent modern jazz progenitors like Miles Davis and John Coltrane. Additionally, there are tracks from European artists and acts like Marlene Dietrich, Quintette du Hot Club de France, and the Weintraub Syncopators.
"I'm thrilled and happy with how the whole book turned out," said Jordan. "It was a great project, and I really enjoyed the work of bringing the art and music together. My idea was to keep it readable, so that people with any level of knowledge of either art or jazz would be able to learn from the book."
Professor Jordan states that the inspiration for Jazz and Art arose from her work on the essay "The Rhythm of Our Time is Jazz: Popular Entertainment During the Weimar Republic" that was included in Berlin Metropolis 1918-1933, a companion volume to a 2015 exhibition at the Neue Galerie in Manhattan, edited by Olaf Peters. In her research, Jordan discovered how many artists were attracted to street musicians, dancers, music hall, and nightclub performers, and circus stars in the early 1900s, sensing their "outsider" societal status was akin to the broad frustration with prevailing norms across Western civilization that the artists shared. In short time, Jordan points out, disparate artists centered their attention on jazz musicians—as subjects and also as motivations for their own improvisational modes and techniques—and the artistic movement that came to be called "modernism" began to evolve from an accumulation of cultural insurgencies.
"It seemed a shame not to develop all of the material that I had started to uncover," says Jordan. "The interrelationships between visual culture and jazz, the popular music of the time, were so prevalent." Her pitch to earBOOKS was accepted in mid-2015, and she was finished with the writing and artwork selection for the book in October 2016.
A native Chicagoan, Jordan was an art history major at Boston University before receiving a master's at Hunter College and a doctorate in art history from the CUNY Graduate Center in 2009. She has been on the faculty of Lehman in the art department since 2011. Jordan will focus on the subject of German Expressionism in relation to Friedrich Nietzsche's philosophical ideas about cultural revolution in her next book.