Goya Foods Announces Support of Lehman Center for the Performing Arts and Campus Food Bank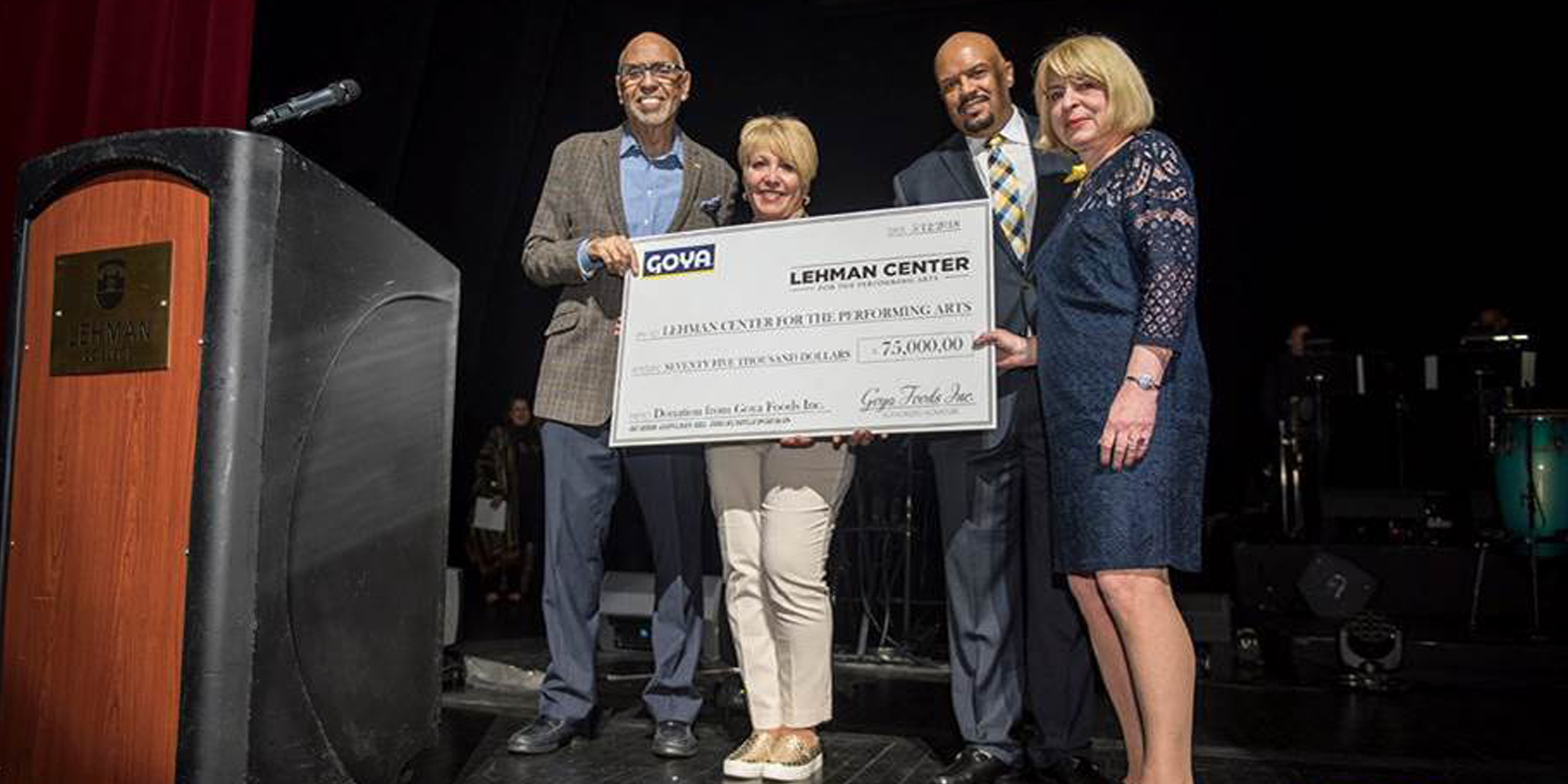 Goya Foods Announces Support of Lehman Center for the Performing Arts and Campus Food Bank
Goya Foods, the U. S.'s largest Hispanic owned food company, presented a $75,000 check in support of the Latino Concert Series at the Lehman Center for the Performing Arts on May 12, and also announced a food donation of 2,800 pounds to the Herbert H. Lehman Food Bank.
The two significant charitable donations were made as part of Goya Gives, the company's national initiative to promote and support community well-being, social responsibility, and environmental causes. Founded in Manhattan and now headquartered in New Jersey, Goya has supported nearly 300 different organizations and programs through its 82-year existence.
"Goya's support of the Lehman Center concert series and the Lehman College food pantry are evidence of its mindful commitment to nurturing the heart and soul of the Bronx through investments that expand the cultural capital of our community and eradicate food insecurity among our students," said Lehman College President José Luis Cruz.
The announcement of the Goya Foods donation came before a performance at the Lehman Center by La India, the Puerto Rican-born and Bronx-raised Latin pop star known as the Princess of Salsa. Over the past decade-plus, the Center's Latino Concert Series has attracted iconic musical artists to the Bronx like Willie Colón, Johnny Pacheco, Gilberto Santa Rosa, Eddie Palmieri, and José "El Canario" Alberto, as well as the late Celia Cruz and Tito Puente.
"Goya Food's support will make it possible for the Latino Series to grow and continue to attract large audiences for many years to come," said Eva Bornstein, Executive Director for Lehman Center.
Now in its 38th year, the Lehman Center for the Performing Arts operates as a not-for-profit entity. Last fall, the Center, which also hosts a number of community events, including high school graduations, embarked on a $15 million project to renovate and expand its 2,310-seat space. Along with its Latino Concert Series, the Center also presents classical music ensembles and dance companies from around the world, underscoring its stature and importance as the Bronx's top provider of cultural entertainment.
"The motivation to make a difference shared by Lehman College and Goya Foods will continue to bring people together and inspire others to support this exciting institution," said Susan E. Ebersole, Vice President of Institutional Advancement and Executive Director of the Lehman College Foundation.
The Lehman Center for the Performing Arts is located on the campus of Lehman College in the Bronx. For more information about events at the Lehman Center, call (718) 960-8833 or visit LehmanCenter.org.